She-Hulk Trailer Dropped - The Loop
Play Sound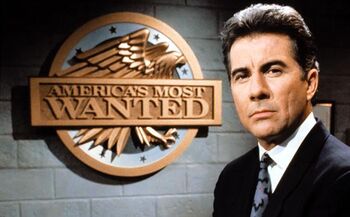 Overview
[
]
Network: FoxTV (ended in June 2011; ) and Lifetime (began September 2011)
First Episode: April 10, 1988 (original); March 15, 2021 (revival)
Last Episode: March 2013 (original);
Status: Airing
Cast:
History
[
]
Details: America's Most Wanted was the first public service television series to appeal to the public for help in solving cold police cases and in locating fugitives from justice. Although Unsolved Mysteries predates it as a January 20, 1987 special, it is the first series to work with the cooperation of the police, government and law enforcement officials. It was created by human and victim rights activist John Walsh after the abduction of his six-year son, Adam, who had been kidnapped and murdered. Episodes featured anywhere from five to eight cases per episode which were profiled and recreated by actors and included interviews with friends and family members of victims, the local police and witnesses. On occasion, the actors involved in the recreations were sometimes confused with the fugitives. As popularity of the show increased, Walsh began extended the range of the show to also assist local authorities in locating missing persons, particularly the abduction of Elizabeth Smart, and recurring awards to members of the law and rescue organizations for conduct well and above the call of duty. Walsh also became supporter of the Missing Children Act known as the Adam Walsh Child Protection Act to protect the rights of children and promise quick police reaction in the disappearance of children.
Despite its popularity, AMW was briefly cancelled for a month and a half in fall 1996 in the wake of high production costs, but protests from politicians, law enforcement officials and viewers successfully prompted Fox to reinstate it. Fifteen years, later, on May 16, 2011, they successfully canceled it with the last regular episode airing on June 18, 2011, although they relegated it to a limited series of specials. However, it returned as a regular weekly series on Lifetime on December 2, 2011. The last original episode aired on October 12, 2012 before it was officially canceled by Lifetime in March 2013.
The series, The Hunt with John Walsh, and In Pursuit with John Walsh, are often considered successors to AMW.
In 2020, FOX announced it was reviving the show.
Links:
Episodes
[
]
America's Most Wanted shares the following cases with Unsolved Mysteries and related media.
​Wanted Fugitives
[
]
Missing Persons and Unsolved Murders
[
]
Other Cases
[
]
The majority of cases listed in this section have pages, despite only appearing on America's Most Wanted only unless otherwise stated.
---