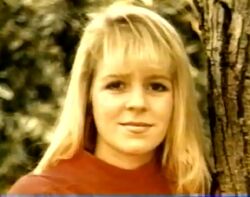 Real Name: Angela Joy Cummings
Nicknames: Angie
Location: Oroville, California
Date: April 26, 1990

Case
[
]
Details: Nineteen-year-old Angela Cummings was found shot to death in her boyfriend's apartment in Oroville, near Yuba City, California. Police suspected foul play, but did not have enough evidence to make an arrest.
Suspects: Angela's boyfriend is a possible suspect in the case.
Extra Notes:
This case originally aired on the May 1, 1991 episode, which focused on an update to the KROQ Confession.
It was excluded from Amazon Prime episodes.

Results: Unresolved. On June 13, 1990, the Los Angeles radio station 106.7 KROQ featured a new segment called, "Confess Your Crime". Shortly before 9am that morning, a man called in and confessed to beating his girlfriend to death. The man hung up before the DJs, Kevin Ryder and Gene Baxter, were able to contact police. The Los Angeles Sheriff's Department spent nearly 150 man-hours investigating the confession. After nine months, scores of unsolved homicides were narrowed down to one specific case: Angela's.
Police found several similarities between the confession and Angela's case. After the connection was made, a detective contacted Angela's mother, Lis, and told her about the confession. She listened to the confession tape and was sickened by it. However, she was also hopeful that it would lead to a break in Angela's case.
During Kevin and Gene's interviews with Unsolved Mysteries, they were asked point-blank if the confession call was a hoax, created to boost their ratings. Both denied it. Kevin said that there were certain "lines" that they would not cross in order to get more ratings. Gene noted that the experts said it was true, and claimed to not know the caller.
However, as it turned out, Kevin and Gene were lying. In April 1991, the confession call was exposed as a hoax, conceived and executed by the two DJs, apparently as a publicity stunt. The scam was made public by former KROQ intern Dan Feliz, after he learned the truth about the confession. He had actually received some phone calls from people who believed that their loved one was the victim in the case. He was stunned when he learned of the hoax, and shocked that the DJs kept up with it for so long.
Kevin and Gene had conspired with Arizona DJ Doug "The Slug" Roberts to pull off the publicity stunt. It was Doug's voice heard making the bogus confession. Coincidentally (or not), he was later hired by KROQ as a DJ. Lis was also shocked to learn that the call was a hoax. She felt that what they did was despicable and cruel, to play with other people's lives in order to get more ratings.
Kevin and Gene eventually confessed to their involvement in the hoax and confirmed that it was done to boost their ratings. On April 11, they, along with Doug, were temporarily suspended by KROQ without pay. Just ten days after the hoax was exposed, the station put them back on the air.
In May, the Los Angeles Sheriff's Department billed KROQ $12,170 for the detective work that was put in to investigate the case. The DJs were forced to pay the bill out of their own pockets. Infinity Corp, which owned KROQ, also required them to perform 149 hours of community service. In December, the Federal Communications Commission completed their investigation into the case; they issued a four-page letter admonishing KROQ's management for its "deliberate distortion of programming."
Sadly, Angela's murder remains unsolved.
Links:
---