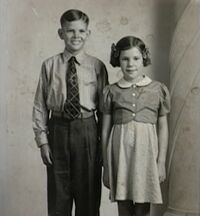 Real Name: Angeline "Angie" Dewey
Case: Lost Sister
Location: Abilene, Texas
Date: 1941
Case
[
]
Details: Sixty-two-year-old Stockton, California resident Barney Dewey is searching for his sister, Angeline, whom he lost contact with during the Great Depression. In 1941, he, then twelve, started working part-time at a gas station in Abilene, Texas. He watched over her there because their stepfather was in the hospital and their mother was working long hours at a garment factory. Then one day in spring 1941, a man named Reverend Nichols visited them there. He told Barney that he was friends with their mother and that they should go with him. He took them to a hotel, gave them new clothes, and took professional photographs of them. They were put on a bus and taken to his foster home.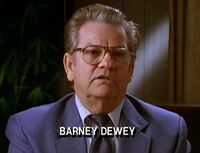 A few days later, Nichols and his adopted son, Nick Crane, came to his foster home to pick up Barney, but not Angeline. Only later did he realize that the professional photographs were an advertisement for adoption. He was adopted by Nichols' secretary and her husband and became a ranch hand for them. He later decided to leave them and return to his parents. He hitchhiked to Haskell only to find that they had moved. He found his birth father in Cleburne, and they traveled to Humble, where his father put him on a bus to Odessa. When he arrived there, he was reunited with his parents. He learned from his mother that she had never signed any papers that would have allowed them to be adopted.
Barney lived with his parents until he married in 1947. In 1951, he and his wife traveled to Abilene in an attempt to locate Angeline. He located Crane who told him that Nichols died in 1949 and his foster home was shut down. Barney and his wife looked through records that Crane had saved, but they found no trace of Angeline. He is still hoping to find and reunite with her.
Extra Notes: This case first aired on the February 26, 1992 episode.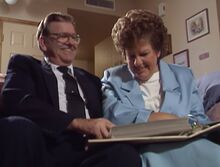 Results: Solved. Neil Smith of Cedar Hill, Texas was watching the broadcast and recognized his adopted sister, Martha Jean Smith, as Angeline. She is mentally handicapped and lives and works at the Rainbow Ranch, a group home in Camp Verde, Arizona. A few weeks after the broadcast on March 23, Barney was joyously reunited with her after a fifty year separation. The reunion took place at his daughter's home in Chandler, Arizona.
Sadly, Barney passed away on March 23, 2019 at age 90.
Links:
---