We're Getting Mutants in the MCU - The Loop
Play Sound
Real Names: Ann Denise (Mitchum) Sigmin and Garey Edward Goff
Aliases: Andy Hayes, Andy Partlowe, Annie D. Goff (Ann); Wiley (Garey)
Wanted For: Murder
Missing Since: April 1987

Case
[
]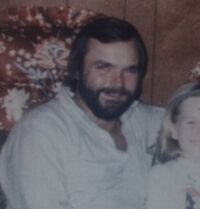 Details: Thirty-nine-year-old Charles "Charlie" Sigmin lived in Blytheville, Arkansas, and worked for the Southwestern Bell Telephone Company as a telephone lineman. He was a kind and friendly man with strong religious beliefs and a strong work ethic. However, he was also a man unlucky in love. Married and divorced twice, he despaired of finding the right woman, until he met Ann Mitchum. This time, he thought he had finally found happiness. He was wrong. During the early morning of October 19, 1986, he was shot seven times. He was found lying face down on the living room carpet, with quite a bit of blood under him. His clothes were in disarray, as if he had been in a fight. He was soaking wet with sweat and was bloody.
Ann was separated from Charlie. He was killed in the home of her new boyfriend, forty-three-year-old Garey Goff. She admitted at the time that Charlie had been shot by Garey. But the events of that bloody October night still bewilder Charlie's friends and family. Even the police are divided about the circumstances of his death. Was it self-defense or was it murder? The only two people who know the answers have disappeared.
Charlie loved children, and when he fell in love with Ann, he also fell in love with her two sons from a previous marriage. He wanted the best for his new family, and shortly after his marriage, he sold his small house and moved Ann and her children to a nine-acre truck farm. He named the farm after his and Ann's initials, "C and A's", a name that he felt symbolized his happy marriage. According to his mother, Bonita, he and Ann worked side by side on the farm. Bonita says that Ann's children is what drew her and Charlie together. They were "crazy" about him, and he felt the same way about them. Looking back on it, Bonita now believes that Ann was "feathering her nest" or trying to get money from Charlie so that she could live comfortably.
Charlie's friend, Joe Igleheart, says that he thought their relationship was strange. He did not believe that Ann was Charlie's type. However, it was clear to him that Charlie was "crazy" about her. During the summer of 1986, Charlie began to suspect that Ann was seeing another man. He told Joe that he was suspicious of her and that he had been watching her. She apparently disappeared one night but eventually came back.
According to Joe, on another night, Charlie woke up and Ann was gone. He thought she had taken off again. He got up and looked around the house but could not find her. He then noticed a light coming from underneath the door to their shed in their backyard. He went out, opened the door, and found her sitting on the floor in a negligee. She had a semi-circle of candles around her and a poster or drawing of a Satan-like figure on the wall. She was chanting in words he did not understand. He confronted her and they went back into the house.
Charlie told Joe and Bonita about the bizarre incident. He told Bonita that Ann "does not worship God." Three weeks earlier, he had found a strange doll in the bedroom. Ann told him it was used in her witchcraft rituals. A needle was through the heart of the doll. He told Bonita that one morning, he woke up and found it on his pillow. He also reported finding "satanic" literature among her possessions. He was certain that she was involved in witchcraft and possibly devil worship.
Disturbed by Ann's behavior, Charlie demanded that she move out. She went to nearby Caruthersville, Missouri, to live with her coworker, Garey Goff, a truck driver who had once been a policeman. Ironically, Charlie and Garey had known each other since childhood. But most upsetting to Charlie was that Ann had taken her two children with her. These events took their toll on him. He became depressed. He missed his wife and her two sons. He still talked to her occasionally, and, according to some friends, had then received threatening calls from Garey. However, he did not report the apparent threats to police.
On the night of October 18, 1986, Charlie was with an old friend at home when he received a phone call from Ann. She told him that her sons were crying and wanted to see him. She also was threatening to commit suicide. He told his friend that he had to go up to Ann and Garey's house and see what was going on. He told his friend, "I could be getting set up here." He reluctantly agreed to drive to Ann's. According to his friend, Charlie was quite sober. He thought of taking a pistol along but reconsidered.
At 3:20am that same night, Ann arrived at the police station and reported that Charlie had been shot at Garey's house on Collins St. The Caruthersville Police Department conducted a crime scene investigation. According to Patrolman Gary Hilburn, the house was "torn apart." It was clear to him that a very bad struggle had occurred. There was blood all over the doors and walls. There were a couple of bullet holes in the walls and one of the doors.
There were seven bullet wounds in the Charlie's body: two on the inside of his left thigh, one in the upper left scrotum, one in the right jaw, one on the outside of his right hand, one in the right ear, and one in the front of the neck. The last wound was fatal, according to the autopsy report. Two guns were found. A .32 revolver was lying on the floor and a .25 caliber pistol was on top of the TV. Both had been fired. In addition, a bloody iron had been placed in a wastebasket in the kitchen.
Garey was arrested that night; he and Ann were interrogated at length. Garey said he struggled with Charlie, hitting him with the iron and firing all seven of the shots. Ann corroborated his testimony but did admit to handling the .25 caliber pistol. She claimed that Charlie had arrived at the house at around 3am in a drunken range, demanding to be let inside. He then forced his way into the house. She maintained that once inside, he began beating her severely, until Garey came to her rescue. Though Garey had a broken arm from an earlier incident, he fought with Charlie, then shot him five times. He fired two more shots from the .25 caliber pistol. Finally, Charlie collapsed.
Unfortunately, no blood test was taken to prove if Charlie had been drinking. His friend claimed he was not, and others confirmed he was not normally a heavy drinker. But even if Ann's story was true, there still might be grounds for a charge of premeditated murder if she and Garey had both fired at Charlie. Police conducted a powder residue test to see if she had fired a gun. It was inconclusive.
Patrolman Hilburn took all of the evidence to the prosecutor's office. The prosecutor asked him how he felt about the case, and he said that he felt that it was probably self-defense and that they were telling the truth. He said they had to do more investigation to see for sure. The Caruthersville Police Department released Ann and Garey. However, the investigation continued.
Chief Deputy Jack Davis felt that they were running out of options for finding evidence so that they could charge someone in Charlie's case. They knew they had to do something different. One of Ann's friends claimed that Ann had told her she had reasons for wanting Charlie dead, one of them possibly being insurance money. The sheriff's department wired Ann's friend for sound and waited for Ann to say something that would be an admission of guilt. During the recorded conversation, the friend told Ann that she was planning to go to the police. Ann told her not to go to the police and give her time for herself and Garey to leave town. Chief Davis felt she incriminated herself in the conversation.
After this recorded conversation and other evidence surfaced, the authorities began to prepare a warrant for Ann and Garey's arrest on the charge of first-degree murder. They believed that the shooting had been planned in advance and that Charlie was lured to the house. But only a few hours later, Ann vanished, leaving her two sons behind. Garey had already left town, and his truck was later found abandoned in Phoenix, Arizona. The couple has not been seen since.
In April 1987, charges were officially filed against Ann and Garey, and warrants were issued for their arrests. However, the police are still divided on whether the shooting of Charlie was self-defense or murder. Patrolman Hilburn does not believe it was a murder. He bases that on the crime scene, the disarray of the house, the damage that was done to it, the angle of the bullet wounds to the body, the fight that occurred, and the damage to Garey (including bruises on his chest, face, and back). Chief Davis, however, says that in his opinion, there is no probability of self-defense. He believes that once the case goes to trial and all of the information comes out, everyone else will also realize that it was not self-defense.
Patrolman Hilburn says that he thinks Garey and Ann's biggest mistake is fleeing. He wants to see them come back and resolve everything. He does not believe Garey is "capable of murder in the first degree." However, he is not sure whether or not Ann is capable of it.
The only way the case will be resolved is when Ann and Garey have their day in court. They have never been officially served with a warrant and may not even be aware that they are wanted.
Extra Notes:
This case first aired on the November 30, 1988 episode; it was updated on the January 17, 1990 episode.
Fearing publicity, Charlie's friend (who was with him the night before his murder) remained anonymous, being interviewed in silhouette.
It was submitted to the show by members of law enforcement.
Unlike most "Wanted" segments, there was doubt over whether or not Ann and Garey were guilty; evidence was presented supporting both self-defense and murder.
The show incorrectly states that Charlie's death occurred on October 20, 1986.
Producers for the show noted that the information regarding the voodoo doll and other witchcraft-related activities was secondhand, and they could not say for certain whether Ann was actually involved in witchcraft. Authorities refused to confirm or deny if witchcraft was involved in this case.
Ann's family members have alleged that Charlie physically abused her. These allegations have not been confirmed.

Results: Unresolved. On May 22, 1989, Garey voluntarily surrendered to Pemiscot County sheriffs in Caruthersville on the charge of first-degree murder. A week earlier, he had contacted Chief Davis through a third party and said he was "tired of running." They negotiated a peaceful surrender. He still maintained that Charlie's death was self-defense. However, he shed some light on other things that occurred in relation to the case. Specifically, he said that Ann had fired some of the shots, including the fatal one.
Gary told authorities that during the last two years, he and Ann used assumed names and traveled through several parts of the western United States, including Arizona, New Mexico, and California. While in Arizona, they stayed on an Indian reservation where, according to Garey, Ann practiced satanic rituals. He also claimed that she had threatened to use satanic powers to kill him if he turned himself in. The two ended their relationship and went their separate ways in April 1989, shortly before he surrendered.
On the updated broadcast, Garey made a personal appeal to Ann, asking for her to turn herself in and "get this straightened out." He wanted her to come back and tell the truth of what happened. He said he needed help because he did not know everything that went on that night. He believed he could only get help if Ann was found. However, she never turned herself in.
In June 1989, as a result of a viewer's tip, a woman believed to be Ann was arrested in Saline County, Arkansas. There were several similarities between the two. However, after Chief Davis met with her, he quickly realized the woman was not Ann. She was then released. In January 1991, Garey entered an "Alford Plea" for second-degree murder. He was sentenced to twenty years in prison and was paroled in 2002 after serving thirteen years.
There is still an outstanding first-degree murder warrant for Ann. Authorities believe that she may be living in either Eugene, Oregon, or Phoenix, Arizona. She may be using the names "Andy Hays" or "Andy Partlowe". When she was last seen, she was 5'6" and weighed between 140 and 145 pounds. She has brown hair and brown eyes. She was born on October 15, 1955. She may be passing herself off as an American Indian. She is considered "extremely dangerous" and should not be approached. She may still be involved in Satanism. Her family, however, believes she is now deceased, possibly at the hands of Garey while they were on the run.
Sadly, on January 22, 1991, Bonita passed away at the age of sixty-six.
Links:
---