Spider-Man: No Way Home Trailer Dropped - The Loop
Play Sound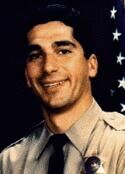 Real Name: Antranik Garabed Geuvjehizian
Nicknames: Deputy G-12, Tony
Location: Pasadena, California
Date: July 18, 1995

Case
[
]
Details: In summer 1995, the eyes of the nation were fixed upon the O.J. Simpson murder trial. But on July 19, 1995, a tragedy brought the trial to a momentary halt. That day, a visibly shaken Judge Lance Ito interrupted court proceedings in memory of his friend and longtime bailiff, who had been murdered the night before. Around the Los Angeles criminal courts building, he was known as "Deputy G-12", a playful nickname for thirty-one-year-old Antranik Geuvjehizian. He was well-liked by his coworkers and had many friends.
The murder occurred at around 9:30pm on July 18, 1995, on South Los Robles Avenue in Pasadena, California. Antranik and his wife, Vicki, were taking out the trash when she spotted a masked man in the next door neighbor's front yard. As the man approached the couple, Antranik confronted him while Vicki went inside to call the police. The man ran away and Antranik went after him. Once inside, she heard Antranik yell and then the sound of gunshots. Police arrived within minutes, but the assailant had vanished. Antranik was found on a neighbor's lawn; he had been struck once in the chest by a .38 caliber bullet. He died at 4am the next morning.
Antranik's murder was a senseless crime that shocked the community. His family and friends are devastated by his loss and want his killer apprehended.
Suspects: The suspected murderer is an African-American man in his early twenties, approximately 6'0" to 6'2", 180 pounds, with an athletic build. It is not known why he brought a gun if he simply intended to burglarize a home.
Extra Notes:
This segment ran for the first time on the November 10, 1995 episode. It was rescheduled from the October 27, 1995 episode.
It was excluded from the FilmRise release of the Robert Stack episodes.

Results: Solved. In January 1996, twenty-eight-year-old Terrance Keith Patridge was arrested and charged with an unrelated rape. Later that month, he was charged with Antranik's murder. Patridge confessed to shooting Antarnik as part of a crime wave that also involved other home invasion robberies, along with several rapes. In his confession, he mentioned specific details about the murder that only detectives knew.
In December 1996, a jury convicted Patridge of murder. In January 1997, he was sentenced to fifty-four years to life in prison. He was also sentenced to 373 years for the rapes and robberies.
Links:
---