Cobra Kai Season 4 - The Loop
Play Sound
Real Names: Arnold Archambeau and Ruby Ann Bruguier
Nicknames: Arnold Picotte (Archambeau)
Location: Lake Andes, South Dakota
Date: December 12, 1992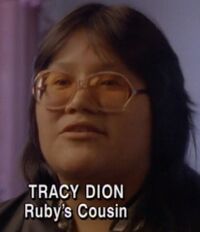 Case
[
]
Details: At 6am on December 12, 1992, in Lake Andes, South Dakota, a Chevrolet Monte Carlo stopped at a remote intersection on Highway 281 at the edge of the Yankton Sioux Indian reservation. It was cold. The road was icy. All three of the car's occupants had been drinking. As the car left the intersection, the driver lost control. The car jumped the highway and came to rest upside down on a frozen-over ditch between the road and a set of abandoned railroad tracks. The driver of the car was twenty-year-old Arnold Archambeau. One of the passengers was his eighteen-year-old girlfriend, Ruby Bruguier. The other passenger was Ruby's cousin, seventeen-year-old Tracy Dion.
By the time help arrived, Tracy was the only person still in the car. She was removed from it and taken to safety. For some unexplained reason, a reason she still cannot understand, Arnold and Ruby had apparently just walked away and abandoned her. She did not understand why they would get out and not try to help her out. Why did they leave their best friend trapped in an overturned car in the bitter cold? For three months, there were no signs whatsoever of the young couple. They had quite literally vanished into thin air.
Then, on the morning of March 10, 1993, Ruby's body was found floating in the ditch. The next day, Arnold's body turned up just a few yards away. What could have happened to them? The area surrounding the ditch had been repeatedly searched in the weeks after the accident. Yet, the bodies were found just seventy-five feet from the crash site. In this incredible and bizarre case, every answer seems to give rise to another disturbing question. And one question in particular haunts every aspect of the investigation: were Arnold and Ruby the victims of foul play?
Arnold and Ruby were both Yankton Sioux. They grew up together on the reservation. They began dating in high school and soon fell in love. His aunt, Karen Tuttle, helped raise him after his mother died when he was thirteen. She recalled that he was a very nice young man who had never been in any serious trouble. She pushed him to do well in school and got him to graduate. He was very popular in school; in fact, he was so popular that he was crowned prom king in his senior year.
Ruby's father, Quentin Bruguier, recalled that Ruby was a gentle person. She was always laughing and joking around. She never said any harsh words to her parents. If she ever did anything wrong, she would let her family know. In 1991, she and Arnold became parents when their daughter, Erika Marie, was born. From the start, it was a struggle. Arnold and Ruby were still kids themselves and hardly ready to settle down.
On Saturday, December 11, 1992, Ruby, Arnold, and Tracy embarked on an all-night party spree. At around 6am the next morning, they ended up back at Tracy's house where they had left Erika. Tracy's father was waiting for them. Arnold asked if they could pick up Erika. However, Tracy's father noticed that they had been drinking. He suggested that they leave Erika with him and that they could pick her up later that afternoon; they agreed. Tracy told her father that she was going to go with Arnold and Ruby. They then left.
A few minutes later, the trio arrived at the intersection. According to Tracy, they checked for cars and noticed that there were no other ones there. As Arnold left the intersection, the car spun out. The next thing Tracy realized was that they were upside down in the ditch. She and Ruby began to call out for help. She noticed that, strangely, Arnold was not in the car. Ruby began to cry and yell "Oh my God!" She also repeatedly hit the car in frustration. A few moments later, the door next to Ruby opened enough for her to slide out. As Tracy went to the door, it suddenly slammed shut. She does not understand why Ruby and Arnold left her there.
By daybreak, the police were already searching the area. Even though the spot where the car had come to rest was frozen solid, the authorities feared that Arnold and Ruby had wandered off and fallen through the ice in some other location. Officers walked around the frozen ditch. One officer walked along the opposite side of the railroad tracks, thinking that the couple may have wandered off toward the lake area, which was also frozen.
Deputy Bill Youngstrom stated that he had been to several accidents where the driver and/or passengers were missing. In many of those cases, the people involved were partying and drinking. His first thought was that Arnold and Ruby fled because they were drinking and they did not want Arnold to get arrested for DWI. He figured that they would show up in a few days. Karen, however, did not believe that Arnold would hide. She believed that he would have either came home or called them and told them that he was okay. But they never heard anything from him.
Ruby's mother, Myrtle Bruguier, did not believe that Ruby would go for so long without seeing Erika or at least contacting her family. She wondered if Ruby had been hurt or, for some reason, could not get to them. The police never found any evidence that Arnold and Ruby had fallen through the ice. Over the next three months, Deputy Youngstrom turned the search into a personal crusade. He worked tirelessly, investigating every possible lead. Day after day, he came up empty, until the spring thaw.
On March 10, 1993, a passing motorist saw a body floating in four feet of water in the ditch just seventy-five feet from the accident site. It was Ruby. Deputy Youngstrom was very shocked when he received the radio transmission that they had found the body in the ditch. Her glasses were missing and both shoes were missing. Her clothes were intact; they appeared to be the same ones that she had been wearing on the night of the accident. Her body was very decomposed; it was hard to recognize. In fact, they had to look at a tattoo on her body to get a positive identification.
The police decided to pump the water out of the ditch. At around noon the next day, Arnold's body was found submerged in the water about fifteen feet away from where Ruby was found. Strangely, his body was well kept. His skin color was fine, he was not frozen to the ground, and his clothes were not frozen to the ground. Investigators are not certain if the clothes found on his body were the same ones that he was wearing when he disappeared.
Deputy Youngstrom was completely baffled. How could two bodies found in the same location be in such different states of decomposition? And how could they end up in an area that had already been so thoroughly searched? The bodies were immediately autopsied, but the results only served to deepen the mystery. There was no way of determining the time of death and there seemed to be no evidence of foul play. The coroner concluded that Arnold and Ruby had both died of exposure and were not injured in the accident.
To Deputy Youngstrom, he felt that "death by exposure" meant that they froze to death. He believes that they may have frozen to death, but he does not believe that it happened in the ditch. He says that it is impossible that they were there for the entire three months. He personally walked along the ditch several times during that time period. He also has written affidavits from people that walked along it, people that had nothing to do with the case. He said that their bodies could not have been missed.
Police were further baffled by the discovery of two items that seemed to support the theory that Arnold and Ruby had not died in the ditch on December 12. A tuft of hair was found alongside the road. The hair was later determined by the forensic laboratory to have belonged to Ruby. Deputy Youngstrom does not believe that the hair stayed there for three months. He believes that the hair was left there whenever Ruby and Arnold's bodies were brought back to the ditch from another location. Deputy Youngstrom also found a set of keys in Arnold's pocket. One key belonged to a vehicle, while two others appeared to be house keys. He still has the keys in his possession; he has yet to find the vehicle or house(s) that they belong to.
Soon, another startling revelation. A witness claimed to have seen Arnold in a car accompanied by three other people on New Year's Eve, almost three weeks after he was reported missing. Deputy Youngstrom believes that the sighting is credible. The witness talked to Arnold and knows him personally. There was no doubt in her mind that the man in the car was Arnold. Authorities brought the witness in for a polygraph exam. She passed. Later, the couple she identified as being in the backseat of the car also underwent a polygraph. They denied being in the car. However, they both failed their polygraph exams. They were questioned extensively, but maintained that they were not with Arnold that night. They claimed that they were at home.
Five other witnesses also came forward, claiming to have seen Arnold and Ruby after they disappeared. One witness reported seeing the couple get into a car after the accident; the car was then seen heading east. Another witness reported seeing Ruby on January 20, over a month after the accident, in nearby Wagner, South Dakota.
How did Arnold and Ruby's bodies end up in the very ditch where they crashed their car three months earlier? A bizarre coincidence? An oversight by the police? Or, perhaps, something far more insidious? Quentin does not believe that they died there. He believes that they died somewhere else and were placed back in there to make it look like they died there. Karen believes that someone killed them. She is not sure how they did it. Both families believe that police did not do as much as they could have to investigate the case. Deputy Youngstrom wants to one day be able to tell Arnold and Ruby's daughter what really happened to them that night. A $5,000 reward is being offered in the case.
Suspects: None known, although authorities have been unable to locate two men who were seen near the ditch just a few hours before the bodies were discovered. They were driving a dark, Blazer-style vehicle.
Rumors circulated that their deaths were the result of clan disputes. However, this was never confirmed.
Extra Notes:
This case first aired on the April 14, 1995 episode.
It was submitted to the show by Ruby's cousin, Sharon Wichner.
Some sources state that Ruby was nineteen when she disappeared.

Results: Unresolved. In September 1999, the FBI closed their investigation into the case; they found no evidence of foul play and felt that Arnold and Ruby died accidentally in the ditch. However, some officers involved, along with Arnold and Ruby's families, still believe that foul play was involved. At the very least, they believe that Arnold and Ruby died elsewhere and their bodies were placed in the ditch.
Ruby's father, Quentin, died on October 17, 2001.
Links:
---