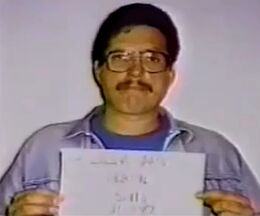 Real Name: Arthur Silva
Aliases: Art Silva
Wanted For: Child Abuse, Child Molestation, Parole Violation
Missing Since: May 31, 1991

Details: Thirty-nine-year-old Art Silva of San Diego, California had three young daughters. During the 1970s, he became violent to them, especially if they came home from school. Along with physically abusing his daughters, he also sexually molested them. Finally, in 1984, his own family turned him in to the police. By that point, he had been abusing them for over a decade. He was arrested and charged with committing lewd and lascivious acts on the bodies of children. After being convicted of the charges, he received an eleven-year sentence. However, after five-and-a-half years, he was released from prison.
Silva's parole carried two specific conditions: he was not allowed to see his daughters without their express permission; and he was forbidden to live with or near any young children. His case was assigned to San Diego parole officer Suzanne Pelayo. Three months after his release, she paid an unscheduled visit to his apartment. She became concerned when she saw a teddy bear near his front door. Stuffed animals are a common ploy of child molesters; they are bait to attract victims.
Suzanne discovered that Silva lived next door to a young child. A few minutes later, he returned to the apartment with a new girlfriend in tow. Suzanne ordered him to move. She also feared that his new girlfriend would have a baby. Her worst nightmare was that Silva, barred from contact with his daughters, would father another child - a child that he could abuse at will. She asked him during the visit if he planned to have anymore children. He said he would not because it was against his parole.
However, as Suzanne expected, Silva's girlfriend later got pregnant. In November of 1990, she gave birth to a baby girl. At that time, Suzanne went to the home and informed Silva that he had to leave the home immediately and could not have contact with his child. After a short separation, he defiantly moved back in with his girlfriend and baby daughter. Child Protective Services immediately took custody of the infant.
On May 31, 1991, Suzanne paid yet another surprise visit to Silva. His girlfriend had voluntarily given up their baby so that she could continue living with him. Suzanne noticed that his girlfriend was pregnant again. She also noticed that Silva's car was full of his belongings. She questioned him about it; he claimed that they were planning to move down the street. She asked him to give her the new address within twenty-four hours and he agreed to do so.
Silva and his girlfriend moved out of their apartment and promptly disappeared. They drove a beige Dodge Colt with California license plate number 2EUY494. Authorities believe that he may now be driving a van using the same license plate. He is currently wanted on charges of parole violation. However, it is important to note that his girlfriend has committed no crime and is not wanted. Their baby is due in late September or early October of 1991. San Diego authorities believe that is vital to the child's health and safety that Silva be found before the birth.
Silva was last known to be in Oklahoma, possibly on an Indian reservation.
Extra Notes: The case was featured as a part of a Special Alert in the September 25, 1991 episode.
Results: Captured. On the night before the broadcast, a viewer saw a promotional announcement for Unsolved Mysteries and recognized Silva, who was living in Oklahoma City, Oklahoma. Investigators learned that Silva's girlfriend was an employee of an Oklahoma City fast food restaurant and that he picked her up at 5PM on a daily basis. Officers waited until Silva arrived at the restaurant, where he was arrested at 5:40PM on September 25, 1991.
Silva was extradited back to San Diego to face the Judicial Parole Board. It is not known what sentence he received. He is currently on the California Sex Offender Registry.
Links:

---
Community content is available under
CC-BY-SA
unless otherwise noted.