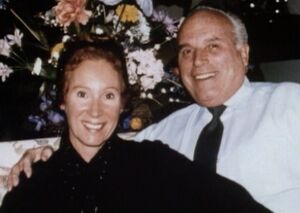 Real Name: Astarte Davis-Rice
Aliases: Esterbell White (birth name), Estaball White, Estaball McCaughtry, Peggy Morris, Peggy Stallcup
Wanted For: Fraud, Escape, Questioning in Murder
Missing Since: August 7, 1998

Case
[
]
Details: In 1984, Astarte Davis came to the island of St. Croix with her husband, Jim Rice, to build their dream house and live the good life. Two years later, however, the marriage was crumbling. In July 1986, he planned to fly to San Francisco, California, for shoulder surgery. She refused to accompany him because she had already made plans. As a result, he was scheduled to make the trip alone. Police now believe that he never made the trip at all. He was scheduled to arrive on July 29; however, he never showed up at the home of his daughter, Kathleen Clements. He never called from the airport and his family never heard from him again.
Jim played football in college and was a highly decorated bomber pilot during World War II. Through his construction business, he amassed a sizable fortune worth nearly $2 million. In 1970, he met Astarte and was instantly captivated by her. He turned his life upside down and left his first wife to marry Astarte. It proved to be a tumultuous union, marked by business failures, separations, reconciliations, and finally her imprisonment in 1982 for bankruptcy fraud. Yet through it all, he remained loyal to her. Then, three years after he vanished, she also disappeared.
Astarte was born Esterbell White, but as an adult, she changed her name to "Astarte" after a primitive goddess of love. She had three grown sons from a previous marriage which ended in divorce. Kathleen was happy for them because Astarte seemed to make Jim happy. However, she was not sure what he saw in Astarte. In 1979, the couple moved to Kona, Hawaii, and eventually stared a charter fishing business. Two years later, while Jim was out of town, Astarte's son, Noble, was cleaning their boat, the Blue Hawaii, when it was rocked by an explosion. He was seriously injured but recovered. By good fortune, or design, she just happened to be near the dock at the time.
Investigators discovered that there was a large debt on the boat, and they carried insurance on it. Noble indicated that he was just aboard cleaning it. Investigators felt this was strange because it was 2 or 3am, which they felt was a strange time to be cleaning a boat using gasoline. Noble claimed that the explosion and fire was accidental. However, Hawaii authorities found enough evidence to charge Noble and Astarte with arson of the boat. After the explosion, she and Jim separated. Both returned to California. She and Noble were never extradited back to Hawaii for trial. In April 1981, she filed for bankruptcy. A year later, she was charged with altering official court documents. She was convicted and sent to federal prison. When Jim visited her in prison, she convinced him that she had mended her ways and they reconciled.
After Astarte's release in 1983, she and Jim moved to St. Croix and built their dream house on an isolated bluff overlooking the Caribbean. He hoped that she would go straight and not get into any trouble. Kathleen, however, suspects that he found out that Astarte had not been rehabilitated. On July 20, 1986, he called Kathleen and told her that he would be flying up to San Francisco for his shoulder surgery in a week. He never arrived. For two weeks, she called his home but was unable to get a hold of him. Finally, when she was able to reach his home, Astarte answered the phone. She told Kathleen that Jim had ran off with a woman from Australia. A few days later, Kathleen talked to her again. This time, she claimed that he had gone on airplane and flown from St. Croix to Miami. Later on, she denied that either of these things occurred. Investigators were troubled by the inconsistent stories. It was clear that, from the beginning, she had lied about what had happened to Jim and how he disappeared.
Two months later, Kathleen hired private investigator Dennis Sheraw to look into Jim's disappearance. He came across a customs declaration dated July 28, 1986; this was the day that Jim was supposed to leave for California. On the form, Jim's signature appeared to have been forged. He notified the FBI about his find. Investigators noted that Jim had supposedly flown on an airplane on July 28, from St. Croix to Miami. However, they soon discovered that the airplane ticket had been bought by a person using his name. In fact, the people who flew on the flight were Astarte, Noble, and Noble's girlfriend.
Dennis also discovered that on July 21, a week prior to Jim's scheduled flight to San Francisco, Astarte had filed documents which gave her control of his entire estate. One of the key documents she filed was a power of attorney in her name. Dennis's investigation, however, showed that the original power of attorney document was in the name of Kathleen. Astarte had done a cut-and-paste job on the document and inserted her name in its place. Dennis believes that Jim's disappearance happened in the twelve-hour period from when he last spoke to Kathleen on July 20 to the following morning when the documents were presented to the notaries, because he would have known that his assets were beginning to be changed or taken away from him.
Dennis's investigation also showed that just days after Jim's disappearance, all of his personal effects, his tools, and his truck were sold in a garage sale that was conducted at the house. The items were sold by Astarte and Noble. Four months later, Kathleen received a typewritten letter from Australia, signed "Jim Rice". Once again, his signature appeared to have been forged. Another discrepancy cast doubt on the letter's authenticity: the typing mistake "Iam" instead of "I am" was found throughout it. This was a common mistake that Astarte made, based on letters examined by investigators. Kathleen was very upset when she realized that the letter was most likely a hoax, written by Astarte to make it seem like Jim was still alive.
Kathleen and Dennis are convinced that Jim was murdered and that his body lay somewhere beneath the blue waters of the Caribbean. They also believe that Astarte holds the key to solving the mystery. In January 1989, she was charged with bank and mail fraud because of her attempt to seize Jim's assets. She was released on bail and disappeared. Two years later in January 1991, she was arrested in Santa Barbara, California, on three unrelated felony counts. She was held without bail to await trial. She refused to comment on Jim's fate and has never been charged with any wrongdoing in connection with his disappearance.
In August 1991, Astarte pleaded guilty to bank and passport fraud in the United States and St. Croix. She served the first portion of her fifteen-year sentence in a medium security prison in California. In November 1997, she was transferred to the minimum security federal prison camp in Dublin, California, to complete the rest of her term. A year later on August 7, 1998, taking advantage of the lighter security, she simply walked out of the facility. She was present during the morning count which took place between 5 and 6am. At 10am, there was a fire drill conducted which resulted in another prison count. It was during that count that they discovered she was missing. She was not scheduled to work that day, so it is believed that she left the facility between the first and second counts.
Extra Notes:
This case first aired on the April 3, 1991 episode, focusing on Jim's disappearance. Subsequent airing in September 2002 after a prison escape.
This case has been profiled on America's Most Wanted after her escape from prison, and documented on episodes of Snapped and Forensic Files.

Results: Captured. When the case was re-aired in September 2002, a viewer reported that Astarte was living in Spokane, Washington. In October, officers who were looking for her spotted her and followed her home. She was arrested without incident. She had plastic surgery and used several aliases to avoid detection. She was later convicted on escape charges and sentenced to two years in prison. After completing her fifteen-year sentence and the additional two years, she was released. She now lives in Sacramento, California. Because Jim's body has never been found, authorities have been unable to charge her in his death. However, the FBI still considers her a prime suspect.
Links:
---