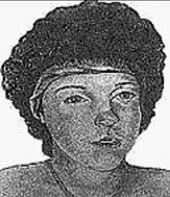 Real Name: Unknown (at the time of broadcast)
Case: Unidentified Remains
Location: Englewood, Ohio
Date: August 10, 1987

Case
Details: On August 10, 1987, the body of an unidentified woman was found at the bottom of a hill near the Hoke Road off-ramp to Interstate 70 in Englewood, Ohio. She was in her early twenties and was wearing only blue jeans and a bandana. She had been strangled to death. She was between seventeen and twenty-five, about 5'5", 130 pounds, with brown hair and brown eyes. She had tattoos of a unicorn and a rose above each breast.
Suspects: It is believed that the woman was a victim of the Ohio Prostitute Killer, who was possibly a man that went by "Dr. No" on a CB Radio that may have preyed on prostitutes in the area until 1990.
Extra Notes: This case was featured briefly on Unsolved Mysteries as a part of the February 19, 1992 episode, which focused on the prostitute serial killer. Also featured were Buckskin Girl and April 1990 Jane Doe.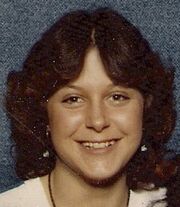 Results: Unresolved. In February 2010, the woman was identified as twenty-one-year-old Paula Beverly Davis, who vanished from the Oak Grove Truck Stop on Interstate 70 in Kansas City, Missouri, on the night of August 8, 1987. Paula was working as a prostitute at the time; she was divorced and had an infant son. Her mother reported her missing the next day. In October 2009, her sisters recognized her after finding her profile on NamUs. After her identification, her body was exhumed and returned to Missouri to be buried next to her mother.
Authorities believe Paula may have been the victim of Kansas City serial killer Lorenzo Gilyard; he is currently serving a life sentence for the murders of six other women.
Links:
---