Spider-Man: No Way Home Trailer Dropped - The Loop
Play Sound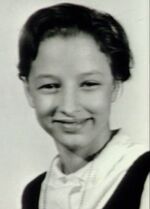 Real Name: Rebecca "Becky" Terry
Case: Lost Friend
Location: Beverly, Ohio
Date: 1957
Case
[
]
Details: Judi Davis of Beverly, Ohio, was five years old when both of her legs were crippled by polio. The doctors wanted to place Judi in a convalescent home, but her parents refused to do that because they wanted her to live a normal life. When Judi was eight, she was enrolled in a special elementary school, but when she was twelve, she entered a regular school.
In September 1956, Judi started Junior High, where she was the only crippled student. Judi also didn't know anyone at school, so she was very scared at first. She wanted to climb the stairs to the school, but there was no railing, so she had to have her father carry her to the top of the stairs. Judi obviously felt uncomfortable, but everything changed when Becky Terry came up to her and helped her. Judi and Becky soon became best friends. Becky made Judi comfortable; Judi felt as if she had no crutches at all. The two spent all of their time together and even coordinated their wardrobes. Often, the two were mistaken for sisters.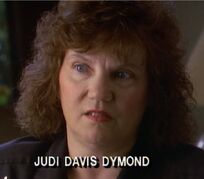 Becky began dating a fellow seventh-grader named David Majors. Judi was too shy to even talk to David. Then, one day, Becky was unable to carry Judi's books. Judi tried to carry her books by herself but she dropped them. David then helped her with her books and became close friends with Judi as well. After Becky and David broke up, he and Judi also started dating. Becky also had a new boyfriend, so the four were close.
A few months later, Becky came to Judi's house with sad news; Becky's father had gotten a new job in West Virginia and she and her family had to move. The two friends wrote to each other for several years, and Becky even came back to visit once, but eventually they lost touch.
In 1960, Judi's condition deteriorated and she was confined to a wheelchair. Judi later married and had four children. She also became an advocate for the rights of the disabled. In 1979, Judi divorced and moved to Tucson, Arizona. Judi is now searching for her long-lost friend, Becky.

Extra Notes: This segment was featured in the special live edition of Unsolved Mysteries on November 25, 1992.
Results: Solved. Becky's brother was watching the broadcast; Becky and Judi were reunited by phone during the live broadcast. The two reunited in person three months later at Judi's home in Tucson, Arizona.
In addition, on the night of the broadcast, David Major called the tele-center and left his phone number; at their reunion, Judi and Becky reunited with him by phone.
Links: None
---