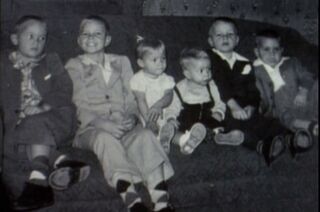 Real Names: Billie and Joey Rogers
Case: Lost Brothers
Location: Locust Grove, Oklahoma
Date: June 1960
Details: In 1959, Top and Edith Rogers lived in a small shack in Locust Grove, Oklahoma, with their six children, Robert, Johnny Lee, Ella May, Vernon, Billy, and Joey. Life was hard for them; there was little money for even basic necessities such as clothing and food. Robert recalls on one occasion that he did not eat food for three days; he was so weak, he could not leave his bed. Tragically, Edith and the children were also abused by Top whenever he would drink. One night, Robert tried to defend Edith by picking up a piece of wood and swinging it at Top. However, he missed, and was beaten by Top as a result.
In early 1960, Edith came home one day and gave the children presents, telling them that it would be one of the last times they'd all be together. She told them that they would be going away soon. In spring 1960, the court ruled that Edith and Top were unfit parents. In June, social workers arrived at their home and took the children away. They were all taken to the local Pryor Orphanage Home. They were told that they would never be going back home.

After the children were taken away, Edith had little to live for. Six months later, she committed suicide by swallowing poison. At her funeral, the children were brought together for the last time. Top had recently been arrested in Arkansas for killing a man during a fight. He was escorted, in handcuffs, back to Oklahoma for Edith's funeral.
After the service, the children were once again separated. They were subsequently adopted into six separate families where they were isolated from each other. Twenty-three-years later, Ella May, now Celia Wangler, wrote a letter to the Oklahoma Department of Human Services. At the same time, Johnny Lee, now John Rieger, also wrote a letter to them.
On February 10, 1984, Celia and John were reunited at the former's home in a suburb of Oklahoma City. They were overjoyed to finally meet each other again. Three weeks later, they located Robert, now Robert Pearce. In April, they were reunited with him at a gas station near Locust Grove. A few weeks later, Vernon was located; however, he declined to be reunited with them.
In April 1984, Robert, John, and Celia decided to go back to their childhood home in Locust Grove. It was the first time they had been there in twenty-four years. The visit brought back painful memories of the past, including the beatings they suffered from Top. John recalled that when he was adopted, his adoptive father discovered scars on his legs and back that resulted from the abuse. Robert recalled the repeated beatings he and his siblings received. Celia recalled the mental trauma she suffered as a result of the abuse. Later that day, they went to the cemetery to find Edith's grave. They discovered that Top had also died eight years earlier.
The siblings hope that they can find their two remaining brothers, Billie and Joey, so that they can bring their family together again.
Extra Notes: This case first aired on the October 18, 1989 episode.
Although not mentioned in the broadcast, their grandmother (Top's mother), Lula Mae Rogers, is also buried near their parents; she passed away in 1968.

Results: Solved. Both Billie, now thirty-year-old Charles "Chuck" Young, and Joey, now thirty-four-year-old Rusty Dunavant, saw the broadcast and realized that they were the missing brothers. On October 27, 1989, Rusty drove to Celia's home where the siblings were reunited. Interestingly, Rusty lives less than thirty-five miles away from John. They have mutual friends and have even met before; however, until recently, they had no idea that they were brothers. Later that day, Chuck arrived at the airport and was reunited with his siblings.
Sadly, John passed away in 2006. Robert has also passed away.
Links:
---
Community content is available under
CC-BY-SA
unless otherwise noted.