Cobra Kai Season 4 - The Loop
Play Sound
Real Name: Unknown
Aliases: None known
Wanted For: Murder, Attempted Murder
Missing Since: June 28, 1991

Case
[
]
Details: In June 1991, sixty-two-year-old Gordon "Gord" McAllister and his fifty-nine-year-old wife Jacqueline "Jackie" of Lindsay, Ontario, went on a vacation trip across Canada. They planned to visit her relatives during the trip. They had decorated their new camper with family photographs to make it as homey as possible. On June 27, they were on the first leg of their trip when they decided to stop at the Blind River Rest Stop on Highway 17 near River Bend, Ontario, just eighty-five miles from the U.S.-Canadian border. When they arrived there, they walked around and Gord felt that it was a nice, quiet little spot. It was along the Mississagi River which ran next to the picnic area.
On the morning of June 28, Gord and Jackie were the only two people in the Blind River Rest Stop. At around 1am, they woke up to a loud knock on their door. The man said that he was a police officer and told them that they had to move their camper. As the man continued to knock, he asked for them to let him inside. Jackie got up and opened the door. The man entered, wielding two guns. He said to them, "I'm going to rob you, and then I'm going to kill you."
Gord and Jackie put all of their valuables, including their rings, jewelry, cash, and credit cards, into her purse. She begged him not to hurt them, promising that they would not tell anyone. As she went to hand him her purse, she dropped it. She picked it up and placed it next to him. The gunman pointed one of the guns at her, as she begged him not to shoot her. Despite her pleas, he shot her once in the chest. She fell onto their bed. Gord immediately jumped out of the camper and landed on the ground. The gunman fired at him. Gord rolled himself underneath the camper to hide.
At that same moment, another car pulled into the rest area. Twenty-nine-year-old Brian Donald Major, the driver, got out of his car to see what was going on. As the gunman approached him, he immediately got back in and tried to start up his car. The gunman got in front of the car and shot Brian through the windshield. Meanwhile, Gord lay underneath the camper, hoping and praying that the gunman would leave. Fortunately, he did; he got in his own vehicle and fled the scene.
Immediately after the gunman left, Gord got back into the camper and drove out next to the highway, hoping to get help. He knew that Jackie had been horribly wounded. But only as he stumbled to the road did he realize that he, too, had been shot. He had been struck twice in the back and once in the foot. It was a race against time. He was able to flag down several motorists who went and called for help. Unfortunately, it was far too late. Jackie was already dead. Gord survived his wounds. The two would have been married thirty-nine years in September 1991. When he learned that she had died, he no longer cared whether he lived or died. He felt that his life was over. After being with her for so long, he said it was hard to carry on by himself.
Brian, the gunman's other victim, also died at the scene. He was less than half an hour's drive from his home in Elliot Lake. He left behind a wife and a young son. Police officers, tracking dogs, and a helicopter searched the surrounding area but turned up no trace of the killer. Five days after the murders, Ontario papers published a police artist drawing of the killer based on Gord's description. Shortly thereafter, a witness came forward. The witness said that a few minutes after 1am on the night of the murders, a blue late-model van peeled out of the Blind River Rest Area and headed straight toward his car. The witness had to maneuver quickly to avoid a collision. The van continued dead east toward Sudbury, Ontario.
The witness's sighting matched up with Gord's account; it led police to believe that the van either belonged to the killer or someone who had seen the carnage at the rest stop. The witness had not seen whether the van had Canadian or U.S. license plates. Police checked out more than 3,500 blue vans on both sides of the border. They came up with nothing.
Police have stated that they are fortunate enough to have a survivor in this case. They hope that Gord will be able to point out the killer someday. After he looked through hundreds of mugshots to no avail, police turned to a sophisticated new technology, hoping to improve on the original rough sketch of the killer. For five long hours, he painstakingly matched features from the computer's files against his indelible memories. Slowly but inexorably, the face of his wife's killer emerged.
Gord says that he will never forget the killer's face. He does not believe that the crime was a robbery gone bad. There was no resistance to him. Gord believes that he was out there to kill somebody for no reason. Since the murders, he has believed that the killer was going to come after him, since he was the only one that could identify him. He was under police protection for a long time. However, he is at the point now, and was at the point then, where he does not care if the killer came after him. He wonders if the killer kills him, maybe he would get caught this time.
The killer is believed to be approximately thirty-years-old (in 1991), about 5'10" with a slight build. He has long, stringy blond hair and a receding hairline. He was driving a blue or brown older-model Chevrolet or General Motors van with white full-size mirrors and white mud flaps. Police suspect that he may have fled to the United States after the murders. They hope that the guns used in the murders may provide a clue to his identity. One was a 20-gauge shotgun firing #3 buckshot. The other was either a .22-caliber semiautomatic Lakefield Mossberg, or a Winchester Cooey.
Extra Notes:
This case first aired on the March 10, 1993 episode.
It was also featured on "The Trail Went Cold" podcast.
West was featured on Cold Case Files.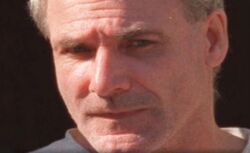 Results: Wanted. In June 1995, forty-eight-year-old former police officer Ronald Glenn West was arrested and charged in relation to five violent robbery-related crimes that occured in Sault Ste. Marie earlier in 1995. He pleaded guilty to those charges and was sentenced to eight years in prison. In August 1999, he was charged with the murders of two women in 1970 after DNA connected him to those crimes. Shortly afterwards, police identified him as a "person of interest" in the Blind River Rest Stop murders. When he was arrested in 1995, he was living in Blind River with his wife and children.
There is some circumstantial evidence that links West to the crime. At the time of the murders, he lived about twelve miles away from the crime scene. He also owned a .22-caliber rifle and a 20-gauge shotgun, the same type of weapons that were used in the murders. His ex-wife also noted that he owned a blue van and looked similar to the composite, but with a blonde wig. Finally, he was a former police officer, which would match up with the gunman identifying himself as such.
West was never charged with the Blind River murders. He later pleaded guilty to the 1970 murders and was sentenced to life in prison.
Sadly, on February 14, 2012, Gord passed away at the age of eighty-three, without ever seeing a resolution to Jackie's murder.
Links:
---