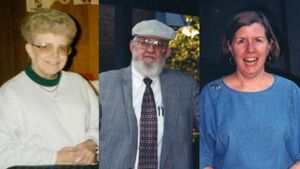 Real Name: Sylvia S. Holtzclaw, Dr. James Elbert Barnes, and Margaret Barnes
Nicknames: Eb (James); Maggie (Margaret)
Location: Greer, South Carolina
Date: May 16, 2003

Case
[
]
Details: The Blue Ridge Savings Bank is a bank housed in a trailer along state Highway 14 near Interstate 85 in Greer, South Carolina. On Friday, May 16, 2003, fifty-six-year-old bank teller Sylvia Holtzclaw was working alone at the bank. She was supposed to be done earlier, but a co-worker had called off so she stayed to cover their shift. Shortly before 1:30pm, customers Eb Barnes, sixty-one, and his wife Maggie, fifty-eight, entered. The couple, both teachers, had planned to move money into their IRA account.
The panic alarm was pressed by Sylvia at 1:30pm which signaled to police that a robbery was in progress at the bank. Within minutes, the police arrived to find Sylvia, Eb, and Maggie huddled in a back room, shot to death. Authorities believed that the motive for the murders was robbery. They believe that the killer entered the bank, planning to rob Sylvia, but was thrown off when Eb and Maggie entered. An extensive investigation turned up few leads.
Despite their best efforts, the senseless murders of the three people are still unsolved. A $2,000 reward is being offered in the case.

Suspects: A witness reported seeing an unidentified man at the bank shortly before the robbery/murders. He was described as 5'6"-5'8", 230 pounds, fifty to fifty-three years old (in 2003) with short, blond hair.
A surveillance camera from a convenience store down the street showed a red vehicle driving towards the bank at 1:24pm. It was then shown driving quickly away at 1:33pm, just minutes after the murders occurred.
Convicted felon Emmerson Wright is considered a suspect in this case. Two weeks before the murders, he stole a red Oldsmobile Alero from a rental car company near the bank. This was similar to the car that was seen on surveillance video shortly before and after the murders. Wright used a .40-caliber Glock in several of the robberies he committed; this same type of weapon was used in the murders. However, Wright committed suicide in 2005 after fleeing from police. He was never charged in this case.
Extra Notes: This case was uploaded to the Unsolved Mysteries website on November 7, 2014. The person interviewed in the video is Sylvia's son, David. It was also featured on the nineteenth episode of the Unsolved Mysteries podcast, which was released on June 23, 2021. The case has also been profiled on America's Most Wanted and Crime Watch Daily.
Results: Unsolved. Wright remains a suspect in this case. However, several sources have speculated a connection between the murders and the Superbike Motorsports Murders which occurred just thirty miles away in November 2003. Todd Kohlhepp later confessed and pleaded guilty to the Superbike murders; however, he has not yet been connected to the Blue Ridge Savings murders. When questioned about the case, he denied any involvement.
Links:
---