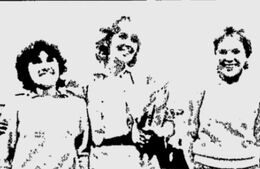 Real Names: Deborah and Kathleen Caruso
Nicknames: Debbie (Deborah), Kathy (Kathleen)
Location: Carol Stream, Illinois
Date: November 6, 1977

Occupations: Minors
Dates of birth: 1970 (Kathleen), 1972 (Deborah)
Height: Unrevealed
Weight: Unrevealed
Characteristics: Unrevealed

Details: In 1977, Janet Caruso (later Hicks) was in the process of divorcing her husband Philip. She was awarded custody of their daughters Debbie and Kathy, then aged five and seven respectively. On November 6 of that year, Philip absconded with the girls during a visit and Janet has not seen them since.
Suspects: Philip Caruso, the girls' non-custodial father is suspected of abducting his daughters.
Extra Notes: This case first aired on April 29, 1985 as part of Missing... Have You Seen This Person? Special #1. Janet Hicks and her daughters also appeared on the May 29, 1985 episode of "The Phil Donahue Show," which centered around parental kidnapping.
Results: Solved. Several of Debbie and Kathy's neighbors and teachers in Kettering, Ohio called the show after recognizing the age-progressed composites of the girls on the broadcast. Philip Caruso, who was using the alias surname "Russo", was arrested and charged with four felony counts of child abduction. Debbie, now thirteen, and Kathy, now fifteen, were taken back to Illinois and reunited with their mother Janet. Their father had previously told them that she had died.
In January of 1989, Philip Caruso pleaded guilty to two counts of child abduction. He was sentenced to eighteen months of probation.
Links:
---
Community content is available under
CC-BY-SA
unless otherwise noted.