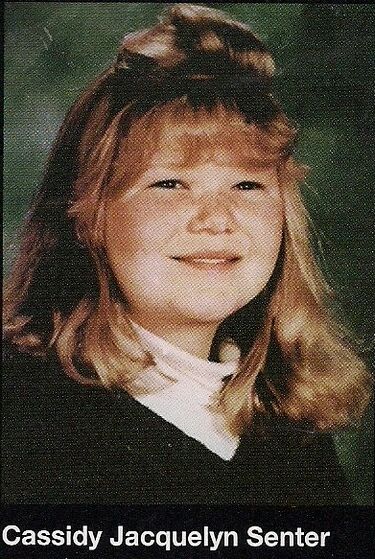 Real Name: Cassidy Senter
Nicknames: None known
Location: Hazelwood, Missouri
Date: December 1, 1993

Occupation: Student
Date of Birth: 1983
Height:
Weight:
Marital Status: Single
Characteristics: Unrevealed
Details: Cassidy Senter is the ten-year-old daughter of Rhonda Senter who lived girl in the lower half of Michael Goldbeck's home on Tall Tree Court in Hazelwood, St. Louis County. On December 1, 1993, she arrived home from school then went off to visit a friend's house. She was last seen at an intersection where Tall Tree Court became Spring Forest Lane.
At 5PM, Rhonda called to inquire about Cassidy and learned she had never arrived. few minutes after 5:00 p.m. Joined by a neighbor, she searched for Cassidy before calling the police who continued the search. They instituted a ground and air search that continued for days.
On December 9, 1993, two pedestrians in St. Louis discovered Cassidy Senter's body in an alley wrapped in two bed comforters and a pink curtain. Her jacket and sweater had been pulled above her chest, and her jeans were pulled inside out down over her ankles. A sheet was looped around each of her ankles and tied in the middle to hold the ankles together. The autopsy revealed decomposition on the upper portion of her body and at least four tears to the scalp and multiple fractures in the skull. There were bruises on Cassidy's chin, right check, right shoulder, breast bone, abdomen each side of her chest wall, and on the upper back at the base of the neck. Numerous other bruises were found over her body. These injuries suggested she had been beat to death. Tire treads near the body were linked to a U-Haul Truck.
Extra Notes: This case has never been featured on Unsolved Mysteries, but it was documented on The New Detectives in 2004. The murder has been linked to the disappearance of Angie Housman.
Results: Solved. Cassidy's murder was subsequently linked to Thomas Brooks, who was arrested on February 3, 1994. His sister testified to him using a U-Haul on the day of the murder. He later confessed to a detective that he killed her and covered her body with the bedding and drapery before leaving for work. He died on May 16, 2000 at the Moberly Prison, from an undisclosed illness. She is no longer linked to Angie Housman's disappearance.
Links:
---
Community content is available under
CC-BY-SA
unless otherwise noted.