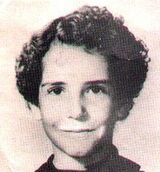 Real Name: Charlene Marie Richard
Occupation: None
Place Of Birth: Louisiana
Date Of Birth: January 13, 1947
Location: Lafayette, Louisiana
History
[
]
Background: In 1959, twelve-year-old Charlene Richard was gravely ill with leukemia. A devout Catholic, she spoke with Father Brennan, a priest at a local church. She agreed to offer up her own pain and suffering in prayer to God for the benefit of others. She died on August 11, and since then, her grave has become a holy shrine for Christians. Each year, many gather at it for a memorial mass. Many have claimed that after they prayed to her, they or one of their loved ones have been healed of illness or injury.
Case Files:

Nicole Price - when she was two years old, she was diagnosed with a lethal cancer. She was expected to die within months. She and her family prayed for Charlene's help. They believe that, thanks to her, Nicole lived for nine more years.
Donald Leger - in 1979, he was a sergeant in the Army when he had an accident with his feet. Both of his heels were shattered. Doctors did not believe that he would walk again. He started praying to Charlene. Within a few weeks, he was walking and even running. He believes that she gave him the ability to walk again.
Tara Roy - in 1994, when she was twenty-one, she developed colon cancer. She started heavy doses of chemotherapy but did not want the disease to take over her life. She tried to go to college but continued to feel worse. She and her parents went to Charlene's grave on several occasions, in hopes of having a miraculous recovery. On the last time they did so, she traced the letters of Charlene's name with her fingers. Almost immediately, she felt better. She soon discovered that her cancer had gone into remission. She later finished college, received a master's degree, and got engaged. The Roys believe that visiting Charlene's grave helped her recover.
Notes: This case first aired on the June 11, 1999 episode.
Links:
---