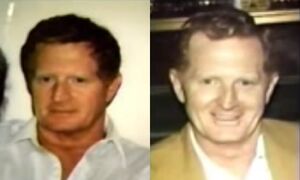 Real Name: Charles Wickman
Aliases: Chuck Raines, Red Whitten, Charles Redmond, Charles Whitman (name variant)
Wanted For: Drug Trafficking
Missing Since: April 1987

Case
[
]
Details: On October 23, 1986, fifty-four-year-old Charles Wickman was arrested in a hotel in Clearwater, Florida for selling cocaine to a man, who was an undercover cop. Facing a fifteen-year sentence for his crime, he called his sister and begged her to help him. Without any savings, Wickham needed $66,000 for bail. Fearing publicity, the sister requested that her identity remained unrevealed on the Unsolved Mysteries broadcast (alternately named "Yvonne"). Yvonne was a former nun who was now a schoolteacher. She had one major asset - her house - and she put it up for collateral. She felt the risk was worth her brother's freedom.
When the judge set the bail at $66,000, she had to pay $6,600 in cash and she went to see a bondsman. Yvonne withdrew her cash from her saving accounts, gave a cheque, signed papers and brought her mortgage for the bondsman. The bondsman warned Yvonne if Wickman took off, she might jeopardize whatever she put up as collateral. Loving her brother so much, she thought it was impossible that Charles was involved of drug trafficking or would run from the charges. She put aside her fears that she would be jeopardizing her home and home security for the future.
Charles lived with Yvonne for a few months. After coming home from work on April 27, she noticed a phone message from Wickman, claiming that he begins with his new life after being released from jail. That was the last time he spoke to her. If he doesn't return to face trial, Yvonne must owe $66,000. Anticipating for the worst, Yvonne decided to sell her home. She has been given several court extensions to give more time to find Wickman, but there was no trace of him.
Extra Notes: This case first aired on the April 5, 1989 episode. It was excluded from Amazon Prime episodes.

Results: Captured. Minutes after the broadcast, many callers informed that Wickman was living in Houston, Texas and then Mexico. On April 26, 1989, he was arrested at a hotel in Puerto Vallarta, Mexico. He was using the assumed name John Scott Urban, Jr. Wickman was extradited to Florida to stand trial.
Because her brother was back in custody, Yvonne's home was saved. However she still lost over $16,000 of legal fees and other costs incurred during the two-year search for him. Yvonne feels the sibling relationship has really shattered her and no matter how she tried to help him, it took a toll on her. On September 11, Wickham pleaded guilty to trafficking cocaine. He was sentenced to fifteen years of drug trafficking and was fined a quarter of million dollars.
Links:
---