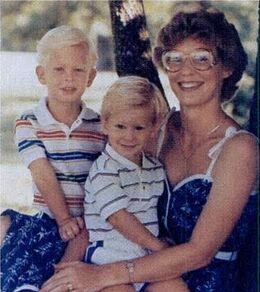 Real Names: Charles William III and Christopher Jason Smith
Nicknames: No known nicknames
Location: Houston, Texas
Date: September 21, 1984

Bio
[
]
Occupation: None
Date of Birth: 1978 (Charles); 1980 (Christopher)
Height: Unrevealed
Weight: Unrevealed
Marital Status: Single
Characteristics: Caucasian males. Blond hair.

Case
[
]
Details: Charles and Christopher Smith are the sons of Charles "Chuck" and Carolyn Shaffer Smith. Chuck is the son of Chick Smith, a wealthy Houston rancher and auto dealer. The couple had met in 1977 when she went to buy a car at Chick's Houston auto dealership. They married in March 1978, a few months before their son Charles was born. Two years later, Christopher was born. By 1983, the couple's marriage began to fall apart. Chuck was almost always at work and Carolyn was suffering from headaches.
After Carolyn filed for divorce, a dispute over their sons started, with both sides trying to gain custody of them. After an initial hearing, Carolyn received custody of the boys, and Chuck received visitation rights. However, Chick did not want her to have custody of them.
On April 11, 1984, Chuck took the boys into hiding and refused to let them come home. Carolyn hired private investigator Don Pannell who started looking for them. On April 17, he discovered that they were with Chuck's sister. Carolyn and Don followed the sister's vehicle, knowing that she was headed with the boys to a car wash. Don's partner waited for them to arrive there. After arriving, the partner stalled her while Carolyn and Don collected the boys.
Carolyn picked up Charles and Christopher nine days before their child custody hearing. She later learned that Chuck, his sister, and the boys all had one-way tickets to Florida. They were all supposed to fly out that night. However, she had found them just in time. That night, in a Houston suburb, a sheriff's helicopter circled her parents' house. According to them, Chuck and a county sheriff arrived. He held a court order, authorizing him to take custody of the boys. Carolyn believed the whole incident was the work of Chuck and Chick. According to her, Chick had police officers that worked for him.
Carolyn and the boys remained in hiding until the custody hearing nine days later. At the hearing, the judge awarded Carolyn primary custody while Chuck received weekend visitation rights. His parents also received monthly visitation rights. For five months, the court-authorized visits went smoothly. However, when Chuck and Chick picked up the boys on September 21, 1984, Carolyn felt a sense of foreboding. She feared that the boys would not come back to her.
Carolyn's fears were realized when her sons did not return the following Monday. It seemed like no coincidence when it was discovered that Chuck and his mother Pat were also missing. Carolyn reported her boys missing and a search began. On January 21, 1985, her divorce from Chuck became final. She was granted sole custody of the children, even though no one knew where they were. In a remarkable coincidence, that same day, Don traced Chuck and the boys to a remote lodge in the Scottish highlands. He had earlier obtained Chick's phone records, which showed that he had made several calls to the lodge.
Don immediately booked himself and Carolyn on the first possible flight from Houston to London. When they arrived at the airport, they were shocked to see a familiar face: Chick Smith, boarding the flight with a Texas constable. He apparently had been tipped off about a suspicious call to the lodge. He saw Carolyn and Don as they boarded the plane. When they landed in London, Carolyn and Don lost sight of Chick. When they got off the plane, they noticed that everyone from the flight was there except Chick and the constable.
Carolyn and Don were delayed by customs officials for more than six hours, presumably due to Chick's influence. She then had to wait five days to obtain a British court order enabling her to take Charles and Christopher back to the United States. Finally, she and Don arrived at the lodge, accompanied by a Scottish police officer. Unfortunately, they learned from the owner that Chuck, Chick, and the boys had left a few days earlier. He claimed that he did not know where they went. However, Carolyn felt that he may have been hiding information from her. She was right; she later learned that Pat and the Texas constable were still inside the lodge. They had watched everything from an upstairs window.
Six months later, Carolyn brought suit against the Smith family. Chick and Pat were tried on two counts of conspiracy to aid in a parental child abduction. Chuck remained in hiding with Charles and Christopher. The jury ruled in favor of Carolyn. Even though she had originally sued the Smiths for $1 million, the final award for Carolyn and the boys was an incredible $53 million. It was the largest child custody award in the history of the United States.
Chick and Pat appealed the case and lost. They promptly filed for bankruptcy. Five days later, they vanished. Presently, they are in contempt of Texas civil court. Chuck is wanted for child custody interference and unlawful flight. He has been in hiding ever since he failed to return the boys to Carolyn. She hopes that someone will be able to help her find them.
Suspects: Chuck Smith; his parents Chick and Pat are believed to have helped in the abduction.
Extra Notes: The case was featured as a part of the February 20, 1991 episode.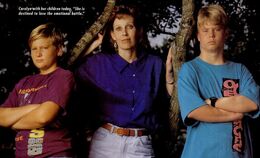 Results: Solved. After the case was re-aired in July 1991, a tip from a schoolteacher who had seen the broadcast led to Chuck and the boys being found in Cuernavaca, Mexico. They had been living there for three years. After some political dealing with the Mexican authorities, they were deported back to the United States in January 1992. Chuck was arrested right off the plane in Houston and the boys were reunited with Carolyn.
Chuck claimed that he took his sons because Carolyn, hooked on prescription medication, kept them in poor living conditions; she denied this. He was convicted of custodial interference and sentenced to seven years in prison. At first, the boys had a somewhat cold and distant relationship with their mother, presumably due to the belief that she neglected them. However, after a while, they grew closer to her. After Chuck was released from prison, the boys also resumed their relationship with him.
Sadly, Carolyn passed away in 2007 at the age of 49 and Charles passed away in 2021 at the age of 43.

Links:
---