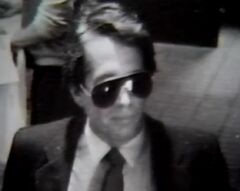 Real Name: Unknown at time of broadcast
Aliases: No other aliases
Wanted For: Armed Robbery
Missing Since: 1988

Case
[
]
Details: An unknown man has robbed several banks in the California area and is wanted by the police. He has been nicknamed the "Chevy Chase Bandit" because in a Beverly Hills bank robbery on November 3, 1987, he tripped and fell in a similar way to how Chevy Chase tripped and fell on Saturday Night Live before saying "Live from New York".
After he fell, the robber got up and walked to one of the tellers. He gave her a demand note, which said: Relax - No alarms, I have a gun and a bomb. Give me big bills, top and bottom drawer. Hurry. No tricks - I have a partner. While the teller was reading the note, he repeated to her that he had a gun. He threatened to kill her if she did not comply. She immediately responded to his demands. She gave him stacks of $10 bills from her cash drawer. He walked away with approximately $700. Bank surveillance cameras captured photographs of the robber.
Extra Notes: The case was featured as a part of the November 2, 1988 episode, in a "bank robber roll call" along with John William Farr, Shotgun Bandit, and Shopping Bag Bandits.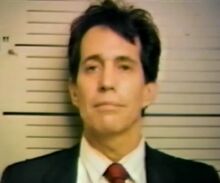 Results: Captured. When the segment aired a second time, a viewer recognized the bank robber as Bernard Strick, a fellow Los Angeles therapy group member. The viewer contacted the FBI and Strick was arrested on April 26, 1989 in Marina Del Rey, California. Investigators learned that Strick was a former Beverly Hills lawyer who was disbarred in 1987 after being convicted of manslaughter in a drug-related incident.
Bernard Strick was convicted of robbery and sentenced to four years in prison. He died in 2013.
Links:
---