Jurassic World: Dominion Dominates Fandom Wikis - The Loop
Play Sound
Real Name: William Claybourne Taylor
Aliases: William Clay Taylor, Clay Taylor, Michael A. Cauley, Michael Ferris Cawley, Michael Ferris Cauley, William C. Taylor, Robert J. Cudone, William Claybrourne Taylor
Wanted For: Murder, Attempted Murder
Missing Since: May 1980

Case
[
]
Details: William Claybourne "Clay" Taylor is wanted for the murder of sixty-four-year-old Walter Harry Scott and the attempted murder of seventy-seven-year-old Eugene T. Bailey. Walter was a retired INS customs official who lived in Archer, Florida. Eugene was a wealthy real estate tycoon and civic leader who lived in Williston, Florida. At approximately 9pm on the night of January 8, 1977, Walter, Eugene, their friends William Gilreath and William Harris, and the men's wives were leaving the Holiday House Restaurant in Ocala, Florida, after one of their weekly dinners together. As they approached Walter's car, a 1976 Buick, they noticed that it had a flat tire. The men sent their wives home in a different car. Twenty-five minutes later, they headed home themselves after having the tire repaired at a local garage.
Little did the men know, this delay was no accident, but rather the key element in a cunning and lethal trap. As they drove west down rural U.S. Route 27 in Marion County, about seventeen miles northwest of Ocala, another car pulled up next to them. A passenger in that car fired a shotgun at Walter, who was driving his car. The gunshot pierced the car's rear window and struck him in the head. He was killed instantly. His car went 300 feet off the road into a nearby wooded area.
However, the gunman was not finished. He went to the car, shooed Gilreath and Harris away, and then fired at Eugene, who was climbing out of the right rear passenger seat. He was shot three times at close range, once in the face and twice in the abdomen. Miraculously, he survived; Gilreath and Harris escaped unharmed. They went to the highway and flagged down a truck driver who took them to Williston, where they called police.
The more police learned about the circumstances of the shooting, the more troubling the case became. One of the survivors told police that the gunman had waved him away and then coolly pumped three shots into Eugene. It appeared that Eugene, not Walter, had been the intended target. Walter was brutally murdered because, as the driver of the car, he had simply been in the wrong place at the wrong time. But why would anyone go to such horrible lengths to get to Eugene?
Eugene was the mayor of Williston for sixteen terms, from 1945 to 1959. According to his son, Tom, he would talk to anybody; nobody was a stranger to him. He was just as comfortable talking to a "common laborer" as he was with the governor. Tom could not think of anyone who would have been an "enemy" to Eugene or their family. Eugene also said that he was "mystified" that someone would try to kill him. He initially did not think he was the target of the attack.
There was little physical evidence found at the crime scene. All that was recovered were three .32 caliber shell casings and a small appointment book, apparently dropped by the gunman. Despite a thorough search, its owner could not be traced. Gerard King, Chief Investigator for the Florida State Attorney's Office, says that they had no suspects initially. They investigated any lead that came in; most were from people saying who they thought committed the crime. However, everything came to a dead end.
Eugene recovered from his wounds, but the investigation was stalled for three years. Then, in April 1980, the Opelika, Alabama Sheriff's Department informed Investigator King about a former city clerk, Maxine Peterson, who had been beaten by her fifty-year-old boyfriend, Paul Allen, and had a "curious" story to tell. She told them that she had overheard a conversation between Allen and thirty-four-year-old Raymond Ellis "Ray" Taylor about how they "murdered that guy about three years ago out on Route 27."
Specifically, three days after the shooting, Maxine heard Allen say "Well, I blasted the [guy]," Ray responded with, "Well, you got the wrong one." She previously heard them talk about planning the shooting. She also heard them discuss money problems the day before the shooting. Finally, after the shooting, she heard Ray tell Allen to "get rid of those guns...to dump them in the river the next time he went fishing."
Ray and Allen had been friends for about a year at the time of the shooting. Ray was a local attorney who had once been the city attorney for Williston. He was reportedly friendly with Tom Bailey and had rented office space from Eugene. His thirty-one-year-old brother, Clay, was also implicated in Maxine's statement. Ray, Clay, and Allen became the focus of the investigation. Maxine also linked the three men to the murder weapon. She told police that she and Allen loaded the weapons into a boat, and he told her to look around and make sure nobody saw them do this. She also told police that she knew where they had dumped the guns.
Maxine led the investigators to an isolated cove on Florida's Withlacoochee River, approximately twenty-five miles from Ocala. For two days, a team of divers searched the river bottom but found nothing. Undaunted, Investigator King canvassed area residents. He learned that three guns had been found in the river by a scuba diver in March 1977, shortly after the shooting, and were now in the custody of local police. Ray was the registered owner of the guns. Six days before the shooting, he had reported them as stolen. Ballistics tests soon revealed that one of these guns, a 765 Walther PPK, had been fired at Eugene.
Investigator King says that he and the investigators had to decide what the next move was: do they interview Allen, Ray, or Clay? They decided to interview Allen first. They told him that they had already spoken to his girlfriend. He claimed that she was a "wacko" and laughed it off. However, they told him that there was "more to it." They then told him that they had the guns that were used in the shooting. They told him that they had compared the evidence from the scene to the guns and got a match. They demanded that he tell them the truth.
Allen subsequently confessed to his participation in the shooting. He claimed that he "just drove." He said that Ray "thought of the whole thing." He said that at the time of the shooting, Ray was struggling at his job, was $40,000 in debt, and was facing a bitter divorce. In Allen's version, Ray was Eugene's business attorney, and assumed that if Eugene died, the family would appoint him to the lucrative position of executor of Eugene's $3.5 million estate. He believed that he would collect up to $200,000 in legal fees from the Bailey family. But according to Allen, Ray was not content to wait for Eugene to die of natural causes.
Allen told police that Ray first mentioned the possibility of killing Eugene to him in October 1976, several months before the shooting. Ray allegedly promised to "set [Allen] up for life" if he participated in the murder plot. He told Allen that he would give him part of the money he made from the estate. Ray allegedly planned at least five ways to have Eugene killed. At one point, he had asked Allen to break into the Baileys' home, kill Eugene's wife, and then kill Eugene whenever he came home. Allen did not want to go through with this plan. Other plans involved shooting Eugene in the parking lot of a local restaurant or Elks Club. Ray eventually decided on the "ambush" plan.
As Allen continued his confession, the details of the shooting began to emerge for the first time. That afternoon, Allen and Clay got the guns from Ray. They then went and got a 1974 Plymouth Duster that belonged to a friend of Clay's girlfriend. They tied a phony license plate to it. That night, they followed Eugene, his wife, and the other couples to the Holiday House Restaurant where they met for their regular Friday dinner. Clay deliberately flattened one of their tires, hoping the men would send their wives home in the other car, thus removing four potential witnesses from the scene of the crime. His hunch proved correct.
Clay and Allen proceeded to Route 27 and lay in wait for the men to drive by. When the men did pass them about a half hour later, they followed them for about six miles. After putting on a ski mask, Clay attached a flashlight to the barrel of a shotgun and told Allen to pass Walter's car. As they pulled up next to the car, Clay fired, and the car veered off the side of the road. Clay told Allen to pull over and he complied. Clay ran up to the car and fired the shots at Eugene. He and Allen then left the scene.
Allen told police that Clay gave the guns back to Ray. About a week after the shooting, Ray showed up at Allen's house with the guns. He told him to dump them in the river the next time he went fishing. Allen confirmed to police that he had done this. Allen's story was further corroborated when it was discovered that the appointment book found at the crime scene belonged to Clay's girlfriend, Patricia Randall. His name was written on the back. She had written some things in it that only someone who knew about the shooting would know.
Patricia told police that Clay was supposed to go to a Beach Boys concert with her that night, but he never showed up. She said had given him the appointment book so that he could contact her after the concert. She also said that Ray told her that she could be considered an accessory in the murder and ordered her not to speak to police unless he or another lawyer were present. He also told her to wipe down her friend's car, which Clay had used during the shooting, to remove any fingerprints. Clay also told her that what had happened was "a mistake."
Interestingly, Eugene's granddaughter had passed the crime scene the day after the shooting and saw Ray there, on the side of the road. He told her that he came to look at the scene and his car broke down. At first, she assumed he was just curious about what had happened. However, she now believes that he was there to look for something left behind, most likely the appointment book.
On May 16, 1980, a grand jury indicted Allen, Ray, and Clay in connection with the shooting. Allen was charged with first-degree murder. He agreed to testify against Clay and Ray in exchange for a manslaughter conviction. He was sentenced to fifteen years' probation. In June 1981, he died of a heart attack at the age of fifty-one.
Shortly after the indictment, Ray was arrested in Tennessee on murder charges and returned to Florida. He was then fired from his job as an assistant district attorney in Tennessee. In September 1980, he went on trial for his involvement in the shooting. Allen, Maxine, and Patricia testified about their knowledge and/or involvement. Ray claimed that he had an alibi for that night; he said that he was at a movie in Gainesville with his girlfriend. He claimed several witnesses could place him there. However, the prosecutor claimed that he planned several alibis to "protect himself."
Ray maintained his innocence, saying that he did not discuss or plot to kill Eugene. He claimed he was not broke and had no interest in Eugene's estate. He said he planned to move to Tennessee around the time of the shooting. He and his attorneys claimed that Allen was a liar, an alcoholic, and a convicted felon. They said he was unreliable, as he was a "self-confessed conman." Maxine admitted he would either lie or tell the truth, "depending on his best interest." However, the prosecutor noted that if Allen lied on the stand, his plea deal would dissolve and he would also have to stand trial on murder charges.
In October 1980, Ray was convicted of first-degree murder and aggravated battery. In December, he was sentenced to life in prison plus twenty-five years. Because the jury in his original trial had not been properly sequestered, and, due to allegations of prosecutorial misconduct, in 1987, the Florida Supreme Court overturned his conviction and ordered a new trial.
Eugene, the intended victim, passed away from a stroke in 1983. His family says that he was "never really the same" after the shooting. He had spent weeks in the hospital recovering and had his jaw wired shut.
Clay, the alleged triggerman, was arrested at a dance studio in Chattanooga, Tennessee, on May 20, 1980. At the time, he was teaching there. He was later released on a $20,000 personal recognizance bond and ordered to return to Ocala. However, he never arrived there and has not been seen since. On August 6, a federal warrant was issued for him, charging him with unlawful flight to avoid prosecution. He left behind an ex-wife and teenage son in Florida; they say they have not heard from him since his disappearance.
Initially, it was believed that Clay had gone to Brazil on a forged passport. An undercover cop reported seeing him in New Jersey in 1982. Other sightings placed him in Canada and North Carolina. In the mid-1980s, the FBI received a report that he had assumed the alias of a dead FBI agent in Tampa.
Clay is an ex-U.S. Marine. He had served in Vietnam and was convicted of three counts of assault there. He has a degree in advertising and may be working in radio. He has previously worked as a dance instructor, trumpet player, convenience store clerk, keypunch operator, painter, welder, and advertising worker. He sometimes wears a mustache, is bisexual, is a heavy drinker, and frequents adult bookstores. He has ties to the Chattanooga, Tennessee area. Authorities believe he has since remarried.
Extra Notes:
This case first aired on the September 26, 1990 episode.
It was excluded from the FilmRise release of the Robert Stack episodes.
Some sources state that Eugene's estate was worth between $2.5 million and $3 million.
Although not mentioned in the segment, Ray was also charged with the murder of his new wife, Merilee. She drowned in Harbour Island, South Carolina, on August 14, 1967; her death was originally ruled an accident. However, charges were filed against him after he was charged with Walter's murder. It is not known if he ever went to trial in Merilee's case.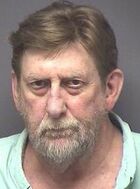 Results: Captured. In October 1990, Ray pleaded guilty to second-degree murder and was sentenced to twenty-five years in prison. He received credit for time already served. Prosecutors agreed to the plea and reduced sentence because several of their witnesses (including Allen) had either died or disappeared. In October 1991, he was released on parole after serving ten years in prison.
In July 2016, an anonymous Unsolved Mysteries viewer contacted the FBI, saying she believed that Clay, then sixty-seven, was married and living in Reidsville, North Carolina, under the assumed name James Emmett "Jay" Manion. The viewer had known "Jay" for over thirty years. She described a scar on his knee which matched one that Clay was known to have. She said that he was rarely employed and mostly worked for his wife, Sheryl Apple Manion. The viewer also said that despite being at a qualifying age to do so, he refused to file for disability or use his Social Security number. He also avoided signing his name on legal documents.
The FBI was surprised to find that the federal warrant for Clay was dismissed in 2005; this was determined to be an error. The state warrant was still active. Investigators decided to look further into "Jay's" background. He apparently first applied for a driver's license in North Carolina in December 1980, just six months after Clay disappeared. In 1981, he married Sheryl. The couple ran a wallpaper store in Greensboro; however, it failed several years ago. He had been living in Reidsville since at least 2002, when he and Sheryl bought a home there. The SSN he was using was issued in 2000 and belonged to a woman born in 1990. Based on all of this information, the FBI was certain that "Jay" was actually Clay. He was arrested by FBI agents on July 28; when brought into custody, he denied that he was Clay. However, fingerprints confirmed his identity.
In January 2018, Clay went on trial for Walter's murder and aggravated battery against Eugene. On January 19, he was found guilty of second-degree murder and aggravated battery with a firearm. Several family members and neighbors of Clay's requested that he receive "favorable sentencing" because he had been a model citizen for decades. On March 2, he was sentenced to life in prison with a three-year mandatory minimum sentence for the murder. He was also sentenced to fifteen years for aggravated battery. The sentences will run concurrently.
In April 2018, Ray, then seventy-two, was arrested and charged with being an accessory after the fact to second-degree murder, for helping Clay hide from authorities. In April 2019, he was convicted of the charge and sentenced to five years in prison.
Gilreath and Harris, who were in the car with Eugene and Walter, have since passed away.
Links:
---