Real Name: Unknown
Aliases: None Known
Wanted For: Murder, Attempted Murder
Missing Since: August 6, 1988
Case
[
]
Details: Police estimate there may be as many as 100 serial killers living among us, on our streets and in our neighborhoods. They are cruel and calculating, choosing victims indiscriminately, with little or no remorse for their actions. The overwhelming task for authorities is to determine how the serial killer thinks and hopefully learn where and when he might strike again. One such investigation is currently underway in New England.
Since 1978, the bodies of seven young women have been discovered within a fifty-mile radius in the Connecticut River Valley along the New Hampshire/Vermont border near Route 91. Police believe that six of them were abducted and taken to remote, wooded areas, where they were murdered. All suffered similar stab wounds. Most were found off of dirt roads. None were sexually assaulted. And police began to suspect that the murders were the work of the same individual.

The first victim was twenty-seven-year-old Cathy Millican. On October 24, 1978, she left work and went to the Chandler Brook Wetland in New London, New Hampshire. She planned on taking pictures of birds. The next day, her body was found just yards from where she was last seen. She had been stabbed over twenty times in the neck and abdomen.
On July 25, 1981, thirty-seven-year-old college student Mary Elizabeth Critchley decided to hitchhike from Massachusetts to her home in Waterbury, Vermont. She was last seen by a friend who dropped her off near exit 13 of the Massachusetts Turnpike. Two weeks later, on August 9, her body was discovered in a wooded area off Unity Stage Road in Unity, New Hampshire, about eighty miles from where she was last seen. Her cause of death could not be determined.
At around 3:30pm on May 30, 1984, seventeen-year-old nurse's aide and high school student Bernice Courtemanche left her home in West Claremont, New Hampshire. She set off for her boyfriend's house; she may have tried to hitchhike there. She was never seen alive again. On April 19, 1986, her decomposed body turned up near the Sugar River in Newport, New Hampshire. She had been stabbed to death and her throat had been slit.
Two months later, at 2am on July 20, 1984, twenty-six-year-old Ellen Ruth Fried, a registered nurse from Claremont who worked at Valley Regional Hospital, called her sister from a payphone at Leo's Market. She said there was a car circling the parking lot. She briefly left and checked to make sure her car would start. She returned and said goodbye soon after. She was never heard from again. Eighteen months later, on September 19, 1985, her skeletal remains were found on the banks of the Sugar River in an isolated area near Kellyville, eight miles outside of Claremont. Damage to them indicated that she had been stabbed. They would turn up in the same woods one mile away.
On July 10, 1985, twenty-seven-year-old single mother Eva Marie Morse vanished while hitchhiking from work on Route 12 between Charlestown, New Hampshire and Claremont. On April 25, 1986, her remains were found in the woods in Unity, several miles from Route 12. She had been stabbed and her throat was slit. She was found just 500 feet from where Mary's body was found.
On April 15, 1986, thirty-six-year-old Lynda M. Moore was home alone while her husband was at work. At around 2pm, she was seen in the yard of her home on Route 121 in Saxtons River, Vermont. About an hour later, her husband found her dead in their living room. She had been stabbed twenty-five times. Evidence indicated that she had engaged in a violent struggle with her assailant. There were no signs of forced entry or ransacking.
On January 10, 1987, thirty-eight-year-old registered nurse Barbara Agnew went skiing with friends on Stratton Mountain. At 10pm, she left, heading to her home in Norwich despite a snowstorm in the area. A few days later, her green BMW was found at a rest stop off of Route 91 in Hartford, Vermont. The door was open, and blood was on the steering wheel and back seat. Some of her bloodstained belongings were found in a nearby dumpster. Police are not certain why she apparently pulled off into the rest stop, since she was just a few miles from home. On March 28, her body was found near Advent Hill Road in a wooded area in Hartland, Vermont. It was twelve miles from the rest area. She had been stabbed repeatedly in the neck and chest. She had several defense wounds, as well as a "disabling" wound.

With no witnesses and little physical evidence, investigators were at a standstill. As a last resort, the New Hampshire State Police brought in criminal psychologist John Philpin to develop a profile of the killer. He said that his approach is to gather as much of the same information that the police use in the very beginning, such as: police reports of the crime scene, autopsy reports, and autopsy photographs. Every bit of information that would be available typically to the investigators, that is what he would begin with.
Detective Sergeant Clay Young of the New Hampshire State Police notes that, from a law enforcement standpoint, profiling is something that can help with an investigation. It is not so scientific that it is absolute; it is not going to tell you, "This is the individual." But it does give you the type of individual that you can be looking for. If you have a suspect, it can tell you whether or not you are on the right avenue or the right approach.
In the beginning of Philpin's investigation, he made several trips out to the locations where Bernice and Ellen were killed. The first few times he went was simply to have something of a "feel" for the place. He had several questions he wanted to answer: What could he hear? What could he smell? What was the place like? What would it have felt like to be there? How could this crime, this "very bizarre dance" between two people, how could it have been choreographed in this space? How could it have happened?
Philpin said that when he gets to the point where he is beginning to develop some "feel" for what is going on in the mind of a killer, he will go back to the scenes, using what he has learned, and simply going through what might have happened just as though he was the killer. Once he is in that mindset, he tries to answer similar questions: What is the killer hearing then? Does he hear the noise of the river going by or is that blocked out? Is he so focused on the "activity" of killing that he does not hear it? What does it tell him about the killer's ability to perceive in terms of sound, feeling, and sight?
Philpin believes that the killer does a lot of driving. He believes that the killer selects sites that are "low risk" for him. Rather than stalking a particular victim (he does not believe any of them were pre-selected as victims), he selects sites, and goes from site to site. He says that part of what goes on with this killer is that he has a very strong need to take these women away alive and transport them to the site that he has pre-selected. During this time, he "owns" them. They are his to do with, whatever he wishes. And part of that, he thinks, "Is a process of 'scaring the daylights' out of them."
Around midnight on August 6, 1988, twenty-two-year-old Jane Boroski was on her way home from the Cheshire County Fair when she stopped to get a soft drink from a vending machine outside of Gomarlo's Supermarket along Route 10 in West Swanzey, New Hampshire. It was a hot, muggy evening and she was seven months pregnant. If there was a serial killer on the loose, this was the perfect setting for him to find a victim.
As Jane purchased her drink, a car pulled up to the right of hers. Shortly after returning to hers, the man in the other one got out and walked up to her driver's side window. He asked if the payphone was working. She said she did not know. He then opened up her car door and tried to pull her out. When she tried fighting him off, he pulled out a knife. He forced her out of her car while she pleaded with him not to hurt her since she was pregnant.
Jane asked what the man wanted. He said, "You hurt my girlfriend real bad." However, she told him that she did not hurt anyone. He said, "This is a Massachusetts car, isn't it?" and she responded that it was a New Hampshire one. At some point, she tried to break away. And the man's apparent plans to abduct her went awry. She ran down the parking lot, but he was able to catch up with her and tackle her to the ground. He then stabbed her several times in the neck and chest.
After stabbing Jane, the man returned to his car. By that point, she had rolled onto her stomach and started to get up on her hands and knees. He drove past her and looked down at her. He then drove away, leaving her for dead. As she tried to get up, she felt the blood rushing out of her. She thought she was going to die. She knew she had to get to her friend's house to get help.
Although Jane had been stabbed or slashed a total of eighteen times, she somehow managed to crawl back to her car and drive to her friend's house two miles away. When she left the parking lot, she felt like she was driving fast. At the time, she was in shock, so she was not sure exactly how fast she was driving. Evidently, she was going pretty fast, because, before she knew it, she was right behind her attacker. She was afraid that he was going to stop or turn around and follow her.
When Jane reached her friend's house, her attacker drove on. Up the road, he turned back. He stopped momentarily in front of the house, then disappeared into the night. Meanwhile, Jane got her friend's attention. He came to her aid when she collapsed on his porch. Police and paramedics were called. Miraculously, none of the stab wounds hit vital organs or her seven-month-old fetus. Two months later, she gave birth to a healthy baby girl.
Jane agreed to undergo hypnosis with Philpin and was able to provide a graphic eyewitness account of her terrifying ordeal. From what she said during the session, it became clear to him that she was not stalked. Her decision to go to the fair was a last-minute one. She had no sense of anyone following her either on the way there, while she was there, or on the way back. She was able to supply very specific details of her attacker getting out of his car and coming up on the other side, making a remark about the payphone.
Philpin said that Jane's attacker is very deliberate, methodical, and calm. Based on her description, he does not get rattled, is very much in control, and is very patient about what it is he is doing. She recalled that he seemed so calm and cool about everything throughout the whole ordeal. She said he never got mad or showed nervousness. Everything was just as if it did not bother him.
According to Philpin, what Jane described was a tremendous struggle, a tremendous amount of resistance on her part, the desire to protect her unborn baby. But at some point during the assault, it was as though she had done everything that she could do, and she could not do any more. She stopped struggling. And it was at that point that the assault stopped. According to Philpin, it seemed as though the greater her resistance, the more determined he was. As soon as her resistance began to wane, the attack ended.
Philpin next had Jane try to recall the drive to her friend's house. She remembered coming up behind another car and realizing it was her attacker's. He asked her to focus in on his license plate. She said it had the numbers "6 6 2", however, it was too dirty to read the rest. She also was able to describe it as a '75 to '85 Jeep Wagoneer.
After getting the description of Jane's attacker's car, one of the things police decided to do was see if they could identify it. In order to do that, they enlisted the help of the states of Vermont, New Hampshire, and Massachusetts. They generated a computer printout of all Jeep Wagoneers registered at that time in all three states matching the description that Jane had given them. Police narrowed the search to 1,350 throughout New England. Unfortunately, none of the leads pinpointed a suspect.
Once again, the investigation was stalled, but with one crucial difference. The police still do not know who Jane's attacker is. But thanks to her eyewitness description, they do believe they know what he looks like and how he thinks. Philpin believes that he is a "loner" type of person who prefers his own thoughts and fantasies. He does not like intrusion. His view of women is extremely negative to the point of hostility, to the point of viewing them as "arrogant, intrusive types of people". Philpin says that he can see him making an adjustment that one might call within the realm of the normal. But it would require, he thinks, very limited exposure to groups of people.
Jane says that she feels very fortunate to be alive. However, she wishes that her attacker could be found so that what happened to her will not happen to anyone else. She fears that his next victim may not be so fortunate like she was to live.
New Hampshire state police are not yet convinced that they are indeed dealing with a serial killer. However, with seven unsolved murders, they must investigate all possibilities. The authorities suspect that if the murders are the work of one man, he may have moved to another part of the country, perhaps because Jane survived his attack. Their greatest hope is that he has been incarcerated for some other crime. Their greatest fear is that he is still on the loose, killing at random.
The suspect stands approximately 5'7" to 5'8" tall, and weighs between 150 and 160 pounds. He has blond hair, is clean-shaven, and may be driving a golden-brown Jeep Wagoneer with a license plate including the numbers "6 6 2". He was in his mid-thirties to early forties (in 1991). Jane described him as "normal looking".
Police also have a description of a man seen near Lynda's home on the day of her murder. He may have been hitchhiking. He was a clean-shaven white male with a round face, darked-rimmed glasses, and dark, trimmed hair. He was between twenty and twenty-five (in 1986), slightly stocky, and carrying a bright, blue knapsack. It is not known if he actually is connected to Lynda's murder, however.
Extra Notes:
This case first aired on the October 9, 1991 episode.
It was also featured on E! True Hollywood Story - THS Investigates and Dark Minds.
In 1993, Philip Ginsburg released the book The Shadow of Death: The Hunt for a Serial Killer about this case.
In order to protect her identity, Jane was filmed in silhouette and her full name was not used for the broadcast.
Sources vary on several details in this case: the date of Jane's attack, her age at the time of it, the location of Lynda's home, Ellen's age and day of disappearance, and Barbara's age.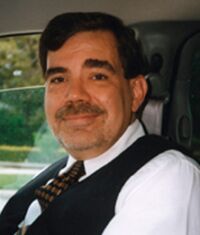 Results: Wanted. After the broadcast, an Idaho law enforcement officer called the telecenter. He recognized the composite as matching a man who was being held in an Idaho jail for the murder of a woman. However, it is not known if anything came from this lead. Sadly, since her attack, Jane has been hospitalized for depression, suicide attempts, and other mental issues. Her daughter also suffers from mild cerebral palsy.
One potential suspect was later identified in this case: fifty-six-year-old Michael Nicholaou, a Vietnam veteran and former Army helicopter pilot. In 2001, Rose Young asked private investigator Lynn-Marie Carty to look into the December 1988 disappearance of her daughter, Michelle Marie Ashley. Michelle and Nicholaou had two children together. She vanished from Holyoke, Massachusetts, four months after Jane's attack. Her family believed that he had killed her; although she had planned on leaving him, she also told Rose that if she ever went missing, he was responsible. Shortly after her disappearance, he left the area with their children.
Shortly after taking on this case, Carty located Nicholaou in Tampa, Florida. Initially, he said that he did not know Michelle. Eventually, he said that she had run off with a drug dealer and abandoned the family. He also said that their children were all right and with him. However, he reportedly told others that Michelle was dead. Four years later, on New Year's Eve 2005, he tracked down his estranged wife, Aileen, who had been hiding from him at her sister's West Tampa home. He shot her and her twenty-year-old daughter, Terrin, to death. He then committed suicide. Fortunately, his and Michelle's children were not harmed.
After Carty learned about the murder/suicide, she decided to reinvestigate Michelle's case. She started researching murders in the northeast in the 1980s and soon learned about the Connecticut River Valley murders. She found several coincidences between them and Nicholaou. Several victims were nurses; she discovered that his first wife was a nurse and his mother worked at a hospital. He had spent time in New England since at least 1978, when Cathy was killed. He was in the general vicinity at the same time as most of the murders. Michelle's family lived in Vermont, in the "heart" of the Connecticut River Valley. He had driven "all over" the valley when visiting her relatives. They were fighting around the time of Jane's attack, and he reportedly drove down the same road where she would be attacked, looking for Michelle. His residence at the time was close to Route 91. He had visited the hospital where Barbara worked within a few months of her death. He was visiting relatives nearby when she disappeared.
Carty also examined Nicholaou's psychiatric records from a stay at a Miami veteran's hospital. According to the records, he felt "guilt" over being involved in killing civilians during combat in Vietnam. It also said that he could "become violent when threatened." Interestingly, he was tried along with seven other soldiers for strafing civilians. However, the charges were dropped. Medical records also showed that he had chronic nightmares and intrusive images about combat experiences; he would reportedly see the faces of people he "randomly killed" while in a helicopter. Several people who served with him said that he "enjoyed killing". When he was not in combat, he reportedly would "go off" with his knife and find other opportunities to kill people.
Carty asked New Hampshire authorities to look at Nicholaou. They later noted that he was a "person of interest" in the murders and planned to compare fingerprints and DNA from the crime scenes to him. In July 2006, she contacted Jane and told her about him. After being shown several photographs of him, she said she was almost certain that he was her attacker. Police indicated that he matched the physical description of her attacker. He also matched the description of the man seen near Lynda's home. Philpin also believed that he was connected to the murders.
Despite the circumstantial evidence against Nicholaou, DNA testing in the cases has so far been inconclusive. It has been noted that he was living in Virginia at the time of Bernice, Ellen, and Eva's murders. Furthermore, Lynda's son noted that he does not completely match the description of Jane's attacker or the composite. Jane also had previously dismissed him as her attacker when initially shown photographs of him.
Virginia authorities also considered Nicholaou a potential suspect in a 1984 rape along the Blue Ridge Parkway. Another man, Edward Honaker, spent ten years in prison for it before DNA tests proved his innocence. Carty discovered that Nicholaou had once lived in the area and looked similar to Honaker. However, it is not known if his DNA was ever compared in that case.
Police have looked into other suspects in this case. One was Delbert Tallman, who confessed to killing a woman named Heidi Martin in 1984. Her death was similar to the Connecticut River Valley murders. However, he recanted his confession and was acquitted of her murder. He has never been officially connected to the other cases.
Another lead in the case came from forty-six-year-old Gary Westover; in fall 1997, he confessed to his uncle that he was forced to participate in Barbara's murder. He was a paraplegic and wheelchair bound. According to his confession, three of his friends picked him up on the day of Barbara's murder for a "night of partying." They put him and his wheelchair in a van. At some point, they abducted Barbara, stabbed her, and dumped her body off a back road. They then took him back to his home.
Westover's uncle wrote down the names of the three men and contacted authorities. However, according to his family, little was done with the information at the time. In 1998, he passed away. After Nicholaou was identified as a potential suspect, one of Westover's relatives sent a letter to Barbara's sister, describing his confession. She forwarded it to Carty, who suspected that Westover had been used as "bait" to get Barbara to pull over in the rest stop. She believes that Nicholaou was one of the men named in Westover's confession. However, this has not been confirmed.
In 2012, this case was profiled on the show Dark Minds. During it, two new suspects were mentioned. One was Rodney Stanger, who was convicted of killing his girlfriend, Crystal Morrison. He is also a suspect in the disappearance and death of Molly Bish. Shortly before her death, Crystal called her sister and implied that he was involved in "murders" including Molly's. However, when shown a picture of him, Jane did not believe that he was her attacker.
The other suspect was not identified on the show. His son had earlier come forward, suspecting that his father was involved in the Connecticut River Valley murders. His wife had told her son that when she saw the composite of Jane's attacker, she believed that it was her husband. She later told her son that one night, he came home covered in blood. Fearing for her life, she did not ask him what had happened. Instead, she helped him burn his bloody clothing. The next day, she saw on the news that a woman had been murdered within a mile of a bar that he had frequented.
His son said that his father was a "violent and dangerous man" who had issues with all of the women in his life. He had rage issues and would go "completely out of control". In one incident, he threw his wife out of a second-story window and held her by her hair. She also told her son that her husband was a "sexual deviant". The family lived for several years on a Massachusetts farm. The suspect violently butchered pigs and chickens regularly. He also owned a Jeep Wagoneer; his son rode in it with him everyday.
When shown a photograph of the suspect, Jane became frightened and said the "hairs on the back of [her] neck stood up" in fear. She was certain that he was her attacker. However, he died in 2008 without ever being investigated. It is not known if police consider him a suspect in this case.
To date, the Connecticut River Valley murders remain officially unsolved. Surprisingly, Cold Case Unit officials have stated that they do not believe the cases are connected. However, they said the possibility cannot be investigated fully until one of them are solved.
Links:
---