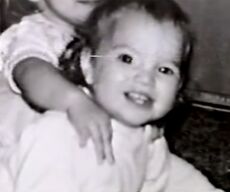 Real Name: Cozette Elaina Hansen
Nicknames: Cozy
Location: California
Date: August 3, 1991

Occupation: Minor
Date of Birth: December 21, 1989
Height: Unrevealed
Weight: Unrevealed
Marital Status: Single
Characteristics: Caucasian female with pierced ears

Details: Cozette Hansen is the daughter of Michael Hansen and Myra Murphy. The couple had met in 1986 in California. The two had married in June of 1988; however, Michael was allegedly abusive towards Myra and her son from a previous marriage. After Cozette was born in 1989, the couple separated. In December of 1990, Myra filed for divorce. On August 3, 1991, when Cozette was eighteen months old, she was abducted from her crib by her father. They have not been seen since.
Suspects: Michael Hansen
Extra Notes: This case first aired on the November 25, 1992 episode.
Results: Solved. In November of 1995, Michael was arrested in New Mexico; however, Cozette was not with him. A few weeks later, she was located and reunited with her mother Myra. Myra was later interviewed by a newspaper, stating that she was afraid that her ex-husband would come back and steal their daughter again.
Links:
---
Community content is available under
CC-BY-SA
unless otherwise noted.