Spider-Man: No Way Home Trailer Dropped - The Loop
Play Sound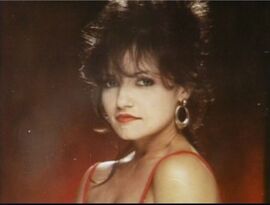 Real Name: Crystal Lene Spencer
Case: Suspicious Death
Location: Burbank, California
Date: May 13, 1988

Case
Details: Ever since the movies began, beautiful young women have flocked to Hollywood, lured by the glamour of tinsel town and the promise of stardom. It was this dream which brought twenty-three-year-old Crystal Spencer to Los Angeles in summer 1982. For as long as she could remember, she pictured herself as not just an actress, but a star. Sadly, her search for fame and fortune led only to frustration, failure, and, some say, murder.
Crystal was raised in the small northern California town of Ukiah. When she was eight, her father died, leaving her mother to raise three small children alone. At seventeen, she dropped out of high school and took a job to help support the family. Soon, Hollywood beckoned and she moved to the Los Angeles area to actively pursue her dream. Her early years were a struggle, resulting only in a few bit parts. She quickly realized that true stardom was elusive and perhaps unobtainable.
Within two years of Crystal's arrival, she reluctantly took a job as an exotic dancer at the Wild Goose nightclub by the airport to pay her bills. On a good night, she made up to $400 in tips. But she never fully accepted the fact that, in essence, she was a stripper. According to her friend Patti Jo Millhouse, she would sometimes start crying out of nowhere, saying that she felt degraded about herself and about what she had done.
In May 1987, friends invited Crystal to an outdoor barbecue. She was eager to mix and mingle with people who might help further her acting career. While there, she met the party's host, thirty-seven-year-old Anton Kline, a would-be screenwriter and PhD candidate in history. He felt that there was something very alluring and compelling about her that readily caught his eye. She told him that she was certain that she would one day become a famous actress. She was taken by him; though they came from totally different backgrounds, they soon fell in love.
Anton took it upon himself to help Crystal broaden her horizons. He introduced her to art galleries, museums, and concerts. She was dazzled. She fell in love with classical music and fine art, and wanted to know more about the other wonderful things of life that she had never been exposed to before. He had no idea how she earned her living. She walked a precarious tightrope, discovering art and culture by day, immersed in Hollywood's dark side by night. According to Patti, Crystal loved Anton very much and was scared of him finding out about her job. She wanted to quit and change her life.
Finally, four months after they met, Anton found out about Crystal's "other life". A neighbor saw her dancing at the club where she worked. Anton was shocked and upset, but also accepted it and told her that it was okay. The two continued their relationship. She also continued to pursue acting, enrolling in drama classes and a comedy workshop. On Wednesday, May 4, 1988, she was home with a cold. Anton stopped by and they talked about a promising offer she had received to work for three months as a nightclub "hostess girl" in Japan. She was not sure if she had the job yet. She was nervous yet excited about the possibility of traveling to Japan and seeing a whole different world than what she was accustomed to. However, she also told a waitress friend that she was fearful of the trip; she did not explain why.
Anton spoke to Crystal on the phone on the evening of Thursday, May 5. She told him that she was feeling better. The conversation lasted about fifteen minutes. He said that he would be in touch, and they hung up. That was the last time he ever spoke with her. She called her sister later that night, saying that she had the flu and wanted to speak to their mother. However, she was not able to get her mother's phone number. Later that night, a neighbor reported hearing the sounds of someone being violently ill in a nearby apartment.
Three days later, Anton tried to reach Crystal, but continuously got a busy signal. An operator told him that the receiver was off the hook. He went to the club where she worked, but was told by the manager that she had not been there for at least two days. Confused, he assumed that she had left for Japan without saying goodbye. Interestingly, the doorman seemed to confirm this, saying "Crystal has left for Japan".
Anton expected to soon receive a call from a very excited Crystal about her time in Japan. Instead, he got a phone call from the Burbank Police Department. On Friday, May 13, police discovered her decomposed body in her Burbank apartment after neighbors complained of odors. She had been dead for nearly a week. She was twenty-nine when she died. Belongings were scattered throughout the apartment. Police asked Anton when he had last seen her. He told them about his visit and how she had had a cold. They told him that they believed that she had died of natural causes.
Investigators learned that Crystal had a history of alcoholism and drug use. However, an autopsy revealed no trace of drugs or alcohol in her system. There were no obvious signs of foul play or suicide, although she had reportedly threatened the latter in the past. Her body was in such an advanced state of decomposition that the coroner was not able to ascribe the cause of death. They ruled that her death was the result of undetermined causes. Anton did not believe that she died of an illness. He did not believe that she was very sick when he last saw and spoke to her.
Anton was suspicious when he was told that Crystal's body had been found in an obscure corner of her apartment, nude from the waist down, entangled in the phone cord, with the phone off the hook for days. He became extremely suspicious when he learned that neighbors had heard terrible screams and shrills coming from her apartment that some had described as the sounds of torture. On the night of Saturday, May 7, two of her downstairs neighbors, Susan Akin and Jet Taylor, had been awakened by a strange intermittent wailing. At 4:02am, Susan remembered waking up and hearing some moans and funny sounds. She soon began to suspect that the person was being hurt and tortured.
Susan woke up Jet and he heard the screams as well, which frightened him. At first, he thought it was something sexual. But as the screams continued, he realized it was something worse. She felt that it sounded like someone was repeatedly putting a lit cigarette against another person's body. They also heard the sounds of a person choking and moaning. Susan was very adamant about calling the police. However, out of fear of what he heard, Jet did not want to get involved. She wishes now that they had called the police. She speculates that they may have been able to save Crystal's life. A week later, after her body was found, the Taylors finally told the police about screams.
Anton, along with Crystal's family, believes that she was murdered in the early morning hours of Saturday, May 7. Her family requested to view the body several times. The coroner's office continually refused, claiming the body was in no condition to be seen. For months, Anton was denied access to the police records. However, in September 1988, he was able to obtain the autopsy report. He was shocked by the discrepancies he found.
According to medical records, Crystal was barely 5'0" tall. However, the autopsy report claimed that she was 5'7". Anton claimed (and medical records confirmed) that she weighed approximately 105 pounds when he last saw her. However, the report claimed that the body was a "well-nourished" 140 pounds. Furthermore, it neglected to show that she had a series of metal pins and plates in her ankle from reconstructive surgery, although a full-body X-ray was taken.
Anton was certain that the body did not belong to her. The only possible explanation Deputy D.A. Robert Cohen had was that a documentary error was made at the coroner's office, as they are overwhelmed with work. However, he noted that the remains were positively identified by fingerprints from two different agencies. This would eliminate the possibility that the coroner autopsied the wrong remains. However, the fingerprint examination was apparently done after the fingertips were surgically cut from the body.
Police later closed their investigation into the case, declaring it a "death by probable natural causes". Anton claims that he was told over the phone by one law enforcement official, "bad things happen to bad girls." He asked the official, "Do you mean bad girls die of natural causes?" and the official reportedly responded "you know what I mean." The official then hung up the phone. Anton believes that the investigation was bungled and that something may have been covered up. He is angered that they are attempting to suppress the police reports on the case forever. He and her loved ones just want to know the truth and find out what happened to her.
Two weeks after the discovery of Crystal's body, her family and friends gathered for a private memorial service. Fittingly, her ashes were scattered beneath the famous Hollywood sign.
Suspects: Anton suspected that Crystal's death may have been related to a former California highway patrol officer named Horace "Mac" McKenna. Rumors circulated that he secretly owned several topless bars, including the one where she worked. According to the rumors, he used some of the strippers to entertain his friends in law enforcement. He was also allegedly involved in an illegal gambling business and operated a clandestine casino out of a warehouse in Inglewood. According to a waitress friend of Crystal's, she spent time at the casino.
Anton speculated that McKenna had Crystal killed because she was providing the police information about him. However, none of this has been confirmed. He was killed in an unrelated incident in 1989, shortly after it was disclosed that police were investigating his activities. Interestingly, the FBI was keeping a file about Crystal prior to her death.
Anton also speculated that her death may have been related to the Japanese mafia. Another theory was that she was killed by a "ruthless suitor". Anton found Crystal's camera in her apartment; the film was undeveloped. When he got it developed, he found a picture of a man in his forties sitting in her apartment. He managed to obtain her phone records and was able to identify the man in the picture. Police investigated him and ruled him out as a suspect.
Extra Notes:
This case first aired on the March 20, 1991 episode.
It was also featured on A Current Affair and "Hard Copy".
Susan Akin, who was Miss America in 1986, was interviewed for the broadcast.

Results: Unsolved
Links:
---