Cobra Kai Season 4 - The Loop
Play Sound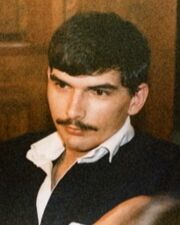 Real Name: Curtis Edward Pishon
Nicknames: Curt
Location: Seabrook, New Hampshire
Date: July 5, 2000

Bio
[
]
Occupation: Security guard, former police officer
Date of Birth: July 11, 1959
Height: 5'9"
Weight: 165 lbs
Marital Status: Single
Characteristics: Caucasian male with brown eyes, graying brown hair, and possibly a mustache. He was a smoker and heavy drinker. Due to multiple sclerosis, he had difficulty walking and was often in pain. He was wearing a security guard uniform consisting of a light blue shirt and new boots at the time of his disappearance.

Case
[
]
Details: At 1:42am on July 5, 2000, forty-year-old security guard Curtis Pishon was working the graveyard shift when his car inexplicably burst into flames. He called 911; minutes later, firefighters arrived and extinguished it. He informed them that he had no idea how his car caught on fire. They noticed that, under the circumstances, he seemed curiously subdued. Two hours after they left the scene, the mystery deepened. He abruptly disappeared without a trace. His family and investigators were baffled by his disappearance. Every possibility considered led to a dead end. They thought he might have purposefully destroyed his car before engineering his own disappearance, but they found no other way for him to leave the remote factory where he worked. They considered suicide, but no body was found. They also believed that he could have been abducted, but there was no evidence to support that conclusion.
For ten years, Curtis cherished his career as a police officer for the Concord Police Department. Then, he was stricken by multiple sclerosis, a painful muscular disorder that severely limited his mobility. It progressed to the point where he could no longer accurately fire his gun. He had no choice but to turn in his badge. According to his brother, Mark, he was extremely devastated about it. His personality changed; he became quieter and was uncertain about what he wanted to do with his life. He also became depressed, withdrawn, and dependent on alcohol. After taking on a frustrating series of odd jobs, he found a new sense of satisfaction as security guard for an automobile part factory, Venture Corporation. The job's physical requirements were less stringent than those of a police officer, and he was not required to carry a gun.
The night Curtis vanished began like any other. He arrived at work around 9:30pm. At midnight, two-and-a-half hours into his shift, all was normal. At 1:42am, Seabrook firefighters responded to his call for help regarding the car fire. He told them that he saw a large amount of smoke and flames, grabbed a fire extinguisher, and tried to put the fire out. However, he was unsuccessful. When firefighters arrived, they did find evidence that he tried to put it out. The deputy fire chief noted that there had been cases where security guards intentionally set fires and put them out in order to get recognition. However, he could find no evidence of this in Curtis' case; in fact, he could not find any evidence to indicate how the fire started. The car contained no signs of arson, accelerants, or accidental ignition. The firefighters that talked to Curtis found that he was totally accepting of what happened and did not appear upset. This was especially strange because his car had been cluttered with many of his possessions. His family said that he had the odd habit of using it to store what he treasured most. They were surprised that he was not upset about the fire.
At 2am, Curtis made his last entry in his log book, writing about the car fire. Two-and-a-half hours after the fire was extinguished, the factory security supervisor checked on Curtis. He said that he was okay. The supervisor left at 3:25am. Twenty minutes later, at 3:45am, a factory worker noticed that Curtis was missing. An exhaustive search of the factory and the surrounding area turned up nothing. His brother, Nicholas Jr., first thought that he may have either taken his own life, wandered off, or was abducted.
Regarding the suicide scenario, Curtis' family remembered that he had purchased a 9mm pistol from his father, Nicholas Sr., just a few days prior to his disappearance. He had previously sold it to him when he was low on cash. Nicholas Sr. also wondered if he had committed suicide, possibly as a result of his depression from losing his police officer job. However, he remembered that Curtis was in a good mood on the weekend that he picked up the gun. It is important to note, however, that an unusually elevated mood is actually a common symptom in sufferers of depression who have made plans to commit suicide. To investigators, suicide seemed to be a likely solution. His gun was not initially found. Police could find no trace of it in his car or apartment. Then, as his family cleaned out his cluttered residence, Nicholas Jr. found it, still wrapped in the brown paper bag Nicholas Sr. had sold it to him in. The discovery ruled out suicide in the minds of his family members.
Two possibilities appeared to be left: either Curtis broke down mentally and wandered off, or he was abducted and murdered. The first one prompted investigators to focus, once again, on the mysterious fire. They believed he might have accidentally started it while smoking, then became so despondent over losing his prized possessions that he simply walked away. However, Nicholas Sr. did not believe that he could have wandered off. He noted that Curtis was a smoker and would not have left his cigarettes behind. Also left behind were his packed lunch, glasses, and contact lens solution. Mark also noted that his physical condition had deteriorated so much that he would not have been able to walk very far. Investigators stated that they believed it would be unlikely, but not impossible, for him to travel a long distance on foot. The possibility remained that he called for a taxi or hitched a ride on a truck leaving the factory. However, investigators discovered that no cabs or company trucks left the plant during his shift.
One disturbing possibility remained: that Curtis was abducted and murdered. Mark believed that he may have seen something he should not have seen while he walked around the factory. He believed that Curtis was attacked and killed while trying to report the suspicious activities. Nicholas Sr. also believed this and suspected that the killer(s) disposed of his body in a way that it would never be found. There was also speculation that his car was purposefully set fire by criminals in order to provide a distraction while they committed a crime. Investigators exploring the possibility of foul play found that a door and two vending machines had been damaged during his shift. The person(s) who caused the damage remain unknown. One witness reported seeing two vehicles leaving the factory's premises at around 3:30am. This was around the time of Curtis' disappearance.
Curtis' family does not believe that he is still alive. They believe that if he was, he would have reached out to them by now. Since his disappearance, there has been no activity on his Social Security number, bank accounts, credit cards, or pension checks. His family and investigators still hope to find out what happened to him.
Suspects: Prior to his disappearance, Curtis told his family that he was concerned for his safety at work and that illegal activities (such as drug deals) were happening in the parking lot. He was reportedly upset the night he vanished because he had no backup in case something went wrong. He also previously claimed that a worker threatened to kill him over a parking ticket he had given him. The worker denied the threat and had an alibi for that night, however.
Around the time he vanished, two cars were seen speeding out of the area. Vending machines at the factory were also vandalized that night. It is suspected that the vandalism may have something to do with Curtis' disappearance.
Extra Notes: This case first aired on the October 16, 2001 episode.
Results: Unsolved. In 2005, investigators received an anonymous tip which told them to look into the employees working at the factory that night. Because it was the week of a holiday, only about fifteen people were working there. One of them was Robert E. April; he has remained a person of interest since then. In October 2008, he was arrested for threatening to kill the teenage brother of a man who owed him money. In the threat, he allegedly said that he had killed Curtis and buried him in his yard. In 2010, his yard was searched, but nothing was found. He has not been charged with Curtis' disappearance. Despite being named numerous times in local media as a suspect, he has never given an interview or made any public statements about it. He refused a polygraph test when he was officially questioned by police. Since Curtis' disappearance, he has been in trouble with the law several times. However, in each case, he was either acquitted or the charges were dropped.
Investigators now believe that foul play was involved in Curtis' disappearance. They have stated that information gathered over time has helped them piece together what most likely happened to him. They believe they know the presumed killer's identity, but a lack of witness testimony has kept the case from closing. They believe that some of the workers that night, including April, set fire to Curtis' car to divert his attention. They then went and used forklifts to break into vending machines to steal money. Curtis discovered them and was killed as a result. His body was then removed from the scene, dismembered, and buried. This theory has not been confirmed, however.
In 2008, Curtis' family had him declared legally dead. A $10,000 reward is being offered by Curtis' family for information leading to the return of his remains. Venture Corporation is no longer in business.
Links:
---