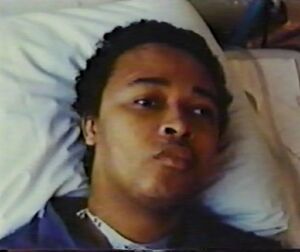 Real Name: Unrevealed
Case: Lost Identity
Location: Daly City, California
Date: August 25, 1992

Details: On August 25, 1992, an unidentified man was found seriously injured and unconscious on the median strip of 280, directly beneath an overpass in Daly City, California. At first, it was thought that he was a pedestrian who had been struck by a vehicle. However, a witness came forward, stating that as he passed the area, he saw the man falling from the overpass.
Authorities looked into several possible scenarios, including: he jumped on his own; he was pushed over the overpass; or he was tossed over the side. When he arrived at the emergency room of Seton Medical Center, it was clear to doctors that he had suffered from a severe head injury. He also had a broken leg. A CT scan showed that there was some bleeding in his brain as well. It was also determined that he was in a comatose state and could not respond to any verbal or physical stimuli.
Doctors managed to save the victim's life. However, he remained in a deep coma. Authorities were now faced with a baffling dilemma. They had no idea who the young man was; he carried no wallet or identification. Even his race was a mystery: he appeared to be part African-American, part Hispanic, part Filipino, with Asian features. Authorities were unable to classify his race, making it difficult for them to search records of missing persons in the area.
Over a year later, the victim, known as "John Doe" by the staff, remains at Seton Medical Center in Daly City. Although his injuries have healed, doctors are uncertain if he will ever fully recover. Doctors have noted that he has an awake cycle and a sleep cycle. He is also able to move his eyes. However, they feel that he will be able to recover more quickly if his loved ones are located.
Extra Notes: The case was featured as a part of the January 5, 1994 episode.
There are similarities between this case and that of East Stockton John Doe.
Results: Solved. A hospital worker from Martinez, California was watching the broadcast and recognized the man as a former patient of his. He contacted police and positively identified the young man. His name was withheld to protect his identity. Although he was still comatose, authorities were encouraged by the fact that he apparently recognized his family, as evidenced by a jump in his vital signs when they entered his hospital room.
According to his family, the man left an Oakland board and care home on August 25, 1992 to visit his mother in San Pablo. However, he never arrived there. His family filed a missing persons report two days later. The man was found in Daly City the same day he vanished from Oakland. He had a history of seizures; police believe that he boarded the wrong train that day and ended up in Daly City. It is also suspected that he suffered from a seizure and fell from the overpass.
Links:

---
Community content is available under
CC-BY-SA
unless otherwise noted.