Cobra Kai Season 4 - The Loop
Play Sound
Real Names: David Ray, Norma Ruth, and Ernest Lee Stallings
Case: Lost Siblings
Location: Tipton, Oklahoma
Date: 1948
Case
[
]
Details: Joe Dillahunty and Mary Smith are searching for their siblings after they were split by adoption more than forty years before. Their poverty-stricken parents, Lee and Lela Stallings, had six children, Roy Jr., Mary, Joe, Ernest Lee, David Ray, and Norma Ruth. They all lived together in an old school bus near Tipton, Oklahoma. Lee worked as a sharecropper but gambled away what little money the family had; he was also rarely home. Lela was in charge of cooking food and taking care of their children; they managed to get by, despite the lack of resources.

Although the Stallings felt that the school bus was an adequate home for them, a family friend named Melvin Purdy believed that the children should be living in better conditions. Melvin wanted to raise David Ray, but Lela refused to have her family split up. A few weeks later, however, the school bus was taken away after Lee lost it in a poker game. Melvin and others immediately contacted authorities; Lee and Lela were arrested and charged with endangering the welfare of their children, who were all then placed in the foster care system.
Within a week, the charges against Lee and Lela were dropped. Lela was told that all of her children, except Roy Jr., were put up for adoption. Two years later, after she and Lee divorced, Mary was allowed to return home to live with her. Joe was reunited with them in 1959. Sadly, Lela passed away in 1989.
Joe and Mary are now searching for their remaining siblings: Ernest Lee, David Ray, and Norma Ruth.
Extra Notes: This case first aired on the January 13, 1995 episode.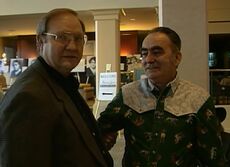 Results: Solved. A man named Lee Shulien of Owassa, Oklahoma, called the telecenter and identified himself as Ernest Lee. Three weeks later, he arrived at a hotel in Tulsa, Oklahoma, where he was reunited with Joe. Mary was unable to attend the reunion, but she and Ernest Lee later reunited as well. At the time of the original update, Norma Ruth and David Ray, were still missing.
However, Norma Ruth, whose adopted name is Dee, and David Ray were later located; all of the siblings have now been reunited.
Links: None

---