Jurassic World: Dominion Dominates Fandom Wikis - The Loop
Play Sound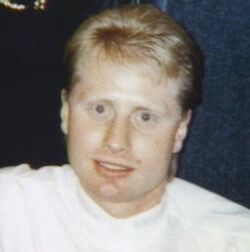 Real Name: David Vernon Cox
Nicknames: Dave
Location: Medfield, Massachusetts
Date: January 5, 1994

Case
[
]
Details: Twenty-seven-year-old David Cox was from Needham, Massachusetts. He joined the Marines straight out of high school. Being one of "the proud and the few" was all he ever wanted. In 1986, he was stationed in Guantanamo Bay, Cuba, a Naval base the U.S. had refused to give up when Fidel Castro came to power in the 1950s. Political tensions kept the base on constant alert. Trouble filtered down to David when another platoon member, PFC William Alvarado, wrote to his senator about Marine misconduct. David and several other Marines believed that he was a "malingerer" and had informed his senator about a Marine who had fired shots into Cuba.
William would soon become the target of a brutal hazing ritual known as a "Code Red." According to Christopher Valdez, David's friend and former squad leader, they did not actually decide to have a Code Red for William on their own. Their platoon commander, Col. Samuel Adams, had given them an implied order, saying "if [they] were good Marines, something should happen to [William]." On a Saturday night in July 1986, David, Christopher, and eight other Marines went into William's room. They blindfolded him, stuffed a rag in his mouth, beat him, and dragged him off of his bed. They then took him to a bathroom.
Once there, David started shaving William's head. Within five minutes, William had stopped struggling, so they knew something was wrong with him. Unbeknownst to them, he had inhaled the rag and his lungs filled with fluid. David, noticing that William's face was turning blue, convinced his platoon mates to stop the hazing. They removed the rag and untied him. He spit up blood and then lost consciousness. At that point, they started to panic. They went to get him help. William was rushed to a Miami hospital for emergency care. He recovered, but his ten attackers were slapped with charges.
Don Marcari was appointed to defend David; it was his first case as an attorney. He told David that he was going to be charged with attempted murder. He noted that they had a confession from him, and they had a "pretty beat up Marine." He told David that it did not look good for him. David told him that he was "just following orders." He claimed that the Code Red started with implied orders from his superior officers. Marcari told him that the Marine Corps was prepared to offer him an administrative discharge. It was less than honorable, but there would be no court martial proceeding, and he would not be facing twenty years if found guilty.
David maintained that he was not guilty. Marcari told him that the defense of "obedience to orders" had not been successful in the past, such as at Nuremberg and My Lai. Furthermore, Col. Adams denied that he ever gave an order. Marcari had the additional burden of trying to prove that David was following an implied order. He knew that the case was difficult to win, and he told David that. However, David was determined to fight the charges; he was convinced that he did not do anything wrong and he wanted to stay in the Marines.
David's gamble was a qualified success. At the court martial proceeding, he was acquitted of aggravated battery (the charge had previously been reduced from attempted murder) and convicted only of simple assault. He was sentenced to time already served in the brig. Two other Marines also refused the military plea bargain. However, the other seven, including Christopher, accepted "other than honorable" discharges. Christopher's discharge was later upgraded to honorable.
After the court martial, David completed his hitch, serving out his final two years in South Korea, Panama, and North Carolina. When he was honorably discharged in August 1989, he held the rank of Corporal. After his discharge, he returned to civilian life in Needham. He began working odd jobs, such as landscaping and trash collecting. Three years later, the hit movie A Few Good Men was released. It told the story of Marines on trial for attacking a squad member during a "Code Red." Most viewers were unaware that it was based on William's attack and the trial that followed. When David learned about the movie, he felt the movie makers had stolen his story.
According to David's girlfriend, Elaine Tinsley, he was stunned when he saw the movie. He felt that he was watching his life in front of him and was not getting any credit for it. According to her, he later became angry, realizing that the movie company was making millions off of his story. He claimed that if it were not for him, the story never would have existed in the first place. He was also upset that the story was being inaccurately portrayed. He noted that the victim died in the movie, while he survived in real life. Also, the two Marines on trial in the movie were relieved of duty and dishonorably discharged, which did not happen to any of the Marines in real life.
David, Christopher, and some of the other Marines involved in the Code Red filed suit against the movie production company, Castle Rock Entertainment. They felt that their "life story" had been stolen, that it was an "invasion of privacy", and that they were being inaccurately portrayed as killers. While it was pending, David spoke out about his case to newspaper reporters and on radio talk shows. He also contacted Marcari, and the two planned to write a book to "set the record straight."
By January 1994, David and Elaine had moved into an apartment in Natick. For her birthday, he gave her a rabbit, Lenny. He was hoping a temporary job at the United Parcel Service terminal in Somerville would become permanent. His brother, Steve, says that he was very enthusiastic about getting a permanent job with UPS. He was hoping to finally have a full-time, steady occupation. He and Steve went out for drinks on the night of January 4. Steve noticed that he did not seem like himself and was a bit "reserved"; he told Steve he was having some problems with Elaine. However, he did not say much else about it.
David expected to hear about the UPS job on January 5. Because of a back problem, he spent the night before on the couch. Elaine said goodbye to him and then left about 8:30am. Shortly after noon, she called home. He did not answer, but there was a message for him on the machine. The caller, Jim, was from UPS and said he had "good news" for David. Elaine was excited for him. At 1pm, she called again to check the messages. The message was still there, and Jim had called again.
At 5:30pm, Elaine returned home. When she came inside, she realized that the doors to all of their rooms were open. Lenny, who was usually kept in the kitchen, was hopping all over the place. A few glasses were also tipped over. At that same time, Jim from UPS called again. David's 1988 Ford pickup truck was still in the driveway, the keys in the ignition. He had left an uncashed paycheck on the dashboard and his nine-millimeter gun in the glove box. He, however, was gone. She knew something was wrong when hours had passed and he had not called her. She called his family and friends, but no one knew where he was. The next day, she reported him missing.
Police apparently did not take David's disappearance seriously at first; they believed he had run off. They did not interview neighbors or search the area for several days. His mother, June, immediately had a feeling of dread. She felt that she knew him well enough; she did not believe he would just disappear. From the start, she was concerned. As the days passed, there was still no news from him. His family checked his bank account; there was no activity on it. Elaine also began to believe that something bad happened to him. She knew he would not leave without telling anyone. But she could not understand why anyone would want to hurt him. There would be no answers until the spring thaw.
On the afternoon of April 2, 1994, a canoeist on the Charles River near Medfield, Massachusetts, saw a white sneaker sticking out of a pile of pine branches on the riverbank. As he came ashore, he discovered David's body hidden underneath the branches. David was found about a mile from the nearest road, Causeway Street, and approximately five miles from his apartment. He was wearing the same clothes he had on when he disappeared: his U.S. Marines camouflage jacket, his black hooded U.S. Marines sniper jacket, jeans, and sneakers.
According to the medical examiner, David was shot four times: once at the base of the back of his neck, and three times in the left side of his torso. Three nine-millimeter shell casings were found at the scene; this led police to believe that he was killed there. His wallet was still in his back pocket, cash and credit cards intact. It seemed obvious that robbery was not the motive and police have since ruled out a random attack. They are convinced he left his home with someone he knew.
Massachusetts State Police Sgt. Kevin Shea believes that David knew who was coming to pick him up that day and willingly got into their car. He theorizes that David went to the secluded area and walked into the woods with this person because he trusted them. He believes that if David knew he was in a dangerous situation, he would have done his best to get out of it. He believes that if the killer was holding him at gunpoint, they would have killed him about thirty or forty yards into the woods. However, David was found almost a mile walk into the woods (which would take about twenty minutes).
Interestingly, David was wearing sneakers when he was found. Police thought this was strange because about eight inches of snow had fallen the day before he vanished. This would mean that he walked nearly a mile in the snow in sneakers. It is not known why he was wearing sneakers instead of boots.
Marcari is not sure why David was killed. He personally believes it had something to do with the military, but not necessarily the trial. He notes that David was taken out of his apartment without signs of struggle or forced entry. He was wearing both his Marine camouflage and sniper jackets, which he never wore. He was found between two shooting ranges where gunshots would not be unusual. And he was murdered execution style.
After the release of A Few Good Men, David had been highly vocal about his story and the U.S. activities in Cuba. He specifically talked about a colonel who seemed to want to "provoke a war." His family believes he may have talked too much. After June heard his interview on the radio, she told him that she did not like what he was doing; she thought what he was doing was dangerous. She thinks he felt "far too free to just speak his mind." Police checked out the military angle to his murder. Massachusetts State Police Sgt. Rick Nagle says that there was nothing that showed them that the military was involved in the murder. However, he did not rule it out completely.
Steve suggested another possible scenario: a UPS connection. A few months before David disappeared, he told Steve that he had come upon a supervisor and a driver involved in some type of activity; he believed it was theft. Sgt. Nagle interviewed several people from UPS. He felt they were "candid" with him. He believes that if there was some sort of nefarious activity going on at UPS, they would have told him about it.
Sgt. Shea says that the investigation into David's murder is still open and will remain open until it is solved. He says that they will continue to follow up on any leads that come to them. June says that she is angry about what happened to David. She is angry that someone killed him and has gotten away with it. She says that her life has been devastated by his murder. She says that "a death would be bad enough; a murder is just dreadful."
At this point, police have only one hope: that someone saw David leave his apartment between 8:30am and noon on January 5, 1994. Perhaps someone saw the person who picked him up or the vehicle they left in.
Suspects: None known; police and David's family believe he was killed by someone he knew. There was speculation that his murder was related to drugs. However, police did not find any evidence to support this theory. David was also known to gamble at racetracks and with local bookmakers. At the time of his disappearance, he had a $1,100 gambling debt. However, he was reportedly good friends with his bookie and had more than $3,000 in his checking account. Police could not find any evidence to suggest the debt was related to his murder.
Police looked into the possibility that someone at UPS was involved in the murder, as David had told Steve that he had witnessed possible criminal activity there. However, police do not believe anyone at UPS was involved in this case. Police also do not believe his murder was related to the A Few Good Men litigation or the military. They believe that if the murder was a "hit" related to the military, it would have taken place in his apartment, not in the woods.
Steve, however, believes that David's murder had something to do with the Code Red. He claims that the crime has "military written all over it." He thought it was very highly planned. Based on the precision of the bullet wounds, the way the body was covered with branches and snow, and the lack of clues left behind, he believes that the murder was the work of a "well-trained mind, like that of a military officer." He believes that the murder was "retribution" for the Code Red. Their sister, Christine, however, does not believe that the murder was related to the military. She believes the crime was "staged" to make it look like it was military-related.
Police believe the killer knew the Medfield area well because of the crime scene's proximity to the two gun clubs and its remoteness.
Extra Notes:
This case first aired on the March 29, 1996 episode.
It was also featured on The Trail Went Cold podcast.
Some sources incorrectly state that Elaine reported David missing on January 4.
Some sources state that David had not yet joined the lawsuit when he disappeared.
Sources vary on the distance between the crime scene and the nearest road; some say a half mile, others say three-quarters of a mile, while others say a mile.

Results: Unsolved - In 2019, Massachusetts State Police Sgt. John Fanning and Trooper Yuriy Bukhenik, both former Marines, decided to take a "fresh look" into David's murder. They hoped to use modern forensic expertise and their military experience in the investigation. They were surprised to learn that David was wearing his Marine camouflage jacket and his Marine sniper jacket. They said that most former Marines do not like wearing their military clothes in public. They believe that David wore those jackets that day for a reason. They believe that he knew and trusted the person he went with. They also believe that the murder was "carefully planned and orchestrated." They have found no evidence to connect the murder to the Code Red or the lawsuit.
Links:
---