Doctor Strange in The Multiverse o Madness - The Loop
Play Sound
Real Name: David Richard Davis
Aliases: Dave Davis
Wanted For: Murder
Missing Since: October 1981

Case
[
]
Details: Twenty-five-year-old registered nurse Shannon Mohr was still living at home with her parents when she met thirty-four-year-old David Davis at a wedding party in Sylvania, Ohio, on August 4, 1979. He was a former University of Michigan graduate student in pharmacology. Just eight weeks later, they married in Las Vegas, Nevada. They moved to a farm in the small Michigan farming community of Pittsford. On July 23, 1980, they prepared to go for a sunset horseback ride. Within an hour, she was dead. According to him, she was not an experienced rider. When they reached the edge of the woods, she lost control and fell off the horse, striking her head violently on the ground. His simple and plausible story was immediately accepted by their family and friends.
Shannon's mother, Lucille Mohr, felt that Shannon's marriage was "made in heaven." She began to love David. Shannon's father, Robert "Bob" Mohr, described him as a "man's man." He was an outdoor person who liked hunting and fishing. Bob said he was very manly and likeable. Lucille thought that he would protect Shannon from anything. She had no idea what he was really like.
After Shannon's death, the Mohrs began to discover that David was not the man he seemed to be. They began to find clues in his behavior which led them to believe that her death was not an accident. David has since disappeared and there is a warrant out for his arrest. But the Mohrs are afraid that their son-in-law may have gotten away with a perfect crime.
At the hospital, Shannon was pronounced dead of the injuries caused by her fall. Minutes later, the Mohrs were surprised and upset when David insisted that her body be cremated. They wanted to take her back to her hometown of Toledo to be buried there. But David claimed that she wanted to be cremated. The Mohrs did not believe that she would have wanted that, because it conflicted with their religious beliefs. Bob planned to get a temporary restraining order to stop David from doing it. However, David eventually gave in and allowed her to be buried.
That night, Lucille could not sleep. She remembered that Bob had caught David in a lie about life insurance. Bob had asked him if he had life insurance on Shannon, and he said no. He also said that he was nearly broke. However, Lucille had recalled Shannon telling her the day after her honeymoon that David had taken out a large life insurance policy on her. It expired around the time of her death. That was the first lie that Lucille would pick up, but it would not be the last.
Three days later, Shannon was buried. The Mohrs noticed that David seemed unmoved; he did not seem to care that she was dead. After the funeral, they found out that he had lived a life of deceit. Previously, he told the Mohrs that he was an orphan; however, this was disproven when his parents showed up at the funeral. He bragged that he had been wounded in Vietnam. His own parents said he was never in the service. They also told the Mohrs that he was not a millionaire, something he told Shannon when they met. He had also lied about attending medical school.
When David met the Mohrs, he told them that he had never been married before. However, he had, in fact, been married for ten years and had two daughters, something Shannon found out about only days before she died. He was allegedly abusive towards his first wife. With all of the lies coming out, Lucille began to wonder if he had killed Shannon. She soon became certain that he had done it; however, she did not know what they could do without any evidence to prove it.
Two days after the burial, six separate insurance companies contacted the funeral home, requesting copies of Shannon's death certificate. Her death left David the beneficiary of $330,000. Bob then discovered that David may have been involved in other insurance scams. A few years before Shannon's death, David apparently burnt down a farm across the road from his old home. He had allegedly set other fires and faked a head injury when he worked for an automotive company. He faked the injury so that he could collect disability. Bob believed that David was trying to live on insurance money. He got bigger each time, starting with arson and ending, apparently, with murder.
At the Mohr's insistence, Shannon's body was exhumed. The medical examiner found injuries on the body consistent with a fall from a horse. Indications of an unknown drug, however, were found in her body as well. But the medical report still ruled her death an accident. Three months later, an article in the "Detroit Free Press" exposed David's alleged insurance swindles. The case was reopened, and he moved to Florida.
Detective Don Brooks was assigned to the investigation. He felt that the information contained in the newspaper article was "phenomenal" and indicated foul play was involved in Shannon's death. Detective Brooks contacted the toxicologist, Dr. Robert Forney, who had earlier found traces of the unknown drug in Shannon's body. Dr. Forney explained that his laboratory had a very large number of chemicals that they compared to the chemical found in her body. He noted that there are over 250,000 chemicals in common use. Initially, they were able to search for and rule out about 1,000 of them. He told Detective Brooks that he needed some help to identify the chemical.
Dr. Forney asked for information regarding David's background. Detective Brooks told him that David was a dirt farmer who had several large animals on his farm. Dr. Forney and Detective Brooks contacted veterinarians in the area that may have serviced David. Detective Brooks asked them if they knew of any drugs that they used on large farm animals that could affect the muscular or nervous systems. One of the veterinarians provided him with the name of a drug: succinylcholine chloride, an animal tranquilizer. It causes massive paralysis of the muscles responsible for breathing. Dr. Forney ran tests on it; it matched perfectly to the sample taken from Shannon's body.
Next, Detective Brooks had to connect the drug to David. He determined that several years earlier, David took part in a deer hunting camp, at which its members used succinylcholine chloride to hunt deer with. Shannon's cousin also reported seeing the drug at their farm, along with several syringes. Shannon was exhumed a second time. Two injection marks were found – one on her shoulder and one on her wrist. Several bruises were also found there. Samples taken from the second autopsy were also found to contain succinylcholine chloride. Detective Brooks contacted the Mohrs and told them that they had enough evidence to arrest David.
On October 13, 1981, a grand jury issued a first-degree murder warrant for David. Detective Brooks believes that David pushed or coaxed Shannon off her horse, wrestled her to the ground, then paralyzed her with the lethal tranquilizer. David then struck her head on a rock so that the injuries would appear accidental. Detective Brooks is certain that Shannon's death was a premediated murder. He believes that David married her to kill her and to profit from it.
When police went to arrest David, he was nowhere to be found. They came close to capturing him in Port au Prince, Haiti, on Christmas 1981, but he fled, leaving behind his sailboat. Lucille wants him to get caught and locked up for what he did to Shannon. She wants him to feel at all times that they are "breathing down his back." She will not let go until he his caught. She knows it will not bring Shannon back, but she wants him to be put away so that he cannot hurt anyone else.
Extra Notes:
This case first aired as a part of Special #4 on November 29, 1987; it was reaired on December 28, 1988 and updated on the January 25, 1989 episode.
It was the first case profiled by host Robert Stack.
It was also profiled on America's Most Wanted during David's flight from justice and documented on American Justice, Forensic Files, The New Detectives and Happily Never After after he was captured.
In 1993, it was adapted into a TV movie, Victim of Love: The Shannon Mohr Story, starring Dwight Schultz.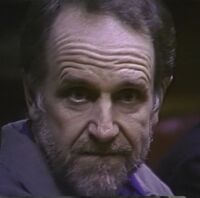 Results: Captured. Within days of the second broadcast, David was captured. A viewer in the United States contacted police and identified him as a former boyfriend named "David Myer Bell". He was living in the village of Tafuna on the tiny island chain of American Samoa in the South Pacific, 2,000 miles south of Hawaii. He had previously obtained a Florida driver's license under that name. Three days later, on January 6, 1989, he was arrested. Police learned that in 1985, he had fled to American Samoa, where he lived in a one-room shack. Before that, he had lived in Florida, Haiti, and Alaska, among other places. In 1986, he married a twenty-year-old Samoan woman. He told her that his first wife had died in a tragic accident.
In American Samoa, David had obtained a job as a chief pilot for Samoa Air, a small commercial airline. He was apprehended on his way to work at the airport in Pago Pago. He was extradited to Honolulu, Hawaii; he admitted his identity and voluntarily agreed to return to Michigan to stand trial. In return, federal authorities dropped charges of unlawful flight. Three-and-a-half weeks later, he was returned to Michigan to stand trial for Shannon's murder.
In November 1989, David went on trial. During it, an ex-girlfriend testified that, several years prior to the murder, he had told her about a murder that had been committed using succinylcholine chloride. He said using the drug to commit murder would be the "perfect crime." Another ex-girlfriend claimed that the two dated before and after he was married to Shannon. A week before the marriage, he told the girlfriend that he would not see her for a year because he was doing something "dangerous" that would make him $200,000. A month before the murder, he told her that his "assignment" would continue for a few more weeks.
On the day of the murder, David did not let Shannon's nephew or their dogs accompany them on their horseback ride, even though they normally did. He also did not let his neighbor's son to ride with them, even though he had done that before. When police investigated the scene, Shannon's shoes were found eight feet from the bloody rock. They were given back to David; then, they disappeared. After Shannon's death, several witnesses noticed scratches on David's face and hand. Shortly after the funeral, he went on a trip with his second ex-girlfriend, but did not tell her about Shannon's death.
David's defense was that Shannon's death was an accident and that the science surrounding the tests for succinylcholine chloride were flawed. On December 5, 1989, after only two-and-a-half hours of deliberation, a Michigan jury convicted him of first-degree murder. He was sentenced to life in prison without the possibility of parole. For the Mohrs, the verdict brought an end to their nine-year struggle for justice.
On November 9, 2014, after serving twenty-five years, David died in a prison hospital at the age of seventy. Sadly, Bob and Lucille have also since passed away.
Links:
---