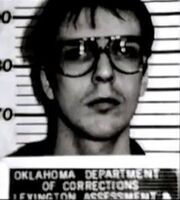 Real Name: David Gordon Smith
Aliases: None known
Wanted For: Murder, Escape
Missing Since: October 28, 1985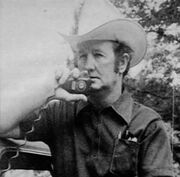 Case
[
]
Details: In Oklahoma, automobile license plates are distributed through privately owned franchises called tag agencies. These businesses keep little cash on hand. Nevertheless, they have become tantalizing targets for thieves who traffic in stolen cars. Just after 8am on September 1, 1978, two men pulled up in front of a tag agency in Catoosa, Oklahoma, a suburb of Tulsa. When they entered, they pulled bandanas over their faces, pulled out guns, and announced that "this is a robbery". One of the employees was on the phone when the men entered; she said, "We're being robbed, call the police." Both employees were taken to the front of the store, tied up with duct tape, and held at gunpoint by one of the men, while the other started taking photograph materials and blank registration and title forms.
The only police officer in Catoosa was forty-six-year-old Chief J.B. Hamby, a twenty-four-year veteran in law enforcement whose devotion to duty was well known. According to his brother, David, he was on call all hours of the day and would not get much sleep. He would come home, shower, change his clothes, and head right back out. For people on the "wrong side of the law", he was relentless and could become their "worst nightmare."
When J.B. received the call about the robbery, he immediately headed to the tag agency. When he entered, he yelled "Freeze!" One of the robbers fired at him, and he fired back. Soon, he was exchanged in gunfire with both robbers. Twenty rounds ricocheted through the small store in a matter of seconds. One robber was killed. The other was hit twice, but somehow managed to escape. Miraculously, neither employee in the tag agency had been hurt.
J.B. was not so lucky. He staggered from the agency, bleeding profusely. He attempted to reload his gun in case the other robber came back. Realizing he was gravely injured, he went into the laundromat next door. He then collapsed on the floor. One employee called an ambulance, while another stayed and prayed with him. Sadly, he died before he finished reciting the Lord's Prayer. He left behind a wife and two children.
One of the robbers, Jackie Ray Young, was dead at the scene, shot through the head by his own ricocheting bullet. The second robber was apprehended two hours later while being treated for gunshot wounds at Tulsa Osteopathic Hospital. He was twenty-five-year-old David Gordon Smith, the son of a prominent couple from Stillwater, Oklahoma. At first, he thought he was being arrested only for armed robbery. Instead, he was booked on charges of first-degree murder.
During Smith's trial in April 1979, he claimed that he participated in the robbery "under duress" because Young had threatened to kill him. Young was his neighbor and he claimed that they were together that day because he was going to help Young with an insurance scheme. When he got into Young's car, Young pointed a gun at him and forced him to be involved in the robbery. He also claimed that he did not actually kill J.B., and that Young was holding both weapons.
However, ballistics tests had proved that the bullet which killed J.B. had been fired from Smith's gun. Investigators were able to account for every bullet fired and determine whose gun it had come from. Based on trajectory, they were able to tell where each person was and who had what gun. Furthermore, the employees testified that both robbers were wielding guns. In the end, the jury found him guilty of first-degree murder.
On June 15, 1979, Smith began serving a life sentence in the Oklahoma prison system. He was a classic "good boy gone bad," the son of a respected university professor. This had been his first and only brush with the law, and he set out to become a model prisoner. According to Jim Nelson of the Oklahoma Department of Corrections, Smith was a good prisoner. He was well-liked by the staff that had to deal with him. He was also well-liked by the other inmates.
As Smith served his time, his behavior remained excellent. Eventually, according to Oklahoma law, he was given "trusty status." He was given the job of monitoring equipment at the prison's reservoir. He was assigned to live and work all alone at a small water pumping station next to the reservoir. He was checked every hour by a prison guard.
On three separate occasions, Smith was granted unsupervised furloughs for doctor's appointments. He was allowed to go on weekend fishing trips and participate in a 10K run. He also was allowed to buy a house in Muskogee. Then, on June 26, 1982, with the permission of prison authorities, he got married to Jo Beth McNary. The two had met a year earlier when she had come to visit the prison with a friend.
David did not understand why Smith was given any lenient treatment. He believed that Smith should have been serving "hard time." In 1984, a full ten years ahead of schedule, Smith was granted a parole hearing. At the hearing, he told the parole board about how he had gotten a job in prison, had a clean conduct record, had gotten married, and was going to church and had a strong faith in God. He said that if he was to be paroled, he would move in with his wife and become a productive member of society.
David was not surprised that Smith was trying to sell himself as a "clean citizen" because he most likely knew that there was a large outcry from the public about the possibility of him being paroled. In fact, about two dozen Catoosa residents appeared at the hearing in protest. In the end, Smith failed in his parole attempt. However, he retained trusty status and continued his job at the lake. For more than a year, he remained a model prisoner. But then on October 28, 1985, a prison guard stopped for his regular 1am check of Smith's sleeping quarters at the Jackie Brannon Correctional Center. Instead of Smith, there was a dummy in his bed. He had made a clean getaway.
Nelson believes that Smith walked from his station out to the nearest highway, which was about a mile away. He was then picked up by Jo Beth. They went into McAlester, which is about a mile from the prison, and mailed two letters. Authorities learned that one week before the escape, Jo Beth had closed out her bank account, sold her furniture, and borrowed $1,000 from friends. She told a travel agent she was going to Mexico. She never mentioned her husband.
Then, four months later, in February 1986, Smith was sighted with a female companion in Fort Smith, Arkansas, just ninety miles from the prison. The authorities were notified, but by the time they arrived, he had vanished. FBI agent Bob Ricks believes that Smith is still dangerous today. He believes that Smith will do whatever is necessary to try to escape again if confronted by either law enforcement or by a private citizen. Ricks recommends that no private citizen try to apprehend him, because he is probably armed.
David wants to see Smith serve his time. He thinks that it is one of the most unjust things to ever happen. According to David, J.B. lived his job as a police officer twenty-four hours a day. He was a very intense person that took his job extremely seriously. He stood up for so many things for so many people on the right side of the law. According to David, that loss can never be filled. He does not think that it is fair that Smith is still free while J.B. is gone.
Although Jo Beth is not wanted for any crime, authorities believe that she and Smith are traveling or living together.
Extra Notes:
This case first aired on the October 7, 1992 episode; it was updated on the May 12, 1993 episode.
It was also featured on America's Most Wanted.
Please note that on this page, "David" refers to David Hamby, and "Smith" refers to David Gordon Smith.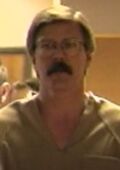 Results: Captured. When the story first aired, police received more than seventy-five leads, but none of them panned out. The story aired again on March 3, 1993; this time, in a small South Dakota town, the right viewer was watching. He recognized Smith; the next day, he anonymously called the local authorities and gave them Smith's location. They immediately contacted the FBI. According to the viewer, Smith was working as a service manager at an automobile dealership in Spearfish, South Dakota, under the name "Gary Johnston".
On March 4, agents of the FBI and local authorities in South Dakota went to the dealership and arrested Smith without incident. Upon questioning, he admitted his identity. Jo Beth was arrested at their ranch in Two Bit Gulch and charged with aiding and abetting an escape. She had been living under the name "Bobbie Johnston". They had been living in the area since 1987. David was relieved to learn that Smith had been captured. He felt that it was equivalent to a "long-term, gigantic debt being paid off."
A few days later, the aiding and abetting charges against Jo Beth were dropped; however, she still faced charges of parole violation in relation to a previous drug possession conviction. In that case, she stole drugs from the hospital where she worked; she claimed she was going to use them to kill herself because she was afraid that they were going to get caught. She and Smith claimed that they fled because a prison official had raped her and was extorting and threatening them. The official was later dismissed, but it is not known if there was any truth to the couple's claims.
In October 1993, Jo Beth pleaded guilty to parole violation and received a one-year sentence. She was later released. Smith was returned to Oklahoma, where he was classified as a "maximum security inmate" and sent to a maximum-security prison. He received an additional four years for the escape. In July 1994, Jo Beth contacted several witnesses and jurors from Smith's 1979 trial, both in-person and on the phone, claiming to have evidence that would prove his innocence. They contacted the sheriff's office; however, nothing could be done because Jo Beth was not breaking the law by contacting them. On July 29, 2003, she passed away at the age of forty-nine.
Smith had parole hearings in 2001, 2003, and 2008; he was denied it each time.
David Hamby passed away in 2017.
Links:
---