We're Getting Mutants in the MCU - The Loop
Play Sound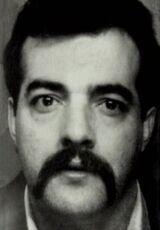 Real Name: David A. Vieira
Aliases: None known
Wanted For: Murder
Missing Since: July 25, 1988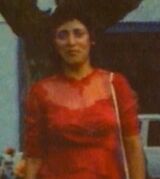 Case
[
]
Details: On June 29, 1974, in the main church on the Portuguese island of St. Michael, twin sisters Alice and Georgina Arruda married their sweethearts. Alice was seventeen, and her new husband, David Vieira, was just sixteen. They were first cousins, but such unions are common among traditional Portuguese families. On that festive day, no one could have imagined that fourteen years later and 5,000 miles away in the United States, Alice would be the victim of a vicious murder. And some of the same relatives would gather again to mourn at her grave.
Alice's life and death seemed to have been shaped by age-old Portuguese traditions. She grew up in a society where marriages were arranged, where a daughter was brought up to obey first her father, and later, her husband. It was a devoutly Catholic world where only death could truly end a marriage.
David and Alice were born on St. Michael, one of a group of islands west of Portugal known as the Azores. When Alice was nine, her family immigrated to New Bedford, Massachusetts, thirty-five miles south of Boston. Even in the United States, her father was determined that his children would be brought up in accordance with the "old ways."
Alice's sister, Fatima Cardoso, said that their father was very strict with her and her sisters. They were not allowed to wear makeup or shorts. They were especially not allowed to have boyfriends. Basically, all they did was go to school, come home, do housework, and stay in the house. They were not allowed to even sit on the porch.
Alice was twelve when an unexpected letter arrived from Portugal. It was from David, then eleven. To her surprise, he was proposing that they get engaged. What some might have regarded as no more than a child's infatuation was taken very seriously by a traditional family like the Arrudas. Alice's mother thought that she was too young to start a relationship. However, right away, her father insisted that she should start writing to him because it was his family. He thought that it would be nice for her to marry into the family. He gave her the O.K. to write back.
Soon afterward, Alice wrote David back and said that they would start dating via writing. The letters continued for five years. They never talked on the phone. They did not see each other until summer 1974, when she and her family returned to St. Michael for their wedding. By that point, she also insisted on getting married because she though that her life would get better and that she would have a little bit of freedom, which she and her sisters did not have.
David and Alice eventually settled near her parents in New Bedford. Although David spoke little English, he found work in a textile plant. Within a year, Alice was pregnant. According to Fatima, their marriage seemed to go well for the first few months. Then, David began acting similar to Alice's father; he would not allow her to wear makeup or do anything without his permission. He became very jealous and possessive of her.
By 1981, David and Alice had three children. Fatima says that as the years went by, David rarely lost an opportunity to snarl at Alice or their children. On one occasion, he knocked his fork on the floor and asked their son, David Jr., to get him a new one. David Jr. did not want to, so Alice volunteered to do so. David yelled at her and asked, "Who gives the orders in the house?" He then made David Jr. do so.
According to Fatima, Alice stayed with David because he was the father of their children and she was brought up to stay with him no matter what. According to Fatima, his anger seemed to erupt without cause and continue without end. On one occasion, he struck her violently in the face, causing her nose to bleed. He would also tell her, "If you ever leave me, I'm going to kill you," and, "There's no other woman in my life like you are. You're a good mother, you're a good cook." He repeatedly threatened her and said that if she ever decided to leave him for anybody, he would kill her. Her family, however, did not take his threats seriously.
Eventually, Alice turned to her parents for help. She told them that David beat her and their children for no reason. She said that she could not take it anymore. Her parents, however, told her that she had to stay with him because he was her husband. They told her that it would be a shame to the family if she divorced him, because they did not believe in divorce. So, they continued to push her back to him.
Finally, after fourteen years of abuse, Alice found the courage to defy her parents and David. According to Fatima, she finally felt strong enough to say that she could not take it anymore. She decided to get David out of the house. She sat him down and said, "I can't take it anymore. David, I want you to leave." He moved out in summer 1988. She began to build a new life for herself. She enrolled in nursing school, fulfilling a lifelong dream. She also began seeing another man. But David would not let go.
David began to stalk Alice at work and at home, night and day. On the morning of July 25, 1988, her boyfriend came to visit her. At one point, she looked outside and noticed that David was sitting in his car nearby. He apparently had driven up and down the street and noticed Alice's boyfriend's car at her house. He apparently began enraged by this.
A few moments later, David broke open the front door and attacked Alice. Her boyfriend witnessed the attack and ran a mile to the nearest police station to get help. She had been bludgeoned with a tire jack and stabbed twenty-four times with a butcher knife. One found at the scene matched ones found at a home David was staying at. By the time authorities arrived at the scene, she was dead; she was thirty-one. David, then thirty, was nowhere to be found.
David's car was later found abandoned on Route 24 in Fall River, Massachusetts. Detectives soon discovered that he had taken a bus from Fall River to Boston, and then from there to Canada. Someone matching his description got off a bus in Canada near Hamilton, Ontario. From that point on, police were unable to find out where he went. A friend later came forward and said that he had confessed to the murder to her. She had a letter from him, in which he wrote an apology to Alice's mother, saying, "I'm sorry for having killed your daughter. There's nothing else I could do." In 1990, a grand jury indicted him in absentia on a charge of first-degree murder.
Fatima could not understand why David would kill Alice in such a brutal and vicious way. She wants justice done. She notes that if he could easily kill someone that he loved so much, then he would not think twice about killing someone that would cross his path.
David may be employed in the textile business. He is known to love soccer. He speaks little English and will probably be drawn to a Portuguese community.
Extra Notes:
This case first aired on the April 13, 1994 episode; a brief update aired on the April 20, 1994 episode, with a full one airing on the May 25, 1994 episode.

Some sources spell David's last name as "Vierra" or "Viera".
He was the 108th fugitive captured thanks to the show.

Results: Captured. Within minutes of the broadcast, police received several leads from Canada as to David's whereabouts. At 3:30pm on April 15, 1994, within forty-eight hours of the broadcast, he was arrested at his home in central Montreal, Quebec, after six years on the run. He had lived in the Plateau Mont Royal district for at least two years under the name "Antonio Pacheco" and was well known in the Portuguese community. He belonged to a neighborhood soccer team and was employed at a local fish market. His coworkers were stunned to learn about his secret past. They could not believe who he was because he was so nice to them. Fatima was overjoyed to learn of his arrest; she felt that she and Alice could finally be at peace.
Coincidentally, police arrested another man in Montreal on the same day of David's arrest, believing that one to be him; however, fingerprints proved that he wasn't. In October 1994, David was extradited back to Massachusetts. In May 1996, he pleaded guilty to second-degree murder and was sentenced to life in prison without the possibility of parole for fifteen years. He is currently being held at a medium security prison in Massachusetts.
Links:
---