Doctor Strange in The Multiverse o Madness - The Loop
Play Sound
Real Name: Deborah Ann Whitlock (nee Mulvihill)
Nicknames: Debi
Location: Modesto, California
Date: March 25, 1988

Case
[
]
Details: Thirty-two-year-old Deborah Whitlock was a married mother of a three-year-old daughter and the assistant manager at a Sears in Modesto, California. On March 24, 1988, Debi's husband Harold left their house to go to a bachelor party. The next morning, he returned to find his wife brutally raped and murdered. Her throat had been viciously slashed. The attack occurred while their daughter slept in the bedroom next to hers.
Debi's mother, Jacque MacDonald, soon began an relentless search for her daughter's killer. In December of 1994, Jacque was invited to a seance with psychic James Van Praagh. He described, in detail, what happened to Debi on the night of her murder. However, the case remains unsolved.
Suspects: Although Debi's husband, Harold, was initially considered a suspect, he was later cleared of any involvement. DNA evidence found at the crime scene did not match him. Her ex-boyfriend was also considered a possible suspect. However, DNA testing cleared him as well.
Extra Notes:
The case originally aired as a part of the February 3, 1995 episode, which focused on psychic James Van Praagh.
The case was also profiled on America's Most Wanted and Missing: Reward during the investigation.
The case was also documented on episodes of Cold Blood, Stolen Voices, Buried Secrets, and People Magazine Investigates after the case was resolved. People Magazine Investigates also mention Unsolved Mysteries as profiling the case as a part of Jacque's efforts to find her daughter's killer.
Debi's stepdaughter, Angela Dove, later wrote a book on the case, called "No Room for Doubt".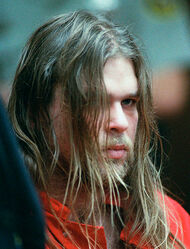 Results: Solved. In December of 1996, a man told the police that he knew who Debi's killer was, twenty-seven-year-old Scott Avery Fizzell. On the night of the murder, Fizzell had met with the witness and told him that he had killed a woman during a burglary. The witness did not come forward sooner because he had previously been in trouble with the law.
In January of 1997, Fizzell was located and questioned by police about the case. His DNA was collected and matched to evidence found at the crime scene. He was then arrested and charged with Debi's murder. In 1999, he pleaded guilty to her murder and was sentenced to thirty-one years in prison. He will be eligible for parole in 2021.
Links:
---