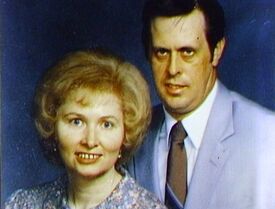 Real Name: Dennis Henry DePue
Aliases: None known
Wanted For: Murder
Missing Since: April 15, 1990

Case
Details: On Easter Sunday, April 15, 1990, along a lonely road twelve miles outside of Coldwater, Michigan, Ray and Marie Thornton set off on a leisurely drive in the country, as they did every weekend. In just a matter of minutes, their routine Sunday outing would place this ordinary, law-abiding couple at the center of a strange and ominous mystery. As they drove south on Snow Prairie Road, a van sped up from behind and passed them. One of the games they would play while driving was making names out of license plates. Marie noticed that the van's license plate began with "GZ" so she came up with "jeez, he's really in a hurry".
Several miles down the road, the Thorntons came across the van and its driver a second time. As they approached an old schoolhouse, Marie saw a man walking behind it with a bloody blanket. As they passed the school, she noticed the van parked between the building and a large tank. Minutes later, the van pulled up behind them again and rode their bumper for nearly two miles. The Thornton's game helped Marie remember the first two letters of the van's license plate, which she wrote down on a piece of paper. Finally, Ray turned off the highway. When he did, the van pulled to the side of the road. They then decided to turn around and come back in an attempt to get a full license plate number. As they approached, they noticed that the man was changing his license plate. Marie also noticed that the front passenger door was covered with blood.
Fearing the worst, the Thorntons returned to the schoolhouse to search for the bloody blanket. They found it partially stuffed into a small animal hole. They immediately went and contacted the police. On an otherwise pleasant spring afternoon, they had chanced upon evidence of a shocking crime, a crime which marked the complete and tragic disintegration of a family. They witnessed the final chapter of a bitter, heated conflict between a husband and wife, which ended in murder.
To outward appearances, forty-six-year-old Dennis DePue and his forty-eight-year-old wife, Marilynn, of Coldwater, had a comfortable middle-class life. Both had gratifying careers. He was a state of Michigan property assessor, while she was a Coldwater high school counselor. Together, they were raising three healthy children. But beneath the surface, smoldering tensions threatened to erupt at any moment. After the children were born, Dennis grew sullen and withdrawn. He began to isolate himself from the family and accused Marilynn of turning the children against him.
The Depue's daughter Julie recalled that they did not fight with each other; in fact, they rarely talked to each other at all. Marilynn told her co-worker, Ann Dunkel, that she was unhappy with her marriage. In 1989, after eighteen years of it, she finally gave up and filed for divorce. When asked why she wanted to get a divorce, she said that the marriage was broken up. She told her lawyer, Richard Colbeck, that she wanted to be more of her own person, raising her family as she saw fit. She felt that Dennis was trying to domineer her, run her life, and not allow her to make decisions that she wanted to make. Dennis agreed to let her have primary custody of the children. Regarding their property, he was very willing to allow her to have most of the property that she wanted.
Despite Dennis' attempt to keep the marriage intact, the divorce became final in December 1989. He was granted biweekly visitation rights, but the children were often reluctant to spend time with him. He was also granted access to the guesthouse, which he used both as an office and an excuse to maintain control over his family. After the divorce, Marilynn changed all of the locks on the house's doors. Despite this, one day, she came home and found him sitting on the couch. She had no idea how he got in because he did not have access to the new keys for the doors. She told Ann that she was frightened about that. Then, one day, out of the blue, Dennis indicated to his co-worker, Jan Markowski, that he was contemplating suicide - and murder.
On Easter Sunday, 1990, Dennis arrived to pick up two of the children for a visit. Julie had already refused to go with him. When their son Scott asked to stay a bit longer, Dennis became angry with him. Marilynn and Dennis then got into an argument in which he blamed her for ruining his life. As he pushed her down the hallway, he began to hit her as their children pleaded with him to stop. Then, he pushed her down the stairs and she fell onto a landing. He went to her and began to hit her more. Their oldest daughter, Jennifer, ran to a neighbor's house to call the sheriff's office.
At the same time, Dennis took a severely injured Marilynn up the stairs. As he dragged her out to his van, he told the children that he was going to take her to the hospital. Julie noticed that she was not walking on her own. When Julie called out to her, she did not respond, appearing to be in a daze. The DePues never arrived at the hospital. Sheriff's deputies and the Michigan State Police immediately began a search for them. That same afternoon, the Thorntons witnessed Dennis' strange activities and found the bloodied blanket in the yard of schoolhouse. The area was quickly cordoned off. The authorities began to assume the worst; Marilynn was probably dead. They discovered several fresh tire tracks and a large pool of blood at the scene. The tracks were later matched to Dennis' van. The blood was Marilynn's.
The next day, a highway worker discovered Marilynn's body just off a deserted road in Bethel Township, midway between the schoolhouse and her home. She had been shot once in the back of the head. Just days later, Dennis sent a series of wild, rambling letters to friends and relatives in which he tried to justify her death. To Jan, he wrote: Marilynn had many, many opportunities to treat me fairly during this divorce, but she chose to string it out, trick me, lie to me. And when you lose your wife, children, and home, there's not much left. I was too old to start over.
Altogether, Dennis sent a total of seventeen letters postmarked in Virginia, Iowa, and Oklahoma. Based on the letters, Ann felt that he was trying to say that Marilynn's friends were the ones that caused her death, even though he was the one that pulled the trigger. Marilynn's parents felt that the only closure they could get regarding her loss would be to have Dennis caught.
Three months after the murder, Dennis sent copies of a thirteen-page letter to a number of friends and relatives. It read like a treatise, a chilling 5,000-word rationalization which takes liberally from the Bible throughout: An eye for an eye, a tooth for a tooth, a lie for a lie, a life for a life...I realize that vengeance is mine, sayeth the Lord, but sometimes the Lord is busy doing other things.
Extra Notes:
This case first aired on the March 20, 1991 episode.
It was also featured on the ID show "Man with a Van".
Some sources spell Marilynn's name as "Marilyn".
Recently, it has been theorized that the beginning portion of the broadcast was used as an inspiration for the opening scene in the 2001 movie Jeepers Creepers.

Results: Solved. At 8:30pm on the night of the broadcast, a woman named "Mary" arrived at her home outside Dallas, Texas. Her boyfriend, "Hank Queen", was already there. His van was parked in the driveway, which was out of the ordinary because he usually kept it inside the garage. When she came inside, he told her that his mother was very ill and that he needed to make an emergency trip home. He asked her to make him some sandwiches for the trip. She felt that something else was going on, but was not sure what that was. As he gathered up his clothes and some personal items, he gave her instructions on preparing the food for his trip. After putting his belongings in the van, he said goodbye to her. She could tell something was troubling him; she had a feeling that she would never see him again.
Later that night, Mary was shocked to learn that "Hank" was actually Dennis, and that he had just been featured on the broadcast. She believes that he was watching the show and deliberately keeping her distracted in the kitchen so that she would not see it and that he could leave. Interestingly, she had been suspicious of him in the past, asking a private investigator to look into him. Nothing was found at that time.
One of Mary's friends called the telecenter and provided authorities with a Texas license plate number of Dennis' van. Four hours later, his life came to a violent end just across the Louisiana/Mississippi state border. When Louisiana state troopers spotted Dennis' van, they attempted to pull him over. He led police on a fifteen-mile high-speed chase and broke through two police barricades. Warren County, Mississippi, Sheriff Paul Barrett told his deputies that if the van refused to stop, they should shoot out its front tires. They missed the front ones, but got both back ones. Dennis traveled about a half mile before his van came to a stop. At around 4am, after firing two shots through his windshield at deputies, and another through an open window, he turned his gun on himself and took his own life. Paul believes that he intended to die that night, either by the deputies or by his own hand.
Dennis was the first fugitive featured on the broadcast to have committed suicide.
Links:
---