Cobra Kai Season 4 - The Loop
Play Sound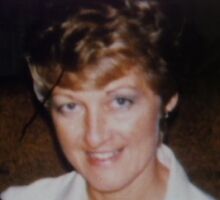 Real Name: Diane Brenda Brodbeck
Nicknames: Brenda Warner
Location: Wellsville, Pennsylvania
Date: April 5, 1986

Bio
[
]
Occupation: Housewife
Date of Birth: 1943 (approx.)
Height: Unrevealed
Weight: Unrevealed
Marital Status: Married
Characteristics: Caucasian female.

Case
[
]
Details: In 1986, Diane Brodbeck, a forty-three-year-old housewife, lived in the small Pennsylvania town of Wellsville. She was a devout Christian and had been active in her local church for almost twenty years. On April 5, 1986, she disappeared. A month later, her abandoned car was found in a motel parking lot thirty minutes from her home. In the trunk, police found her overnight bag. The same day she vanished, forty-eight-year-old Jon Yount, a long-term inmate at a local prison, escaped. He was serving a life sentence for the brutal murder of an eighteen-year-old school girl. At the exact time that he escaped, Diane was seen just one half mile from the prison, driving along the same country road where he vanished.
Investigator William Madden is not sure if Diane is still alive. He hopes and believes that she is alive and is with Yount. Neither Yount nor Diane have been seen since the day they vanished. The authorities believe she may have been his accomplice, and her family is mystified as to why this apparently respectable and happily married woman would have vanished without a word. Was she kidnapped by a desperate prisoner? Or was she a willing accomplice who helped a convicted murderer escape?
Diane's mother, Nadine Warner, does not believe that Diane deliberately helped Yount escape. Diane's husband, Chester, however, believes that she did help him escape. He is not sure if she did it because she was under pressure from Yount or if there was another reason. He believes she may have been threatened by Yount, but he is not sure. He and Diane had two daughters, and had just celebrated their silver wedding anniversary. She led a busy life. She had worked as a bank manager, avidly pursued an interest in psychology, and as one of her many community activities, wrote letters to prisoners who had no family or friends.
In 1966, Yount was a popular advanced mathematics teacher at DuBois Area High School in Dubois, Pennsylvania. On April 28, 1966, he offered a ride to eighteen-year-old Pamela Sue Riner, one of his pupils, as she was walking home from school. She never made it there. Later that afternoon, her school books were discovered beside the country road where she was picked up. In the nearby woods, searchers found her body. She had been beaten with a wrench, raped, and her throat had been cut.
The next day, Yount confessed to the murder. He claimed that he killed Pamela after she "miscontrued" a comment he made as a sexual advance and threatened to go to the police about it. However, her mother, Lavonne, believed that he targeted her that day and killed her when she refused his advances. Pamela had told her that he had repeatedly driven past their house in the days prior. She also had asked to be removed from his class. He was later convicted of first-degree murder and sentenced to life in prison.
Sixteen years later, in 1983, Yount began writing to Diane. In one letter, he wrote: "Hi, my precious lady. I wanted you to be close to me so much today. I hope my enjoyment and adoration of you is an incentive to be the best you can. You are a classy lady. I miss you and love you." The two had met through a friend of hers who had been visiting Yount. The friend was no longer able to do it, so she asked Diane. Diane had been corresponding with prisoners in other states, and she thought that writing to Yount would be like a continuation of what she had been doing. She felt that it would be a very fulfilling thing for her to do. According to her sister, Faye Snyder, Diane was always thinking of other people and was a "people person".
After twenty years behind bars, Yount had become a model prisoner. He played organ for the choir, mastered computer programming, and taught in the prison school. Prison superintendent Joseph Mazurkiewicz recalled that Yount was very easily liked by other prisoners. He had a real "good manner" about him, in terms of getting involved with people. Mazurkiewicz described him as a very persuasive and strong-willed person. Mazurkiewicz believes that Yount could persuade almost anybody, given the right opportunity and time. He had a lot of skills that allowed him to manipulate people.
Diane began visiting Yount at the local jail, and continued to see him even when he was transferred to Rockview Prison, over two hours away, in September 1985. According to correctional officer Walter Regel, she came to see Yount every week. She never missed a week. He believed that she was Yount's girlfriend. Their visits were not casual. When they would first see each other, they would embrace and kiss. They would do the same when she left. She apparently fell in love with Yount. Faye had no idea that Diane and Yount were romantically involved. It appeared to her that they were simply good friends. Diane never told her that they were romantically involved. Diane talked to Chester about Yount often. He knew that she wrote to and visited Yount. However, he did not know anything else about their relationship.
Yount tried repeatedly to appeal his conviction. He claimed that he should have been charged with second-degree murder, which carried a shorter sentence. Meanwhile, Pamela's mother, Lavonne, led a campaign to keep him in prison. Finally, in 1985, the United States Supreme Court denied his request for a retrial. In February 1985, he wrote Diane again: "Be my valentine, love. Forever. You are my heart. I hope more than anything that this is the last Valentine Day that we will spend apart."
On April 5, 1986, Yount escaped. His excellent behavior had earned him the right to work unsupervised outside the prison fence. That morning, he was supposed to go out and cut some hay on a farm one mile from the prison. At 1pm, a labor foreman dropped him off there. The foreman told him specifically what he was supposed to do; he then took the other men to their particular areas and made his rounds. That was the last time Yount was ever seen.
At around that same time, officer Regel was driving over Richel Hill near the prison, headed for a bowling alley. As he was driving, he passed a car that was being driven by Diane. He wondered what she was doing on that road, which was close to where Yount was working. That was the last time she was ever seen. Three hours later, it was discovered that Yount was missing. The next day, state troopers went to the Brodbeck home and questioned Chester about Diane's relationship with Yount. They told him that Yount had escaped and that they believed she had helped him. At the time, he did not believe that; he thought that she had gone to Williamsburg, Virginia. However, when she did not return the next day, he changed his mind.
The police soon discovered that Diane had a secret bank account. She had withdrawn $7,500 from it in the weeks before she disappeared. They also discovered that she had placed a car into a self-storage facility; she had done that two weeks prior to the escape. Furthermore, they discovered that there was telephone contact between her and Yount. The night before the escape, a fourteen-minute conversation occurred between them. At that point, the police decided to file charges against Diane for assisting Yount in his escape.
Diane's family did not believe that she would intentionally help Yount escape. They noted that she was a very moral person with a strong code of ethics. A month after the escape, on May 7, her car was found abandoned at a motel in Swatara Township, just twenty miles from her home. A bag was found in the trunk, containing her personal items: jewelry, cosmetics, and over a dozen pairs of underwear.
One theory about the case is that Yount merely used Diane as an instrument of his escape. By that point in time, it was clear to him that he was not getting out of the prison system. He had a woman on the outside who could do things for him. According to the theory, after she helped him escape, he killed her, took her money, and fled the area. The other theory is that she really loved him, and he really loved her. Investigator Madden believes this one; he believes that they are together somewhere.
Chester is obviously upset that Diane ran off with Yount. They were married for twenty-five years, and he thought they were "fairly good" ones. He notes that she did not just leave him, but her whole family as well. He does not think that she is alive. He believes that if she was alive, she would have contacted someone in her family at some point. However, her mother, Nadine, believes that she is still alive and hopes that she will come home.
Investigator Madden notes that Yount "flew off the handle" when he murdered Pamela. He fears that Yount will do that again. He feels that Diane should be scared for her life and will not be safe until she is away from him. There was one reported sighting of Yount in State College, Pennsylvania, in April 1987, but the authorities are still searching for him and Diane.
Suspects: Authorities believe that Diane willingly helped Yount escape from prison and is with him. Her family, however, believes that she is being held captive by him. Another theory is that he murdered her after she helped him escape.
Extra Notes:
The case was featured as a part of Special #7 on May 18, 1988; it was updated on the October 12, 1988 episode.
It was submitted to the show by the Pennsylvania State Police.
Some sources incorrectly spell her last name as "Broadbeck".
Other cases of women helping their lovers escape from prison include Kay Beeman, Karen Walters, and Donna Moses Brown.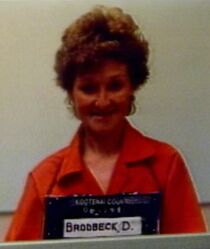 Results: Solved. Don and Kassie Humphress of Boise, Idaho, watched the broadcast and recognized Diane as a former coworker, Mary Katherine "Kathy" Kermen. When they saw her picture, they immediately recognized her face. When the show mentioned that Diane was a bank manager from Massachusetts, and that Yount had a background in computers, it matched up to what they knew about "Kathy" and her partner, James Marvin "Jim" Forsgren. They had lived in Boise since mid-1986.
The Humphress' called the FBI, who began a month-long investigation into "Kathy" and "Jim". They discovered that the couple was using fake Social Security numbers. They confirmed her identity after receiving photographs of Diane from Pennsylvania authorities. By then, she and Yount had moved out of the area. FBI agents were able to track them down to Coeur d'Alene, Idaho, after a car registered under her alias was involved in an accident. They used driver's license records to find their new home.
On June 15, 1988, Diane and Yount were arrested at their rented basement apartment in a suburb of Coeur d'Alene. He had changed his appearance by wearing contacts, growing a beard, and not perming his hair. On June 23, they were extradited back to Pennsylvania, where she was reunited with her family. She was charged with two felony counts, including criminal conspiracy to escape. In December, she pleaded guilty to the conspiracy charges. In February 1989, she was sentenced to two years in prison. She served her time and has been released.
Yount was returned to prison to serve the remainder of his life sentence. In October 1988, he pleaded guilty to escape charges. He was given a three-to-seven year sentence which was added to his life sentence. In April 2012, he committed suicide.
Sadly, on September 13, 1995, Chester passed away at the age of fifty-four. On March 11, 2002, Nadine passed away at the age of eighty-one.
Links:
---