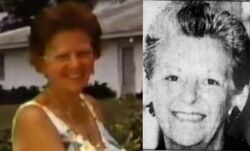 Real Name: Dorothea K. Irwin
Nicknames: Dotty
Location: Wyoming, Ohio
Date: September 12, 1983

Case
[
]
Details: Between 6:45 and 7:30pm on September 12, 1983, fifty-nine-year-old millionairess Dorothea Irwin was brutally murdered in her home at 464 Compton Road in Wyoming, Ohio, an exclusive suburb of Cincinnati. Investigators suspected that it had been a contract killing. One of the subjects of the investigation was her oldest son, thirty-eight-year-old John James Irwin. Despite numerous requests, he flatly refused to cooperate with the police. He is still wanted for questioning.
Authorities consider John to be one of the most cunning, ruthless, and elusive criminals that they have ever encountered. During the past twenty-five years, he has been charged with over a dozen felonies and has escaped from four different correctional institutions. He is currently wanted by several state and federal law enforcement agencies. But he does have a weakness: money; in particular, other people's money.
John was first arrested for writing bad checks when he was just sixteen. In January 1972, John he arrested from embezzlement. He stole $75,000 by cashing bad checks and used that money to pay for his "jet-set" lifestyle in the Caribbean. On January 23, he escaped from the Hamilton County Jail by borrowing the glasses of another prisoner, posing as him, and posting his bond. He called The Cincinnati Enquirer the next day to brag about his escape. The newspaper notified the jail; only then did they realize he was missing. Four days later, he agreed to surrender.
In June 1972, John pleaded guilty to embezzlement. He was sentenced to five years' probation on the condition that he commit himself to Longview State Hospital. After several months there, he started receiving weekend passes to visit relatives. On one visit, he stayed with his relatives and did not go back to the hospital. On April 11, 1973, the hospital reported that he had escaped. Two weeks later, he surrendered to the police.
In July 1973, John was convicted of escape. Because of his previous escape, he received a seven-to-twenty-year sentence. He was incarcerated at the Lebanon Correctional Facility in Lebanon, Ohio. According to warden William Dallman, John was there for a short period of time before he got involved in a scheme in which he claimed that he was supposed to assist Dorothea in having his father killed. Shortly after that, he escaped, much to the prison's embarrassment.
At Lebanon, John was assigned to be a file clerk in one of the prison offices. It was just the opportunity he needed. He broke into a secretary's desk and stole blank transfer documents and an electric typewriter head. He then forged a gate pass, which allowed him free access to the minimum-security area of the prison. On December 17, 1973, armed with the forged pass, he calmly and coolly checked himself out of the prison.
Over the next twenty-two months, John traveled the world, orchestrating fraud schemes at nearly every stop. According to Dallman, John went to Mexico, Canada, and then Costa Rica, where he practiced law and got involved in a number of "land schemes." He then went to South America, northern Africa, several countries around the Mediterranean Sea, and Sweden. As he made his travels around the world, he occasionally would call Dallman collect. Dallman usually accepted the calls because he wanted to know where John was. He also wanted to convince John to turn himself in.
Dallman's efforts worked; in October 1975, John offered to surrender in Mexico. On October 10, he surrendered to federal agents at the Arizona/Mexico border. At the time, he was carrying passports from four different countries, including Sweden and Costa Rica. In 1976, he was transferred to a federal prison in Texas where he served time for embezzlement. In 1979, he received an early release for good behavior. After his release, he moved to Naples, Florida, where his wealthy grandmother, Margaret Hilberg, resided. He began several business ventures there, including two cab companies and a chemical company.
Later in 1979, Dorothea sued John, claiming that his chemical company had failed to repay a $23,000 loan to her. He was later arrested and charged with forgery; he allegedly forged $70,000 in checks that were made payable to his company. In October 1980, he was convicted of those charges. He served time in an Ohio prison and was released in August 1981. He then served time in a Michigan prison after he purchased a motor home with a worthless check.
After his release, John returned to Naples. He eventually persuaded Margaret to invest in his businesses. He also convinced her to make him cosigner on all of her bank accounts. As cosigner, he now had access to over $500,000. He told her that he would not jeopardize her money. However, in 1983, he began taking money from her accounts. Sources close to the investigation and the family indicated that there were some person problems between John, Dorothea, and Margaret.
Dorothea was apparently suspicious of John's business dealings and did not trust him with the handling of Margaret's money. He tried to convince Dorothea to sell the family home in Wyoming, Ohio, so that he could invest her money into his businesses. Incredibly, despite her misgivings, Dorothea eventually gave in to his relentless insistence that she sell the home.
In August 1983, Dorothea returned to Ohio and placed her home on the market for sale. Oddly, just a few days after she arrived in Ohio, she received a phone call from a man who claimed he wanted to buy the house. The caller said that he had seen the swimming pool in the backyard and also had noticed a "For Sale" sign. However, according to Investigator Rick Beseler, the pool was not visible from the street and no sign was ever placed in the yard.
The caller apparently showed up at Dorothea's home on the evening of September 12. She briefly spoke to a friend on the phone, saying that she had sold the home. She said she could not talk anymore and would have to call back later. Within forty-five minutes, she was dead. She had been stabbed and slashed repeatedly in the head, chest, and back with a small knife. One of her arms had been broken. She was found in the first-floor hallway at 9:30pm by a tenant when he returned home. All of the lights were on. Prior to her death, she was able to scrawl down "crucial information" on an envelope that was retrieved by police at the crime scene. According to Investigator Beseler, this information, which has not been released to the public, is "key" to the possible identity of the killer or killers, who are still at large.
During the conduction of the investigation by the Wyoming, Ohio authorities, John refused to return to the Cincinnati area for questioning and declined the offer to take a polygraph examination concerning his knowledge of the murder. He told them that "[his] place is down in Florida with [his] grandmother." Dorothea's estate was worth over $1 million. John was entitled to one-third of these assets. He did not return to Ohio for her funeral.
In fact, John was busy laying the groundwork for one of his most ingenious and lucrative schemes. Investigator Beseler notes that John is a very charismatic person. Because of his charisma and charm, he was able to persuade bank officers to extend a $500,000 loan based solely on his signature, which was then redeposited into a certificate of deposit. According to Investigator Beseler, the bank probably felt that their interests were protected as the funds never actually left the bank. They were immediately redeposited into an account and a hold was placed on the account so that those funds could not be withdrawn.
John next went to a credit card company and applied for an extension on his current credit card to include a credit line of up to $500,000. The credit card company called the bank to verify sufficient funds were on deposit. When that verification was received, the extension was granted, enabling John to purchase whatever he needed.
In April 1984, John had his eye on gold coins. He convinced the owner of a coin store to sell him over $300,000 worth of gold bullion and coins based on his credit card. Prior to completing the purchase, the store had verified the credit card and obtained an authorization code, protecting themselves from any liability. John then walked out of the store with over $300,000 worth of gold coins, paid for with a worthless credit card.
John disappeared from the Naples area, but not before he withdrew over $250,000 from Margaret's bank accounts. One month later, in May 1984, she died of a heart attack. When she died, she did so with the knowledge that her funds had been taken by John. She was virtually a "broken woman" at the time of her death.
After leaving Naples, John continued to successfully orchestrate fraud and embezzlement schemes throughout the United States. He allegedly defrauded an investment firm of more than $250,000. In 1986, he allegedly deposited checks at two Maryland banks that were drawn on closed accounts in Ohio and Florida. He then withdrew at least $17,000 from these banks before bank officials discovered the checks were drawn on closed accounts. Two weeks later, he allegedly repeated the same scam at a bank in Charleston, South Carolina.
Authorities estimate that between 1984 and 1986, John stole over $1.5 million. Investigator Beseler says that John is the best example he has seen of a criminal who would meet the old adage: "A man with a charming smile and a briefcase can steal a lot more money than a man with a mask and a gun."
Suspects: John is considered a suspect in Dorothea's murder. Police suspect that he may have hired someone to kill her. He apparently had an alibi and could prove he was not in Cincinnati at the time. Shortly before the murder, he had convinced her to sell the family home. A stranger called her, saying that they had seen her swimming pool and the "For Sale" sign in the yard. However, according to investigators, the pool was not visible from the front yard and no sign was in the yard. It is suspected that the mystery caller was her killer and that he came to the house on the night of the murder under the pretext of viewing the inside.
A year before her murder, Dorothea had forcibly evicted a tenant because the man had not been paying his rent. At the time of her murder, police looked into this tenant, along with several other former tenants and business associates. However, no other suspects were identified.
Because there were no signs of forced entry and because nothing in the house was taken or disturbed, police speculated that Dorothea may have known her killer.
Dorothea's ex-husband (and John's father) was investigated but is not considered a suspect.
Extra Notes:
This case first aired on the January 30, 1991 episode.
It was excluded from the FilmRise release of the Robert Stack episodes.

Results: Unresolved. After the case originally aired, a viewer sent in a video of John "clowning around" for the camera. The viewer had no idea who John was when he invited him into his home for Thanksgiving dinner. It was the first solid lead in the case in over five years. As a result of several other viewer tips, investigators were able to account for most of John's whereabouts between 1986 and 1991. They determined he lived in at least seven states under a variety of aliases. For example, in 1988, while using the alias "John Michael Heck", he opened three convenience stores in Owensboro, Kentucky, and left town in July without paying his creditors and vendors. He also allegedly wrote bad checks to businesses there. However, these tips did not lead to his arrest at the time.
On August 28, 1991, shortly after the story re-aired, John was arrested by FBI agents at a hotel in Dallas, Texas. A viewer had given an anonymous tip to the FBI, claiming that John was staying in a Motel 6 in Dallas. When he was arrested, he was accompanied by seventeen-year-old woman and a three-year-old child. They were taken into protective custody and returned to their family. At the time, he faced twenty-five felony counts in seven states, including Maryland, South Carolina, and Florida.
In September, John was extradited to Maryland to face federal bank fraud charges. He was convicted and sentenced to serve time in federal prison. In August 1992, he completed his federal prison sentence. He was then sent to Florida to face charges there. He completed his sentence in January 1993. He was then extradited to Kentucky to face multiple charges of theft by deception. In May 1993, he pleaded guilty to those charges and was sentenced to ten years in prison. He also agreed to pay more than $47,000 in restitution. He also served time in several other states on fraud and embezzlement charges. It is believed that he has since been released from parole; however, this has not been confirmed.
In September 1991, detectives questioned John about Dorothea's murder. However, no charges were ever filed. Officially, her case remains unsolved.
Links:

---