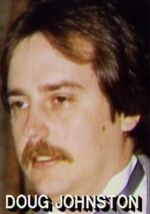 Real Name: Peter Douglas Johnston
Nicknames: Doug
Location: Phoenix, Arizona
Date: May 14, 1990
Details: At 11pm on May 14, 1990, thirty-five-year-old Doug Johnston left for his night shift at a computer graphics company. An hour later, he was found shot to death in his car in the company parking lot. He had been shot behind his left ear from a distance of at least twelve inches. At first, authorities believed that his death was a suicide. However, he was right-handed, there was no powder residue on his hands, and most importantly, there was no gun found at the scene.
For unknown reasons, authorities have not determined that Doug's death was either a suicide or a homicide. His family and friends are convinced that his death was a homicide. They do not believe he would have committed suicide because he had just finished school and gotten a new job. He was also very close to his family and friends.
Interestingly, Doug had a similar house and drove a similar car to Don Devereux, who lived across the street from the parking lot where Doug was killed. He is a journalist whose work was allegedly a threat to mob figures in Phoenix. He was also investigating the suspicious death of Charles Morgan.
Charles, who worked for an escrow company, had first vanished in March 1977, and later returned to his home claiming that he had been abducted and drugged. He told his wife that he had worked for the federal government and that his abductors had taken his identification. Then, in June 1977, he vanished once again. He was found shot to death eleven days later; ironically, he was wearing a bulletproof vest. Shortly after, two men claiming to be government officials went to his home and ransacked it looking for something unknown.
Charles' case was aired on Unsolved Mysteries and after the broadcast, Devereux followed up on several leads. He learned that Charles was involved in money laundering relating to his escrow company. He was also involved in gold and platinum transactions. Most of the gold came out of Southeast Asia at the end of the Vietnam War. Devereux believes that Charles was killed because he knew too much and that he needed to be silenced. Devereux discovered that Charles kept duplicate records of the illegal transactions and that he was probably killed for these records.
In 1991, Devereux was contacted by a writer from Washington, D.C. named Danny Casolaro. Devereux agreed to share with him the information that he had uncovered about Charles' money laundering and gold transactions. However, before Devereux could even mail his research, Danny was found dead with his wrists slashed in a hotel bathroom. His death was ruled a suicide, but Devereux believes that he was murdered. According to his brother, he was very squeamish and afraid of blood. It would seem unlikely, then, that he would choose to commit suicide by slashing his wrists.
Six months after Danny's death, Devereux learned from another journalist that there was a hit placed on him, but that Doug was mistakenly killed as a result. Devereux also learned that there were apparently other people that wanted him dead. A CIA official and an an informant for Israeli Intelligence confirmed the death threats to him.
Devereux is now certain that Doug was mistakenly killed as a result of a botched hit that was meant for him. His murder, along with the deaths of Charles and Danny, remain unsolved.
Suspects: No evidence of robbery was found at the scene. Many believe that Doug was killed after he was mistaken for Devereux. It is believed that Devereux was targeted for his investigation in Charles' case.
Extra Notes: This case first aired on the May 6, 1992 episode. Charles' case first aired on the February 7, 1990 episode. Danny's case first aired on the March 10, 1993 episode.
Results: Unsolved
Links:
---
Community content is available under
CC-BY-SA
unless otherwise noted.