Doctor Strange in The Multiverse o Madness - The Loop
Play Sound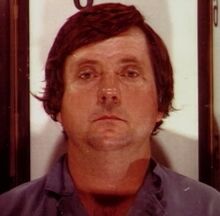 Real Name: Edward Harold Bell
Aliases: Butch
Wanted For: Murder, Indecency with a Child
Missing Since: October 1978

Case
[
]
Details: Bryan, Texas, is the type of place that people have in mind when they dream of escaping the big city. But in September 1984, the illusion of small-town security was shattered for one local couple, "Sue" and "Bill". Sue had always considered herself strong and self-reliant. However, the events of September 6 would test her character in ways she never imagined. According to her, it started off like any other morning. Bill left for work and her three-year-old was in the living room watching "Sesame Street."
Sue went into the bathroom in the master bedroom to finish getting dressed. As she finished her hair in front of the bathroom mirror, she picked up her makeup mirror. In the reflection, she saw a man walking into the bathroom. She turned towards him and saw that he was holding a large hunting knife. He slashed her with it. Fearing for the safety of her child, she instinctively attacked. She forced the intruder from the bathroom and then drove him out of the house at gunpoint with a gun from her nightstand.
Sue fired at the intruder as he ran down the stairs to the main floor. She continued firing at him as he ran down the driveway and towards his truck. As he got into his truck and drove away, she fired and hit his truck. However, she did not him. The whole incident was very quick. She does not believe that he expected her to fight back. She believes he expected her to plead with him not to do anything. Fortunately, she reversed the situation on him.
After the incident, the police came out and took a report from Sue. She also went to the police station and looked through a book of mugshots. She went through page after page, but never saw anyone that resembled the intruder. Four months passed without further clues to his identity. She assumed that he was a first-time burglar. She could not have been more wrong. As she opened up the newspaper one morning, she saw a picture of the intruder.
In January 1985, the Texas governor's office released a roster of the state's most wanted criminals. Heading the list was the knife-wielding intruder. His name was Edward Harold Bell, and he was wanted for murder. His long criminal record stretched back to 1969 and included aggravated rapes and numerous counts of indecent exposure to children (mainly girls) throughout Texas and Louisiana. He is a formidable fugitive. A graduate of Texas A&M University and once a successful businessman, he has eluded capture of almost sixteen years. He has yet to stand trial for the shocking murder that took place on August 24, 1978.
That summer, twenty-six-year-old Larry Dean Dickens was visiting his mother and sister in Pasadena, Texas, a suburb of Houston. An ex-Marine, youth counselor and oil field roughneck, he was the father of a three-year-old girl. On August 24, he went out to cut the lawn. At that same time, his mother, Dorothy Lang, was standing at the kitchen window. She noticed that there were several children playing in the intersection of Moore and Apple, next to their house. She then saw a red-and-white GMC pickup truck driving up near their house.
The truck's driver, Bell, then forty, parked and started looking around the area. Dorothy noticed that he was fooling with something in his seat. She first thought that he was one of Larry's friends looking for their address. Bell got out and walked towards the children. She was shocked to see that he was nude from the waist down and masturbating. Dorothy immediately called the police and reported him. At that same moment, Larry came inside and asked what was going on. She pointed out Bell to him.
As Dorothy continued talking to the police, Larry went out and took the keys out of Bell's truck, in an attempt to keep him there until the police arrived. Bell came back and put his pants back on. He and Larry began arguing. He pulled out a gun and demanded his keys, threatening to shoot him if he did not hand them over. As he walked towards Larry, Larry backed up towards the house. Larry refused to give him his keys. He fired a shot in the air, then shot Larry several times in the chest.
Larry and Bell struggled into the garage. Dorothy ran in to help him. Bell continued to demand his keys. Finally, Dorothy got the keys from Larry and gave them to him. She told him that the police were coming and pleaded with him to leave. He pointed the gun at Larry again. She pleaded with him to not shoot Larry, but he did it anyway. He then turned and ran out of the garage. Despite being shot multiple times, Larry tried again to go after Bell and stop him.
Larry had been shot four times in the chest and once in the head with a .22 pistol. Dorothy had him lay on the ground in their driveway. She told him to stay still because they did not know where they bullets were in him. She told him that she was going to call for an ambulance, and again told him not to move. When she returned to the phone, the emergency operator was still on the line. The operator told her that police units and an ambulance were on the way.
Shockingly, Bell was not done; he went back to his truck and retrieved his high-powered M1 rifle. At just that moment, Larry's seventeen-year-old sister, Dawna, was returning home from cheerleader practice. As she pulled up to a stop sign near their house, she saw Bell cross the street to the edge of their driveway. She then saw him fire at something on the ground. As she pulled closer, she and Bell made eye contact. She got a good, close look at him. She then tried to block his exit with her car.
Dawna looked at their driveway and saw Larry laying there. She ran to him as Bell turned around and drove off. Dorothy came out and Dawna asked if he was dead. She said that she did not know. Dawna screamed and cried. She then knelt beside Larry, held his hand to her face, and watched him die.
The dispatcher radioed the suspect's description as police units headed to the scene. At that very instant, the officers heading to the scene recognized the suspect's truck. They turned around and began to follow him. They commanded him to pull over, but he kept driving. After a brief chase, they ended up on a dead-end street. He crashed his truck into a fence. He got out and pointed his rifle at one of the officers. He might have claimed a second victim that afternoon, but the rifle suddenly jammed.
Within twenty minutes of the murder, Bell was in the hands of the police and on his way to face Larry's mother and sister. Because of the trauma of the situation, Dorothy felt unable to identify him. However, Dawna agreed to do it. When they opened up the back door of the police car, she immediately knew that he was the man that shot Larry. In anger, she tried to attack him, yelling "I hate you! Why did you kill my brother!" The officers held her back, and she and Dorothy then tried to console each other.
Dawna feels that Larry's murder has broken up their whole family. She says that there will always be an emptiness, a part that is missing and will never be returned. In Bell's truck, police found the murder weapons and pornography. He was released on bail less than two months after the murder. He quietly liquidated his assets, and with more than $140,000 in his pocket, disappeared. He failed to appear in court on January 8, 1979, to stand trial. He has been seen only once since then, when entered Sue's home in Bryan, Texas, in September 1984.
Dawna says that everywhere she goes, she sees Bell. Of course, it is not him, but it looks just like him to her. She lives in fear that he is going to come back for her or hurt someone else. Dorothy says that their family has missed Larry so much. She says that he was strong and very special to all of them. She feels that it is not right that Bell can be out on the streets, exposing himself to children and doing other bad things, while Larry has been dead this entire time.
According to Investigator Larry Boucher, Bell is not leaving a paper trail. He believes that Bell has changed his name and is living somewhere where the people around him do not know how dangerous he is.
Bell is fluent in German and has worked as a diesel mechanic, tugboat operator, physical education teacher, and traveling salesman. He is likely to respond violently to any confrontation.
Extra Notes:
This case first aired on the December 2, 1992 episode; it was updated on the April 21, 1993 episode.
It was submitted to the show by Investigator Boucher.
The assault victim was given the name "Sue" and was filmed in silhouette to protect her identity.
Matthew McConaughey, in his first TV acting role, portrayed Larry in the reenactment.
In 2017, A&E released a documentary series called The Eleven, about the eleven young women Bell claimed to have murdered.

Results: Captured. On the night of the broadcast, a viewer was stunned to realize that a man he had recently conducted business with in Panama City, Panama, was none other than Bell. A second viewer, who remains anonymous, sent several pictures of Bell and a letter, claiming that Bell had been living in Panama for ten years. Among other business activities, he was prospecting for gold on land he owned near Panama City. He was living under the name of his deceased cousin, "Cecil Boyd". Along with Panama, he also had lived in Mexico and other parts of Central America.
On February 14, 1993, Panama police located Bell at a yacht club in Panama City and placed him under arrest. He had been living there with a teenage girl. On February 18, Panama police and the FBI brought him back to the United States. Finally, a decade-and-a-half after Larry had been gunned down before Dorothy's eyes, his accused killer shuffled past her at the airport, shackled in hand and leg cuffs. Dorothy felt that when Bell got off the airplane, he seemed arrogant, which infuriated her. She was upset at the fact that, while they could bring Bell back, no one could ever bring back Larry. The grief "welled up" in her again.
Dawna said that the wounds will never heal and the hurt of losing Larry will always be there. However, she was happy to know that Bell would be facing justice. She felt that once that happened, they would all be able to go on with their lives. Dorothy finally felt that she would be able to face him in court and say, "We finally got you in custody, and I hope they throw the book at you, because you deserve it."
At Bell's trial, the prosecution's chief witnesses were Dorothy and Dawna. His defense claimed that Larry was a "mean" and "unstable" man who attacked Bell and threatened to kill him. Bell claimed that he was "fearful" of Larry and had no way to retreat from the situation. He also claimed that he did not mean to kill Larry, and that he had accidentally tripped on his rifle when he shot him. On June 28, 1993, Bell was convicted of murder and sentenced to seventy years in prison. In 1994, he appealed his conviction, but it was upheld. In January 2013, he became eligible for parole; however, it was denied. On April 20, 2019, he died in prison from undisclosed causes at age eighty-two.
Bell is currently considered a suspect in the murders of several young women near Galveston in the 1970s. In 1998, he sent letters to Harris and Galveston County prosecutors in which he confessed to killing seven young girls. For reasons unknown, the letters were "kept secret" until 2011, when they were discovered by retired Galveston homicide detective Fred Paige. According to Paige, some of the case details found in the letters had not been released to the public.
In July and September 2011, Bell was interviewed by a Houston Chronicle reporter. He told the reporter that he was actually responsible for eleven murders, calling them the "eleven that went to heaven." Some investigators claimed they long believed he was a serial killer and found evidence to corroborate his claims. However, Galveston prosecutors refused to present Bell's written confessions to a grand jury. They claimed that they were unable to verify his confessions. Harris County prosecutors reportedly never investigated the claims and lost the letters from him. Bell also refused to cooperate with police.
Bell claimed that his victims were from Houston, Galveston, Webster, and Dickinson. Five murders occurred in 1971 and six more occurred from about 1974 to 1977. Six of them were murdered in pairs. He identified two of the 1971 victims as Debbie Ackerman and Maria Johnson, fifteen-year-old Galveston "surfer girls" who disappeared after hitchhiking. He claimed that he shot them and disposed of their bodies near a remote bridge. His confession matched details of the crime scene. They were last seen accepting a ride from a man driving a white van; Bell happened to own one at that time. He also invested in a surf shop that they were known to visit. Furthermore, he had a trailer near the bayou where their bodies were found. Another victim from 1971 was thirteen-year-old Colette Wilson, who vanished after leaving a band camp.
Bell identified another victim as "Pitchford", who was later determined to be sixteen-year-old Kimberly Rae Pitchford. She vanished after taking a driver's ed class in Houston. Her body was found in January 1973. He claimed to not know the names of the other victims. However, two are believed to be Rhonda Johnson and Sharon Shaw, who vanished from Galveston a few months before Debbie and Maria. Another man was convicted of Rhonda and Sharon's murders, but some investigators now believe he is innocent. All four girls hung out close to Bell's apartment. Two other victims are believed to be fourteen-year-old Georgia Geer and twelve-year-old Brooks Bracewell; they were last seen in 1974 and found in 1976. He owned a pasture just a few minutes' drive from the store where they were last seen.
The other three victims' identities have not been confirmed. However, one is speculated to be Brenda Jones, who vanished from Galveston in 1971. Another is believed to be Gloria Gonzales, who vanished in October 1971; her remains were found in close proximity to Colette's. Yet another is speculated to be Suzie Bowers, who vanished from Galveston in 1977.
Bell also claimed that a "brainwashing program" forced him to be a flasher, to rape girls, and to kill. He claimed that it started with his father, but continued on with scoutmasters, a cousin, and his three ex-wives. After his confessions, he told the Chronicle reporter that he would provide proof to back up his claims only if he was given immunity from prosecution. Although some believed that he was a publicity-seeking "kook", others are convinced that he was responsible for the murders. Several investigators reviewed their evidence in those cases after they learned of the confessions. Former Detective Paige teamed up with Chronicle reporter Lise Olsen to try and determine whether or not he was responsible.
As a result of discoveries made during their investigation, Galveston prosecutors reopened Debbie and Maria's cases and Bell was named the "prime suspect". However, no charges were ever filed against him in theirs or any other cases. No physical evidence was found to link him to the other crimes. When he was interviewed for the documentary The Eleven in 2017, he claimed that he had made up his confessions in order to get the death penalty. However, after his death, many of the victims' relatives stated that they believed he was responsible for their deaths.
Sadly, on July 13, 2012, Dorothy passed away at the age of eighty-four. Four of Larry's siblings have also since passed away.
Links:
---