Wiki Targeted (Entertainment)
Play Sound
Real Name: Unknown (at time of first broadcast)
Nicknames: Estelle Doe
Location: Houston, Texas
Date: April 28, 1992
Bio
[
]
Occupation: Unrevealed
Date of Birth: Unknown, Estelle is speculated to be between 18 to 25
Height: 5'6
Weight: 130 lbs.
Marital Status: Single
Characteristics: She is well-tanned, has shoulder-length sandy brown hair, blue eyes, and pierced ears.
Case
[
]
Details: On April 28, 1992, an unidentified woman was found unconscious and bleeding along Interstate 10 in Houston, Texas after being hit by a car. The only possessions she had on her were a tube of lipstick and a comb. She was transported by air ambulance to Hermann Hospital. She carried no identification, so the staff gave her the name "Estelle". She was treated for a broken jaw, broken leg, and severe head injuries. These injuries left her unable to communicate with the staff.
Lisa Fuglaar, a public relations employee at the hospital, noted that since Estelle arrived, she has improved dramatically. She is able to track Lisa with her eyes, and appears to listen to her as she reads her "get well" cards from Houston residents. In June 1992, she became a ward of the Harris County Department of Social Services.
Suspects: A unidentified man allegedly witnessed the accident that injured Estelle. He called the police and gave a description of the car, along with its male driver and female passenger.
Extra Notes: This case first aired as a part of a special alert in the September 16, 1992 episode, along with Paducah Plane Jumper.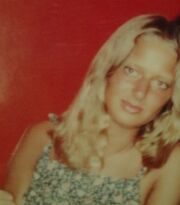 Results: Solved. As a result of the broadcast, Estelle was identified as thirty-two-year-old Nancy Sue McDonald of Easton, Maryland. Fingerprints and photographs confirmed her identity. A jailer recognized her as a past inmate at the Talbot County Detention Center in Easton. Further investigation indicated she had been arrested for hitchhiking in Fort Lauderdale, Florida, four days before she was found in Houston. After she was released, she apparently hitched a ride to Texas.
Nancy's stepmother was contacted soon after she was identified. She told police that Nancy had left home at sixteen and had only infrequent contact with her family since then. Her brother and other relatives later traveled to Houston to be with her. Her caretakers believed that she was aware of her surroundings, as she nodded when asked about her real name and hometown. She spent the remainder of her life in a nursing home in Houston. Sadly, she passed away on October 11, 2009 at age forty-nine. She was never able to communicate.
Links:

---