Spider-Man: No Way Home Trailer Dropped - The Loop
Play Sound
Real Name: Eva Berg Shoen
Nicknames: No known nicknames
Location: Telluride, Colorado
Date: August 6, 1990

Case
Details: It was one man's American dream. After World War II, a young Navy veteran named Leonard Samuel "L.S." Shoen sank every penny he had into a brand new idea: people moving themselves. The concept and the name seemed so simple: "U-Haul". But before L.S. knew it, he was heading up a billion dollar enterprise. The growth of his family was no less spectacular: seven sons and five daughters between 1945 and 1974. He gifted them lavishly, bestowing a large chunk of U-Haul stock on each of them at birth. He hoped that they would one day run the company together. By 1980, he had turned over 92% of the company to his offspring. But six years later, his children turned on him and forced him out of the corporation he had built from scratch.
The saga of the Shoen family rivals Shakespeare's King Lear. On November 8, 1986, a majority of L.S.'s children voted to remove him as president and CEO of U-Haul. But his oldest son, Sam, remained loyal, and eventually joined L.S. in a lawsuit to regain control of the company. The Shoen family and U-Haul International are still embroiled in a bitter, angry feud. In 1990, disturbing new questions arose when a member of the family was murdered.
Telluride, Colorado, has a population of 1,200. To many, it is one of the most beautiful spots on Earth. But on August 6, 1990, this peaceful sanctuary was shattered by the anguished cries of two young children. The children ran from their home and stopped a car traveling nearby. Between sobs, the children made the motorist, who was a neighbor, understand that their mother was in the house, badly wounded. When police and paramedics arrived, they found the woman dead at the top of the main staircase. She had been shot once in the back hours earlier.
The victim was forty-four-year-old Eva Berg Shoen, L.S.'s daughter-in-law. She was the wife of his oldest son, Sam, who was out of town on business. Sam rushed back to Telluride and went straight to a neighbor's house to be with his children. His daughter told him that she had gone upstairs to show Eva a trick that she had taught their dog, only to find her dead. They had not heard anything that night. Sam could not understand why anyone would want to hurt her.
Later that day, Detective Kim Pound questioned Sam about his business trip to Phoenix, Arizona, and what he had done when he arrived there. He said that he had talked to one of his business partners on the phone. He later talked to Eva on the phone and then went to bed at around 11:30pm. Pound asked Sam if he had any enemies. He mentioned the "in-fighting" within his family regarding U-Haul. When Pound learned of this, he realized that Eva's murder was not going to be a "simple" or "regular" case, but rather a bizarre and complicated one.
Authorities were baffled by the lack of any apparent motive. There was no evidence of attempted burglary. The autopsy revealed no sign of sexual assault. Only one piece of important physical evidence came to light: a short distance from the house, one of the deputies found a distinctive pair of sunglasses. It was discovered that the sunglasses were only sold in twenty-seven stores in the United States. The stores were only located in California and Arizona. However, no further leads came from them.
Who was responsible for Eva's cold-blooded murder? Was she the target? Was Sam the intended victim? Or was the murder simply a random act of violence? When Sam left home on the morning of Eva's murder, it was because he had been called away on business at the last minute. Almost no one knew he was leaving. He drove Eva's car, while his car remained in front of the house. Their property was extremely isolated, well off the main highways. It could be reached only by way of winding country roads. Consequently, authorities believe that the Shoens were targeted, and that Eva's murder was not a random act.
Detective Pound noted that the Shoen house was located in a "fishbowl"-type area. He believes that anyone who was on the property could sit outside and be concealed in the woods. He believes that the perpetrator(s) watched the Shoen family throughout the evening. Sam believes that when they tried to get closer to the house, the dogs started barking. Eva did not want to annoy the neighbors, so she brought the dogs inside and locked them in the mud room. He believes that the perpetrators waited for her to lock the dogs in the room, so that they would not disturb them when they entered the house.
Detective Pound believes that the perpetrators waited for the children and Eva to go to bed, then entered the house through an unlocked door. They walked up the stairs to her bedroom, entered it, and shot her. One of the children reported hearing a thud; they looked at the clock and noticed that it was 2am. They heard another thud shortly afterwards. However, it is not believed that the gunshots woke them up. Instead, it is believed that the thuds came from Eva struggling or trying to escape. After she was shot, she managed to stagger out to the staircase, where, hours later, her children found her dead.
Detective Pound believes that the perpetrators went to the Shoen home to murder Eva. Sam disagrees, because very few people knew that he was not home that night. He believes that the perpetrators wanted him dead instead and assumed that he would be home. Investigators began to look into Sam's history at U-Haul. In 1987, he had resigned from the company to protest L.S.'s ouster. He moved to Telluride with his family. Two of his younger brothers, Joe and Mark, who engineered L.S.'s removal, took over the company.
In 1988, Joe and Mark brokered a stock sale to solidify their position as majority shareholders. Sam, along with four of his sisters, L.S., and another brother, Mike, firmly believe that the sale was illegal. They filed suit against Joe, Mark, and a third brother. Within six months, L.S.'s pension was cut off. He was very upset when this occurred; he had hoped that, at that point in his life, he would not have to worry about having to earn money. He said that, if he had to re-do his life, he would have put the stock in trusts, so that the children would not have had any control of it until they were at least thirty-five.
According to a number of witnesses, the family bitterness finally turned violent on March 4, 1989, at a shareholder's meeting in Reno, Nevada. Mark and Joe deny that there was any violence. Sam, however, claims that they physically attacked Mike. According to L.S., Mike brought a recorder to the meeting. When Mark and Joe saw it, they wanted to take it away from him. He refused to give it to them. They allegedly attacked him as a result.
Was there a connection between Eva's death and U-Haul? Detective Pound and Sheriff Bill Masters decided they had no choice but to question Mark and Joe. According to Sheriff Masters, he had trouble obtaining proper interviews with them. Joe was apparently very hostile towards detectives when they tried to interview him, claiming that "he" was going to interview them and that they were not allowed to interview him because he paid for the air conditioning for the room. Their lack of cooperation made it nearly impossible for detectives to gain any pertinent information regarding the case from them.
Sam is not sure who actually conspired to commit Eva's murder. However, he believes that the Shoen family dispute is the reason for her murder. He and his children never spent another night in the house where Eva was killed. Nine months later, they moved away from Telluride. According to him, the murder has destroyed their family and taken away a loving wife and mother.
Sam is offering a $250,000 reward for information leading to the arrest and conviction of Eva's killer. The lawsuit Sam, Mike, four of their sisters, and L.S. filed to regain control of U-Haul will go to court in September 1993. Although Mark and Joe declined the show's request for an interview, they did receive a letter from U-Haul's executive vice president, saying how much the company hopes that Eva's murder will be solved.
At this point, authorities have no official suspects in the case. But they do have one final clue. On the night Eva died, a white Jeep Cherokee, unfamiliar to the permanent residents of Telluride, was sighted several times on the secluded roads near the Shoen house. The car and its occupant(s) have not been located.
Suspects: Sam was ruled out as a suspect because he was not in Telluride at the time of the murder. He believes that his two brothers, Mark and Joe, may have played a role in it. He believes that they may have hired someone to kill him, but the killer shot Eva instead. However, they deny any involvement.
A pair of Pacific Eyes and T's sunglasses with a neck cord were found on the Shoen property. The sunglasses are sold only at Pacific Eyes and T's stores, all of which are in Arizona and California. Detectives believe that they may have belonged to the killer. Also, a mysterious white Jeep Cherokee was seen several times on the roads near the house on the night of the murder. The driver and the car have never been located.
Detectives also want to talk to a man who visited the Telluride Chamber of Commerce information center on the day of the murder. The man was described as in his early forties or fifties with a medium build, 5'10" or 5'11", with short brown or black hair with strands of gray. He was wearing khaki pants and a plaid golf shirt. The center's receptionist said the man asked to see a map of an area that included Telluride Ski Ranches, an exclusive development where the Shoen cabin is located. They do not consider him a suspect, but they would like to question him.
Detectives examining the bullet that killed Eva found that the gun used had a design flaw. They were able to determine that the bullet came from a .25-caliber Locrin handgun. However, they were unable to find the murder weapon.
Extra Notes:
The case was featured as a part of the December 2, 1992 episode; it was updated on the January 5, 1994 episode.
Mark and Joe declined the show's request for an interview.
It was excluded from the FilmRise release of the Robert Stack episodes.
In 1993, before the case was solved, a book, "Birthright: Murder, Greed, and Power in the U-Haul Family", was written about it.
After it was solved, it was featured on Cold Case Files, Dominick Dunne's Power, Privilege, and Justice, and "Dead of Night". The former of the three series explicitly references the involvement of Unsolved Mysteries.
Some sources spell Eva's last name "Schoen".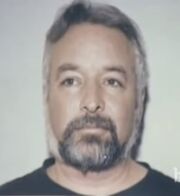 Results: Solved. Within minutes of a repeat broadcast of the case, a viewer, Kelly Lemons, called the telecenter and claimed that the killer was his own brother-in-law, thirty-eight-year-old Frank Emer Marquis. Marquis had previously served time for several burglaries and rapes during the 1980s. He was on parole at the time of the murder. According to Lemons, Marquis, an auto repairman from Santa Fe, New Mexico, was in Telluride at the time of Eva's murder and bragged about having shot her after she found him burglarizing the house.
During a recorded conversation between Marquis and Lemons, he said he was not worried about the Unsolved Mysteries broadcast because he had "covered up" all the evidence against him. After that, a detective went to Santa Fe and questioned Marquis's boss at the time. His time cards showed that he missed work on August 5 and 6, 1990. The boss also recalled that Marquis and another employee, Jeff Beale, had gone to Telluride for a music festival around the time of the murder.
Authorities questioned Beale, who confirmed that they had gone to the music festival in Telluride on August 5. He said that on the night of the murder, Marquis was "out all night". He also confirmed that Marquis had borrowed a gun from another co-worker and brought it with him to Telluride. The other co-worker confirmed that he had given him the gun, which was a .25-caliber Locrin handgun. When Marquis returned the gun, he said that he had fired it to "shoot a dog".
Earlier, detectives had determined that this specific type of gun was the murder weapon. Ballistics tests showed that bullets and shell casings from the gun were similar in "class characteristics" to the evidence found at the crime scene. However, someone (presumably Marquis) had caused damage to the inner barrel of the gun, preventing a positive match through ballistics.
On July 20, 1993, after an extensive investigation, authorities arrested Marquis in Santa Fe. He was arrested without incident or resistance. He was charged with burglary and first-degree murder. He was extradited to Colorado where he was held on a $1 million bond. In February 1994, Beale was re-questioned about his trip to Telluride with Marquis. He remembered that, while driving back to Santa Fe, Marquis acted strangely and threw some of his clothing out the window. With the help of Beale, two detectives were able to locate some of the clothes. A hair found on one of the shirts was matched to Eva.
At first, Marquis denied any involvement. However, in October 1994, he confessed to Eva's murder. He claimed that he had planned to burglarize the home and had not expected her (or anyone) to be there since it was the summertime. When she told him to leave, they struggled and he killed her when his gun went off unexpectedly. He claimed that he did not mean to kill her. However, authorities believe that he really planned to rape her that night. In November 1994, Marquis pleaded guilty to manslaughter and second-degree burglary. He was sentenced to twenty-four years in prison. In November 2011, he was released on parole. He is now believed to be living in New Mexico.
Sam still believes that others were involved in Eva's murder. He notes that there were unexplained injection marks on her body and a part of a bloody bedsheet was cut off for no apparent reason (Marquis claimed that he cut it because he had bled on it; however, he otherwise claimed that he had not been bleeding that night). He also believed that multiple people would have been needed to subdue her. However, authorities do not believe that anyone else was involved; they have also ruled out any connection between the murder and the U-Haul feud.
Sadly, L.S. passed away on October 4, 1999, at the age of eighty-three.
Links:
---