Cobra Kai Season 4 - The Loop
Play Sound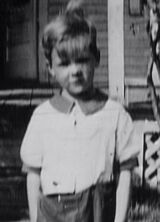 Real Name: Gary Robert Bickford
Case: Lost Brother
Location: Lake Placid, New York
Date: June 14, 1939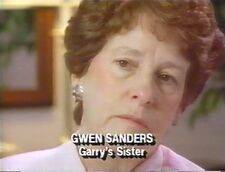 Case
[
]
Details: Katherine Bickford was nineteen when she fell in love with Andrew Rossman, a man twice her age. It was 1932 in Lake Placid, New York, at the height of the Great Depression. Andrew was a rugged outdoorsman who made his living hunting and trapping in the Adirondack Mountains. She knew that he was not the marrying kind, but she was in love and nothing else mattered. For that time and place, their relationship was certainly unconventional. They never married, but lived together and had two children: a daughter, Gwen, and a son, Gary.
Sadly, family life and responsibility proved too much for Andrew. He left Katherine when Gary was still an infant. She went to work as a waitress to support her children. However, she was often made to feel ashamed of being an unwed mother. Despite this, one family, the Winches, who had known her since childhood, never waivered in their support.
In winter 1935, Katherine had Gary baptized. Despite local gossip, the Winches went to the baptism and stood by her. By then, she was in deep financial trouble. After the ceremony, she took Florence, the Winches' daughter, aside. She told her that she had been kicked out of her apartment and was not allowed to get her stuff back until she found work. Her uncle offered for her to work at his restaurant in Scruton Lake, but she was not allowed to take Gary with her.
Katherine found herself facing the most difficult decision a mother could ever make. She had to earn a living to provide for her children, even if it meant being separated from them. The Winches were more than happy to take in Gary. Several days later, Katherine left Lake Placid to work at the restaurant, secure in the knowledge that Gary would be well cared for by the Winches. Gwen, who was then three, went to live with Katherine's parents.
Three years passed. Katherine visited Gary and Gwen whenever she could. Throughout this period, Gwen stayed with her grandparents and Florence took care of Gary. Gwen believes that Katherine planned for the arrangement to be temporary, as she wanted to get herself together and be able to support her family. However, it never worked out that way. Florence recalls that it was difficult for Katherine to visit because she was working and was two hours away. She wanted to be with Gary and Gwen, but was not able to due to the circumstances.
In 1939, when Gary was three, county child welfare officials contacted Katherine. She signed papers which she thought would allow Florence to continue in the role of foster parent. In fact, the papers gave the county authorization to put him up for adoption. When the officials told Florence that he was ready for adoption, she tried to adopt him. However, because she was not married at the time, she was not allowed to adopt him. Her parents then tried to adopt him. However, they were told that they were too old because there was an age limit at the time.
Neighbors of the Winches took up a petition and asked the county to let Florence keep Gary. Unfortunately, she was not allowed. Finally, in early spring 1939, a county welfare worker informed the Winches that Gary would be taken away for adoption. She gave them no idea when or where. Florence began to prepare him for the journey. When they went by the railroad station, she noticed that he was afraid of the train. In order for him not to be afraid, in case he would have to go on one, she took him up to it. The conductor overheard them and let them on the train. They sat in a seat and Gary was no longer afraid of it.
Florence never talked to Gary about leaving the family. She had always hoped that, one way or another, he would be able to stay, either with her or Katherine. Then, eight days after his fourth birthday, on June 14, 1939, the child welfare worker returned. At around 9am, she came into the Winches' house and told them that she was going to take him. For some reason, she would not let him take any belongings with him, not even a toy. She then took him to her car and left. Florence believes that Gary may have thought that he was going on a ride and would be coming back. He may have had no idea that he was leaving for good.
By the time Florence was able to contact Katherine, it was too late. Gary had already been taken to a Children's Aid Society's shelter in Manhattan, New York City. Eventually, Katherine and Gwen were reunited. Sadly, in 1984, Katherine died. She never had a chance to tell Gary how much she loved him. Gwen now lives in Cornith, New York. She and Florence want to find him to tell him how much Katherine wanted to keep them all together and how much guilt she felt for losing him.
Gary was born in Saranac Lake, New York, on June 6, 1935. He has brown hair and brown eyes. On his birth certificate, his first name was probably spelled "Garry" and his last name may have been listed as "Rossman".
Extra Notes:
This case first aired on the April 3, 1991 episode.
One source lists his middle name as "Douglas".

Results: Unresolved. In 1995, Children's Aid Society officials told Gwen that Gary's records were sealed by law because he was adopted. She was also told that he was possibly living in Queens. However, she was unable to confirm this information.
In 2000, Gwen got in contact with one of Gary's daughters. She learned that he was adopted by Mr. and Mrs. Ernest Lundstrom of Long Island in 1941 and renamed Robert Ernest Lundstrom. In 1957, he married Maureen Kann and they had three children: Kristina, Bruce, and Debbie.
Surprisingly, Gwen learned that Robert vanished sometime in 1964 from Huntington, New York, leaving his wife and children behind. After talking with his old classmates, Kristina learned that he changed his last name to Keegan. She also suspected that he may not want to be found. In 2001, Gwen was reunited with his children. Sadly, a few years later, Debbie passed away. Gwen, Kristina, and Bruce began searching together for what happened to him.
Sadly, Gwen passed away on October 29, 2018, at the age of eighty-four. In her obituary, Gary was listed as having pre-deceased her. However, it has not been definitively confirmed that he was found. Florence passed away in 1994.
Links:
---