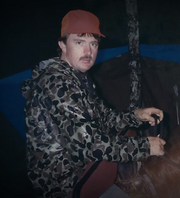 Real Name: Gary G. McCullough
Nicknames: None known
Location: Cassville, Missouri
Date: May 11, 1999

Occupation: Chicken Farmer
Date of Birth: April 10, 1965
Height: 6'3"
Weight: 240 lbs.
Marital Status: Married
Characteristics: Caucasian male with brown eyes and brown hair.

Details: Gary McCullough vanished on May 11, 1999, from his property in Cassville, Missouri. His wife, Sandra "Sandy" Klemp, claimed that he had left to buy a rooster in Diamond, Missouri. However, his family believed that he met with foul play. In 2003, Sandy's daughter Lena Chapin told Gary's brother Albert that Sandy had killed Gary and burned his body. She was forced to help dispose of his remains. In 2005, Gary was declared legally dead. Lena would later vanish on Valentine's Day 2006. Sandy claimed that she left with a boyfriend for Florida. However, she left her son Colter and all of her belongings behind. Her sisters believe that she was murdered to keep her from telling the truth about Gary's disappearance.
When Lena vanished, she was living in an apartment in Steelville, Missouri with her boyfriend Jason. One day, her sister Robin Shoemake showed up there and noticed that she was not there. Jason told her that she had taken off with a boyfriend to Florida. She did not believe that story. He then told her that Sandy had told him that. Robin noticed that she had left all of her clothes, pictures, and photo albums behind. She also had left Colter behind. Robin was certain that she would not do that because she loved her son. She knew that Sandy had done something to Lena when she learned that she had taken Colter in.
Lena was reported missing to the police. Detective Rick Letchworth questioned her family members. They told him that her stuff had sat out on the back porch of the house until it got ruined. He did not believe that she would move to Florida and leave her beloved son and most of her possessions behind. He reached out to another of Lena's sisters, Brandi Petersen, to learn what happened on the day she disappeared. She told him about their childhood and her theory on what she believed happened to Lena.
Brandi recalled that she and her family were poor all of their lives and had to struggle for years. Sandy always worked and made sure that her children did not go without food. She was very straight-laced, never doing drugs or alcohol. Every night, she would tell her children "God bless you and love you". However, according to Brandi, that was only one part of her mom.
The family included six daughters: Brandi, Lena, Robin, Jeanne, Rachel, and Rosey. Lena's sisters recalled that while growing up, she was more "ornery" and would take charge and tell them what to do. Despite their differences, they all got along and loved each other. Her friend Josh Delmain recalled that she was a very bubbly, fun person with a positive attitude. He also recalled that she talked fast and was very outspoken, always saying what was on her mind. Brandi recalled that when she and Lena would get into fights, Lena was the one that always got in trouble.
Robin recalled that they went through many hard days growing up. The hardest part for her was that they did not have a stable home life; they often moved to different places. She also recalled that Sandy met and became involved with many different men, often leaving one for another. As a result, they were constantly moving from one boyfriend or spouse's home to another. Brandi remembered that Sandy used her "sex appeal" often, which was why men often gravitated towards her. She never stayed with one particular man for more than two years. She often went after married men or men with brothers.
Sandy's second husband was Albert McCullough. He had been divorced for awhile when the two began dating. They married on November 17, 1994. He recalled that she was a "good talker" and often told people what they wanted to hear. Brandi recalled that Albert was a good stepfather to them. At that time, Sandy was going to school to become a nurse and was never home. As a result, Albert practically raised his stepchildren. Robin recalled that he was fun and laid-back. He put them in gymnastics and aerobics and got them to play sports. He remembered being very close to them.
According to Albert, the first two or three years of his marriage to Sandy were good. However, she then started fooling around with another man. At first, he did not know who the other man was. Then, he learned that it was his own brother Gary. The brothers had a fist fight over Sandy. During the fight, when Albert had Gary pinned down, Sandy came from behind and hit him with a large stick. Finally, he told Gary that he was done with her. He told him to stay away from her since she was nothing but trouble.
On May 22, 1996, Sandy and the children left Albert's home in Fayetteville, Arkansas and moved into Gary's home in Cassville, Missouri. On December 21, they married. The children's lives changed with Gary in them. He put them to work, having them cut wood and take care of the farm animals (including chickens, cows, and horses). Gary's friend Jeff Allen recalled that Gary gave each of the children their own chore on the farm. When they were finished with them, he would take them into town to get ice cream. He enjoyed the children and they enjoyed him. Sandy and the children lived with him for three years. Brandi recalled that he taught them very important life lessons. She said that she is disciplined and does not have to depend on a man to do stuff for her, thanks to Gary.
Reporter Andrew Sheeley investigated this case. He noted that Sandy has a pattern of behavior, jumping from one man to another. Once she has a man, she gets bored with him and moves on to the next one. This cycle occurred while she was married to Gary. At some point, she was no longer interested in him. In March 1999, she began an affair with a man named Kristopher "Kris" Klemp. He was much younger than Gary and came from a family with a lot of money and property.
Eventually, Gary discovered that Sandy was cheating on him. Jeff recalled that he was more hurt than mad. One day, Gary called his friend, attorney Richard Anderson, and told him about the affair. He also told him that he had been arrested for passing bad checks. He figured out that Sandy had passed those checks and was very upset about it. He told Richard that he was going to have to file for divorce. However, before he could do so, he vanished on May 11, 1999.
Albert recalled that Gary was a hard worker who never missed work because he could not afford to miss it. When he did not show up for work for several days, Albert knew something was wrong. Jeff also knew something was wrong and believed that he was dead. He told the sheriff that Gary had brought a gun over to his house one day and told him to hide it because he believed Sandy was going to use it to kill him. In fact, Gary said that she had stuck the gun into his belly and pulled the trigger. When Jeff looked at the gun, he found a shell in it. Gary told him that he never kept it loaded when he wasn't using it; he realized that if it had been a "good shell" she would have killed him.
Brian Martin, investigator for the Barry County Sheriff's Office, was contacted by Gary's cousin Robert on May 13. He was concerned because Gary had not been seen by anyone in the family in several days. Martin went to Gary's house to see if anyone was there. He noticed that one of Gary's cows was out. While he and another investigator tried to put it back, Sandy and Lena pulled up and wanted to know what they were doing. He asked Sandy if there was anything that she needed to tell him. She told him that she had been meaning to call the police and tell them that her husband had not been home for two days. She said that he was going to Diamond, Missouri to buy fighting roosters. She then agreed to have him reported missing.
On May 14, Gary's truck was found abandoned on a dead-end road in Pulaskifield, Missouri. The following week, Martin obtained a search warrant and went back to Gary's house. Sandy was not happy that they were there. They spent quite a bit of time there and made some startling discoveries. They could not find any of his clothes in the house. In fact, they could not find anything to indicate that he was ever even living there or planning to come back. Sheriff Mick Epperly found a checkbook belonging to Kris Klemp. They then discovered that he was Sandy's boyfriend. After just two days of investigation, Kris moved into the house with Sandy. Investigators felt that this was strange.
Soon after the investigation began, Epperly asked Sandy to take a polygraph. She looked him straight in the eye and said: "You find a body, and I'll take a polygraph". He knew that they were going to have to search very hard if they were ever going to find his body. He wanted to interview Sandy's children and ask them about what they thought happened to Gary. Lena, then thirteen, was very hostile. It was clear that she was very close to Sandy and defensive of her. She was also antagonistic towards investigators. It was clear to them that Sandy ruled the house and Lena was the "number two" person.
Robin remembered that Lena told her and their sisters to be quiet and "mind your own business". She also told them to not talk about what happened when Gary went missing. Brandi said that Sandy had them lie for her for their entire lives. She remembered the day of his disappearance clearly. When the children got home from school, Sandy met them at the door. She told them that a cat had given birth to kittens in the field and asked her children to look for them.
All of the children went to look for them except Brandi, because she had to milk the cows. She told Sandy that she had to go inside to get her supplies for milking. After waiting a few minutes, she decided to go in. When she opened the door, she saw Sandy on her hands and knees. She was scrubbing the floor with what appeared to be bleach water. She had shorts on and her hair back in a ponytail. Brandi said that Sandy had never worn her hair in a ponytail before that. That night, Sandy sat the children at the kitchen table and said "If anyone asks, Gary went to go buy a fighting rooster and you guys had spaghetti that night for dinner, and you haven't seen him since. That's what the story is. If you say exactly what I'm telling you, everything will be fine,"
Later that night, Sandy told Lena to make sure that none of the other children came out of the bedroom. Robin was certain that something was not right. She looked out the bedroom window and saw Sandy and Kris struggling to pull and carry something big. She was certain that it was Gary's body, wrapped up in a tarp or something similar. She could tell because she saw his boots sticking out. She was too afraid to tell anyone about it for several years. She recalled that Lena kept telling them not to say anything or else they would be separated and put in different foster homes.
After Gary went missing, Sandy, Kris, and the children moved from Cassville to St. Louis. After staying there for a year, they moved to Sligo in August of 2000. While in St. Louis, Sandy and Kris married. When they first arrived in Sligo, Lena started working a couple of different jobs and continued living with Sandy and Kris. Robin recalled that Lena became more "on edge" and distant. Josh recalled that there were two sides to her: on the one side, she planned to have a family and a nice house in the country; on the other side, she started partying, drinking, and taking drugs. He believed that there was something that caused her to do those things.
Robin felt that Lena had lost herself for awhile. She would catch her staring off into space and could tell that she was thinking hard about something because she had tears in her eyes. When Robin would ask her if she was okay, she would brush it off like nothing had happened. Brandi remembered that Lena was very lonely. She believed that Lena had got to the point where she needed to talk about what she was holding inside of her. Ultimately, she confided her secret with her boyfriend and he persuaded her to tell Gary's family the truth. She agreed to tell Albert what she knew because she was close to him.
Albert could tell that something was not right with Lena, then seventeen. He knew something was "eating at" her that she needed to get off of her mind. On June 26, 2003, she met Albert at his home. He secretly began recording their conversation. He asked her who killed Gary. She told him that Sandy had killed him. In the recording, she said: He was sitting on the couch eating scrambled eggs. She walked out and shot him three times in the head. Two, maybe three times. It was there on the couch. And she couldn't hack it until we got home. And then she wrapped him up with paper. Um, plastic. Plastic stuff. And uhh... hay. Hay strings. And, this is the bedroom floor. She dragged him to the bedroom. And then she locked the door and everything...and we got home...mom made me stay in the bedroom. She didn't want me to see him, but I'd already seen him. 'Cause I looked through the door, I didn't believe it and I wanted to see. And she took him, she put him in the truck, and she left.
Albert knew that Lena was telling him the truth. He could tell that she needed to get it off of her mind. He remembered that while she was talking, she was trembling and shaking. She wanted him to know what happened to Gary. Later in the recording, Albert said: I need something to verify Gary is gone, how would a person go about doing that? I mean, is there any way that we could do that? She responded: There's nothing. There's nothing whatsoever left. There isn't. He was burned. Completely burned. And everything...everything that was, you know, left at the burn pile...was put in buckets and spread all over. So I don't remember where they're at...I was there. I am the only one that knows. I am the only one that knows exactly what happened. But there is nothing left...there is nothing. I burned my fingers, I burned the tips of my fingers picking up ashes and bones. I know this makes me sound like a bad person, but what was I supposed to do? He responded: You was a kid. Doing what your mom told you to do.
Albert believed that Sandy trusted Lena more than her other daughters. However, he believed that she told him the truth because she knew what happened to Gary was wrong. When Albert recorded the tape, Gary's friend Richard figured that it was direct proof from somebody who knew what happened to Gary. He called the sheriff and had him pick up the recording. Epperly figured that, with the confession, they would now have a strong enough case. However, the next day, Sandy got a lawyer for Lena after she found out about the confession. The lawyer convinced Lena to recant her confession, making it difficult to be used as proof in the case. Investigators and Gary's loved ones were upset by the setback.
For years, Brandi struggled with the thought that Sandy might have killed Gary. Then, one day, she was with Lena when Lena opened up to her. She told her the story about how Sandy killed Gary and how she helped dispose of his remains. The next day, Brandi got into a fight with Sandy. She threatened her, saying that she was going to call the police and tell them what she did. Sandy had her get into the truck with her and Kris. It was the middle of the night at the time. After driving for several minutes, Kris stopped the truck, got out, and pointed a gun at Brandi's head. She jumped out of the truck in fear and began screaming for Sandy. Although Brandi could clearly see Sandy, Sandy never looked at her.
Fearing for her life and not knowing where she was, Brandi ran to the passenger side door and opened it. She jumped into Sandy's lap and begged her to not let Kris hurt her. Finally, Sandy told Kris to not hurt her. He then put the gun down and got back into the truck. They then drove back home. Before that night, she never thought that Sandy would hurt anyone. After that, she knew that she could not say anything because she did not want to risk her life. Lena did the same thing; after she made the confession, she never said anything about Gary's disappearance again.
A few months after Lena's confession, on November 3, 2003, she gave birth to her son Colter. At that point, he was her priority. She no longer wanted to talk about what happened to Gary. Instead, she focused on providing for her son. She started working several jobs and had Sandy watch Colter while she was at work. She decided that she was going to settle down and raise her child. For a few years, everything seemed to be going well for her. By 2006, she was planning to get married and become financially independent of Sandy. However, this was apparently the greatest threat to Sandy, because it meant that Lena could finally tell what she knows again. As a result, there was rising tension between them. This hit a peak when a lawsuit was filed.
Richard noted that it had become clear that a criminal case was probably never going to be filed in Gary's death. As a result, he decided to file a civil case for the McCullough family. They felt that it was the only way for Sandy and Kris to be held accountable. They alleged that Sandy and Kris caused the wrongful death of Gary. They also stated that Lena was an accessory, conspiring and helping to get rid of the body. Richard hoped that Lena would get immunity for her own actions in exchange for providing testimony against Sandy and Kris. However, it did not work out that way.
When Gary's daughters filed the civil lawsuit on June 26, 2006, Dent County deputies delivered the court summons. They located Sandy and Kris but could not find Lena. They asked Sandy about Lena's whereabouts. She claimed that Lena had run off to Florida with some guy back in February. When Brandi heard this story, she could not believe it because she knew that Lena did not know anyone from Florida. Sandy also told them that Lena had said bad things about them and did not want anything to do with them anymore. Brandi decided to wait to see if she would come back, but that never happened.
When Albert learned that Lena was missing, he was certain that Sandy had done something to her. He believed that she killed Lena because she could have sent her to prison with her testimony. Robin told police that she felt the same way; she was certain that Sandy had done something. She posted missing person fliers of Lena around Salem. She later learned that Sandy paid another one of her daughters $5 a piece to take the fliers down. Robin called Sandy and told her that she knew she killed Lena and was determined to put her in prison for what she had done.
Brandi told investigators that the reason Lena went missing was because of the confession tape. She believed that Sandy killed her to keep her from testifying at the civil trial. She also believed that Sandy wanted Lena's son Colter. Detective Lechtworth believed that Sandy had two motives for making Lena disappear: Lena's first-hand knowledge of Gary's disappearance, and her son Colter, whom Sandy desperately wanted. Sandy even reportedly made Colter call her "Mom".
According to Robin, when Sandy found out that Colter was a boy, she became very possessive and obsessive. She tried taking control over Colter because she always wanted a boy. In her mind, she was Colter's mom. Brandi believed that Sandy knew that if Lena went missing, she would get the rights to Colter. When that happened, Sandy filed abandonment charges. Lena was not there to defend herself, so the court decided that she had indeed abandoned her child. In the end, Sandy received custody of Colter.
In July 2013, Judge Carr Woods heard the wrongful death lawsuit brought against Sandy and Kris for Gary's murder. Lena's confession tape was not allowed to be used as evidence. At the trial, the jury saw Sandy's children take the stand and implicate her in a murder plot. Brandi's testimony was particularly powerful; by the time of the trial, she was fully independent of Sandy. For two hours, she testified about how Sandy and Kris had pulled a gun on her. She felt good about her testimony because she believed that it would give Gary's family some peace.
A friend of Albert's watched the trial and noticed during Brandi's testimony that some of the jurors had tears in their eyes. Ultimately, the result of the trial was that Kris and Sandy were found liable of knowingly taking the life of Gary McCullough. They were ordered to pay $7 million to Gary's daughters. The family has yet to receive any compensation. The couple divorced in 2014. Sandy has since remarried and still has custody of Colter. Brandi has not seen him since he was five. He was home-schooled for several years because Sandy did not want him to go to school and find out the truth about Lena. However, when he is old enough Brandi and her sisters plan to tell him the truth.
Brandi is upset that Sandy is raising Colter instead of Lena. She plans to do everything in her power to find Lena and get justice for her. It is known that Kris and Sandy had access to two properties: a Sligo property and an 80-acre ranch north of Salem. Brandi and Robin were given permission by the current owners to search the farms where Sandy and Kris once lived.
Sandy and Kris lived at the Sligo property when Lena disappeared. Brandi knows that her mother is not stupid; she believes that wherever Lena is located is difficult to get to. She recalls that there was a well on the property with stones lining up on the sides. However, it is not there anymore. She believes that Sandy filled it in before they moved.
A couple months after Lena's disappearance, Sandy moved to the Salem property. Robin recalled a conversation she had with Sandy while they were on the property. Sandy pointed out four trees in front of the house, saying that she had buried her dog there. Robin thought that was weird because Sandy had previously said she had buried the dog at the old house before they moved. She wondered if Lena may have been buried next to those trees.
Detective Letchworth had a ground-penetrating radar device brought in to search the area next to the trees that Sandy had mentioned to Robin. They hoped that the device would detect that something was buried in that area. However, after a day of searching, no remains were located. Brandi and Robin still hope that Lena will one day be found. Gary's family and friends also hope for his case to be resolved.
Suspects: Sandy and Kris Klemp are considered the prime suspects in Gary's disappearance. The two were having an affair at the time of Gary's disappearance. In June 1999, Kris was charged with conspiracy to commit murder; he allegedly tried to hire someone to kill Gary. However, the charges were dropped in August.
Sandy's daughter Lena later confessed that Sandy killed Gary and forced her to help dispose of his remains. When the civil lawsuit was filed in 2012, Kris's former wife Jennifer was also named as a co-conspirator. She allegedly picked him up outside of the McCullough property around the time of Gary's disappearance. Kris had a gun with him at the time. Two of Sandra's children also stated that they had seen Gary's truck parked at home that afternoon, even though he had apparently already left.
Extra Notes: This case was first released on July 1, 2020 as a part of the first volume of the Netflix reboot of Unsolved Mysteries.
Results: Unsolved
Links:
---
Community content is available under
CC-BY-SA
unless otherwise noted.