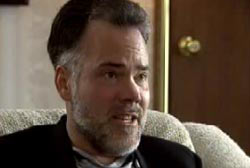 Real Name: George Anderson
Occupation: Psychic
Place Of Birth: Lindenhurst, New York
Date Of Birth: 1952
Location: Long Island, New York

History
[
]
Background: George Anderson claims that he can communicate with spirits of deceased loved ones. In 1958, he was stricken with chicken pox, developing encephalomyelitis, an inflammation of the brain and spinal cord, and nearly died. Soon afterwards, he began hearing the voices of people who had already died. Decades later, he began helping people with his power so they can speak and be at peace with their deceased relatives. He has held thousands of psychic readings for people across the country.
In 1980, George met with radio host Joel Martin and gave Joel information about his deceased wife, Shirley. Joel convinced George to undergo tests with the chief of neurology at a hospital in New York City. His EEG was extremely unusual; it showed half sleep and half waking patterns.
In 1982, George met Barbara and John Licata, whom he gave information about their deceased son David. Unsolved Mysteries filmed a session with George and the parents of Barry Silverman, who had died from cancer. George was able to tell many things about Barry that he would not have known about. However, many people are skeptical about George's claims.
Case Files:
Shirley Martin - deceased wife of radio host Joel Martin. She died in 1979 as a result of a car accident. George did a reading with Joel and told him facts about Shirley's death that he would not have known otherwise.
Notes: The case was featured as a part of the November 18, 1992 episode.
Links:

---