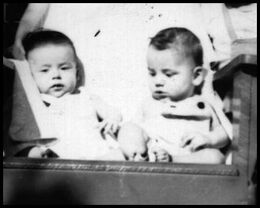 Real Names: Gerry and Terry Robinson
Case: Lost Siblings
Location: Johnstown, New York
Date: September 20, 1950

Case
[
]
Details: On January 23, 1950, twin boys – Gerry and Terry – were born to the Robinson family in upstate New York. They were the youngest of six children, welcomed and well-loved. But Terry had health problems (including serious ear infections) and needed surgery. Also, their father was out of work. Times were very hard. Gail, the oldest child, still remembers how they struggled to make ends meet. There was never enough food to go around for all of them. At that point, it became apparent to their parents that they had to do something.
On September 20, 1950, Gail, then six, was told by their mother that the twins, then eight months old, were going to be given away to another family. They also planned to have Terry go to a doctor for his health problems. Their mother promised that they would get to see the twins again someday. A local minister said he would find the twins a good home. He also promised that the boys would be kept together and given college educations. At the age of eighteen, they would be told about their birth parents.
After that day, the Robinsons never heard another word about the twins. They never knew if the conditions had been kept, if they had ever been told that their birth family still mourned their loss. Nine years later, in 1959, their father became fatally ill. Before his death, his wife promised to find the twins.
Gail hopes to find the twins so that they can see their mother, now seventy-six, again. She feels that it would give their mother some piece of mind if she knew what happened to them. Over the years, the Robinsons tried their best, but all leads turned out to be dead ends. They have now built a website that features photos of the twins as babies and their siblings at various ages. Both boys may bear a strong resemblance to their brothers, Alan and Ron.
Alan notes that their father and his three sisters all died of colon cancer, and that colon cancer is very high rated in males. He and Ron have to take care of themselves and get checked up on it. They feel very strongly that the twins need to know about this as well so that they can get whatever care is needed.
The twins were adopted in upstate New York in September 1950. Terry may have had operations on his ears and feet. When their mother tried to search for them, she found several leads that pointed to Texas, but none panned out. The best lead that their siblings have found was that they lived in Fort Plain, New York, for an amount of time, and may have graduated from the high school there.
Extra Notes:
This case first aired on the June 4, 1999 episode, along with Benjamin Austin Baker.
Some sources spell Gerry's name as "Jerry".

Results: Solved. In May 2019, the twins were located alive and well thanks to a DNA match. Further details are unavailable. Sadly, their mother passed away before they were found.
Links:
---