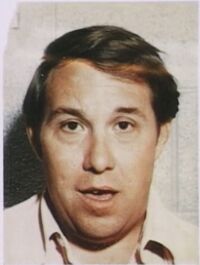 Real Name: Gregory Barker
Aliases: None Known
Wanted For: Abduction, Murder, Armed Robbery
Missing Since: September 1984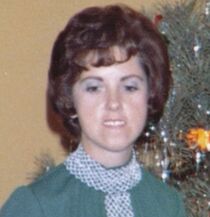 Case
[
]
Details: Forty-three-year-old divorcee Hilda Amelia Roche worked in military intelligenc for the Department of the Army in Arlington, Virginia. On Friday, March 25, 1982, she met a man at the fashionable singles bar Rafters in Alexandria. She later told friends that she had dinner with him and planned on seeing him again. Oddly, she never told anyone his name. She told one of her friends that the man was single, attractive, and had a lot of money. She said that she was impressed that he was driving a beautiful car. Her friend told her not to believe everything he says. The friend suggested that the car may have been rented, and that anyone can make up a big story about themselves. The friend told her to watch out, since she did not know anything about him.
One week later, on April 2, the nude body of a woman was found in a wooded area near an elementary school in Montclair, Virginia. She had been murdered, execution-style. There were signs of sexual assault. At first, police had no idea who the victim was. Four days later, investigators searched Hilda's townhouse after coworkers had reported her missing. In the living room, officers found her wallet. After looking at her driver's license, they realized that she was the woman that had been found murdered.
Evidence in Hilda's bedroom confirmed that she had been sexually molested. The bed and the whole room was in disarray. In the room, investigators found her blouse, a pair of slacks, some pantyhose, and some adhesive tape. The evidence indicated that a struggle had occurred there. Other evidence found in the room indicated that some type of sexual activity took place. Because there were no signs of forced entry at the townhouse, investigators concluded that she was murdered by someone she knew.
Most homicide detectives agree that the first forty-eight hours of a murder investigation are the most crucial. Beyond that point, leads grow cold and suspects disappear. In this case, it took four days just to identify Hilda and more than three months to zero in on a suspect, a man authorities now believe may be a serial killer.
When detectives interviewed Hilda's friends, they learned about the mysterious man she had met at the bar just one week before her death. She had told her friends that the man did contract work for the government, was from Florida, and lived in the Oakwood Apartments, an apartment complex in Alexandria. She also told her friends that she had gone to his apartment that evening. The 1,400 unit apartment complex was the only clue to the man's identity. Detectives searched through files and files of lease agreements, dating back three years. They were looking for any resident, past or present, who matched the description of the man.
Detectives went through approximately 25,000 to 30,000 files. Out of those, they came up with thirty-two possible names that fit the profile of the man. Detective Donald Cahill was confident that his team was closing in. All they needed was one piece of evidence that could link any of the possible suspects with Hilda.
Three months into the investigation, they got the break they needed. Police learned that Hilda had lost her wallet on the very night she had met the man. For some unknown reason, he insisted that he be contacted if the wallet was found. A few days later, the restaurant found her wallet. She called her friend and said that the man was going to bring the wallet back. Her friend felt that something was wrong; she did not understand why he went to the restaurant to find out about the wallet and why they contacted him.
The restaurant manager remembered little about the man. Then, she agreed to undergo hypnosis. It paid off; she recalled a phone number. The hypnotist told detectives that the numbers given would not be the exact phone number. He said that most of the numbers would be the same, but they might be transposed and that they would have to work with it. When detectives compared the phone number with those of the thirty-two apartment residents, they came up with a nearly exact match.
The number belonged to thirty-eight-year-old Gregory Barker. He had moved out of the apartment complex a short time after Hilda's murder. He left a forwarding address in Las Vegas, Nevada, but by the time detectives contacted Las Vegas police, he had vanished again. Partial fingerprints found in her house were matched to him. Detectives immediately began to do a background investigation on him. They were not able to find any particular company or government agency that he had applied to or even worked for. As a matter of fact, they do not believe he worked for any agency in Virginia. They believe that what he told the people at the apartment and what he was telling people he met was all a scam made up in his own mind.
Barker is a decorated Vietnam veteran. He served two tours, the second as an army intelligence officer. He is voracious reader of spy novels. Police theorize that his mental state may have deteriorated to a point where he now believes that he is a master spy.
Based on Barker's psychological profile and crime scene evidence, Detective Cahill has developed a chilling scenario of what happened on the night Hilda was murdered. He believes that Barker came over to her house with the intention of returning her wallet; but he possibly had something else in mind. During his visit, he had a violent altercation with her in the living room. Sometime later, up in the bedroom, her clothes were taken off and a sexual activity occurred there.
Barker then took Hilda, naked and against her will, out of the house. He put her in the trunk of his car (her shoeprint was later found in it) and drove her down to the school, which is located about nine-and-a-half miles from the house. At gunpoint, her forced her out of the car and made her walk about 150 feet down a path to a wooded area between a housing development and the school. He then brutally murdered her with a gunshot to the head.
From doing a background investigation on Barker, Detective Cahill does not believe that this was the first murder that he committed. He also does not believe that this was the last murder Barker committed. He believes that Barker could be responsible for numerous murders and could possibly be a serial killer. He is sure of the fact that Barker is smart and very dangerous.
Police believe that Barker may be responsible for the murders of six women, including Leesa Jo Shaner, the daughter of an FBI agent in Arizona. He is also wanted by Las Vegas authorities on several charges of armed robbery, relating to three bank robberies that occurred in 1983 and 1984. He was arrested there in September 1984 for the robbery charges, but was released on bond and disappeared.
Extra Notes:
This case first aired on the April 24, 1991 episode.
Barker was also profiled on America's Most Wanted.
A friend of Hilda's was interviewed for the broadcast, but not named.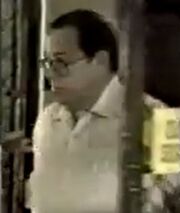 Results: Captured. On the night of the broadcast, a viewer, Kathy Regnier, recognized Barker as "Alex Graham", a radio station telemarketer living in Phoenix, Arizona. She managed the office building where he worked. When she called the telecenter, detectives asked if she could identify a scar on his forehead. She could not remember if he had one. The next morning, April 25, 1991, she went to work and met with "Graham". She noticed the scar and immediately contacted both the local police and the FBI. At 12:03pm, FBI agents arrested him at his workplace without incident.
After Barker's arrest, he allegedly claimed that he was a government agent and that his arrest was part of a military coverup. He was extradited to Nevada to stand trial on the armed robbery charges. In December 1991, he was convicted on three counts of armed robbery and sentenced to twenty years in prison. He was then extradited to Virginia to stand trial on abduction and murder charges in Hilda's case. In May 1992, he pleaded guilty to first-degree murder and was given a 110-year sentence, with fifty years suspended. On February 18, 2003, he was released from federal prison. He was then transferred to Virginia to begin his sentence there. He has since died.
It is not known if Barker is still suspected in other murders. Leesa's case is no longer believed to be connected to him; her killer was identified as William Floyd Zamastil, who was convicted of her murder in 2011.
Links:
---