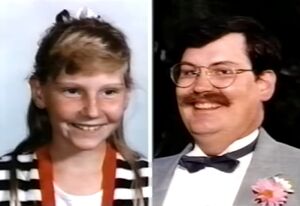 Real Name: Heather Anne Relf
Nicknames: No Known Nicknames
Location: Phoenix, Arizona
Date: September 9, 1992

Bio
[
]
Occupation: Student
Date of Birth: March 12, 1981
Height: 4'8"-5'0"
Weight: Unrevealed
Marital Status: Single
Characteristics: Caucasian female. Blue eyes, strawberry blond hair. She has freckles across her nose and cheeks.

Case
[
]
Details: September 9, 1992 should have been a quiet Wednesday for Joanne Relf of Phoenix, Arizona. Her husband, Richard, had left town that morning on business. She expected to spend the evening with her eleven-year-old stepdaughter, Heather. After stopping at the bank, she arrived home from work as normal. She found a note from Richard on the kitchen counter that said that Heather had been picked up by her grandparents after school. It said that they would have her home by 9pm.
However, Joanne was shocked to discover that Richard's note was little more than a smokescreen. Heather was not at her grandparents. In fact, she had not even been in school that day. Concerned, Joanne began to look through her belongings. When she looked in her wallet, she discovered that credit cards were missing. In the closet, she discovered that clothes and luggage were missing as well. Years later, Joanne still has no idea what became of Richard, or where he took Heather. Joanne has since changed her name and moved to a new city. She is still upset and shocked that this happened to her.
Heather's mother, Penny Nickel-Relf, is upset that Richard took her away from her life and her family and forced her into hiding. She wants nothing more than to find her. Today, Richard is a wanted fugitive, but it has nothing to do with Heather. At the time he vanished, he was being investigated for embezzling nearly $1 million from his employer.
Richard was an industrial controls manager who worked for Brown Wholesale Electric Company in Phoenix. He oversaw production of his electrical designs and often requested checks from Brown Electric to pay for components. One of his suppliers was an outfit called "Adtech". Joanne worked as his bookkeeper and was thrilled by the apparent success of his business. She said that he would bring checks home and she would deposit them. She had no reason to doubt what he was doing. She was just happy that things were going well for him.
With success came money – lots of it. Richard's lifestyle changed dramatically as a result. He bought a new car and a new four-wheel vehicle. He also bought a piece of property in Cave Creek, north of Phoenix. He intended to build a 10,000 square foot home on it. He also threw elaborate parties for his friends. On one occasion, he invited sixty people, including several coworkers, to a party. He rented horses for them so that they could go on a two-hour trail ride. When they came back, there was a steak dinner and live band waiting. He also provided beer and other beverages for them. One of his coworkers, Bob Mueller, believed that it cost several thousand dollars to put the event together. He wondered where the money was coming from.
For six years, the money kept rolling in for Richard. Then, on the morning of May 20, 1992, he brought another bill from Adtech to Brown Electric office manager Kathy Robrecht. Noticing that it was the fourth check she had to make for them that month, she asked him if she could instead set up an account with Adtech. That way, they could bill Brown Electric once a month instead of having to ask for multiple checks. Richard said that it would not work because Adtech was a small "mom-and-pop" operation that could not wait thirty-to-sixty days for the money.
Kathy became suspicious of the whole situation. She noticed on the Adtech invoices that there was only a name and a P.O. Box. There was no street address or phone number. She then pulled out some cancelled checks that were made out to Adtech. On the back of them, she noticed that there was no endorsement or official stamp that a business would normally put on a check. It only had a handwritten "For Deposit Only" and an account number. Kathy phone a friend at the bank and asked whose name was on the account. It was Richard and Joanne Relf. She was shocked to realize that he had made off with a large amount of money for which Brown Electric had received no material.
Assistant manager Larry Mouser confronted Richard that very afternoon. He asked Richard what he knew about Adtech. Richard said that they were one of the company's suppliers. He asked about Adtech's location; Richard said that they were "down south somewhere". He then asked if Richard knew who the owners were. Richard said that he had never met them. Larry then told him that the owners were "Richard and Joanne Relf". He then fired Richard on the spot.
Joanne could not believe it when Richard said that he was fired. At first, she thought he was joking. She felt that she had been cheated; she felt devastated and used by the whole situation. Richard remained free while police conducted an extensive investigation. Detective John Stahl dissected the company books and determined that through the Adtech scam, Richard had pocketed more than half a million dollars. Detective Stahl also discovered that Richard had set up a second bogus company called "ICDS". He found about $238,000 more that had been embezzled through that company. In total, Richard had embezzled $817,000.
While the authorities were preparing an indictment, Richard was busy making plans of his own. Approximately four months after he was fired, he made purchases and took out cash advances totaling $25,000 on credit cards he shared with Joanne. The next day, September 9, he vanished. For Joanne, the hardest part about the whole situation is trying to understand why Richard felt it was necessary to do what he did, and why he decided to destroy his family for material things.
One month after Richard and Heather vanished, he was indicted by a grand jury on two counts of fraud and two counts of theft. In 1993, Joanne was granted a divorce and exonerated by the police of any wrongdoing. In 1994, Penny was granted custody of Heather (Richard previously had primary custody because Penny had a drinking problem at the time of their divorce). Richard's car, a 1991 GMC Suburban, is also missing. Authorities believe that Richard and Heather may be living in Canada under new identities. According to Penny, Richard had done this in the past. When the two had met, he was living under the name "Edward Galen Vachta" (which he acquired from a dead man's social security card), allegedly because he did not want his previous wife and child to find him.
Suspects: Richard Relf
Extra Notes:
This case first aired on the October 27, 1995 episode.
It was excluded from the FilmRise release of the Robert Stack episodes.
Heather's last name is sometimes erroneously spelled "Rouf".

Results: Solved. In September 1998, Heather saw herself on the "Unsolved Mysteries" website and contacted her minister, who, in turn, notified police. She was reunited with Penny soon after. Richard was arrested, tried and convicted of fraud and theft. In 1999, he was sentenced to ten years in prison. In November 2003, he was released on parole.
Links:
---