Wiki Targeted (Entertainment)
Play Sound
Real Name: Unrevealed
Case: Lost Heirs
Location: Los Angeles, California
Date: 1980
Case
[
]
Details: Jonathan Grady is a Los Angeles book collector and writer. One day in 1980, while at an antiques store, he bought a box with several items, including a family bible. The book was so old and damaged that it would cost $200 to repair it. He decided to put it away until a decade later, when he needed a quote from the book of Job. He discovered that the bible was a wedding presentation for Charles Lazarus and his wife, Fannie; the two were married on March 25, 1874, in Cincinnati, Ohio.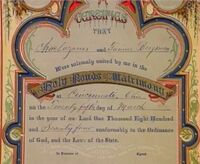 On the presentation page, he found that the couple had recorded the births of two sons, Joshua and Samuel, and three daughters, Blooma, May, and Reina. It also stated that Joshua had married Dora Fleischmann of Americus, Georgia. Samuel had married Ada Hassett of Posen, Michigan. Finally, Blooma had married a German immigrant named Michael Michaelson. On the next page, they recorded the birth of one grandchild, Blooma's daughgter Helen May. She was born in Denver, Colorado, on May 2, 1895. Charles himself died on July 4, 1913, and was buried in Mount Carmel Cemetery in New York.
Since the discovery, Jonathan has tried to locate the Lazarus family in an attempt to return the bible to them. Several newspaper articles were published about his story. He received one lead from eighty-one-year-old Bernard Fleischmann of South Carolina. He had a deceased Aunt Dora from Americus, Georgia, who he believed was Charles's daughter-in-law. However, Bernard had lost touch with Dora's family decades earlier. He is trying to contact any of the man's descendants to return the book to them.
Extra Notes: This segment was featured as part of the March 23, 1994 episode.
Results: Unsolved/Update - It has since been revealed the Bible once belonged to Helen Mae Michaelson Light (the granddaughter of Charles and Fannie Lazarus). Helen along with both her parents (Blooma Lazarus Michaelson and Michael Michaelson), as well as her husband Philip Mortimer Light all moved to Los Angeles from Denver around 1940. Prior to that in 1930, Helen's father and husband had owned and managed a clothing store in Denver. Helen passed away in 1974, but her husband, Philip Mortimer Light, would live on until he passed in September 1979. The estate was likely auctioned off. This perfectly aligns with Jonathan Grady discovering the Bible in an antique store in 1980. Helen, Philip, Blooma and Michael are interred in the Home of Peace Memorial Park in Los Angeles, which is also the final resting place for a number of notable Hollywood figures including Jerome and Samuel Horowitz (Curly and Shemp of The Three Stooges, respectively), Louis B. Mayer (co-founder of Metro-Goldwyn-Mayer), Carl Laemmle (founder of Universal Pictures) and Harry, Sam, and Jack Warner (co-founders or Warner Bros.).
Sometime around 1910, Charles Lazarus, his wife Fannie, and three of their children (Joshua, Samuel and Reina) moved to New York City and shortened their last name to "Lazar." Joshua and Samuel had both became stage actors, and Reina taught private vocal lessons. In 1922, Samuel Henry Lazarus, now divorced, moved out on his own and married Cecil Margery Warlow. Samuel passed away in February 1940, and the census taken later that year lists Cecil as a widowed lodger. None of the census reports from 1900 to 1940 show Joshua, Sam, or Reina having any children. The fifth child of Charles, May Beatrice Lazarus, died in infancy. As for Dora Fleischman, after a divorce from Joshua, she briefly moved in with her brother Joseph Fleischman back in Florida before marrying Aaron Schetzer of Lithuania in Michigan on August 17th, 1920. After Aaron's death in 1933, Dora moved back to Florida yet again and passed away on May 15th of 1958. Her head stone is engraved with the name "Dora F. Schetzer". Of interesting note is her nephew Solomon Joseph "Salty Sol" Fleischman, who became a longtime Florida radio and TV personality known as much for his fishing enthusiasm as his sports broadcasts. Salty Sol died on April 20, 2000 at South Bay Hospital. He was 89. His career spanned 54 years, ending in 1981 when he signed off of WTVT channel 13. The most direct heirs to the bible would be Philip Mortimer Light's nephews and nieces. Philip's older brother, Benjamin Bertram Light, became an accomplished pianist. Ben started off doing night spots in Denver, then later had a successful recording career after doing radio and television in Los Angeles. Ben eventually passed away in 1965, and was survived by several children and grandchildren. His son Alan D. Light is believed to be still alive at the age of 88 as of 2020.

Links:
---