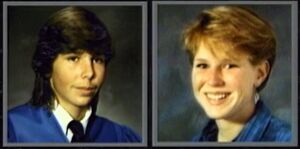 Real Names: Jay Roland Cook and Tanya Van Cuylenborg
Nicknames: No known nicknames
Location: Seattle, Washington
Date: November 18, 1987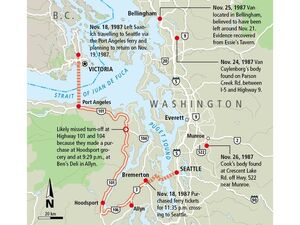 Case
[
]
Details: On the afternoon of November 18, 1987, twenty-year-old Jay Cook and his eighteen-year-old girlfriend, Tanya Van Cuylenborg, took a ferry from Victoria, British Columbia, to Washington state. They were going to pick up furnace parts in Seattle for his father Gordon's business. This was to be their first trip together, and they had planned on a romantic weekend. They had been dating for about six months. They spent most of their free time together, visiting at each other's houses. Jay's mother, Leona, believed that Tanya was quite special to him. Tanya's father, William, felt that they seemed to be good for each other. He had no apprehensions about them being together, and was, in fact, very comfortable with it.
At some time during their journey, Jay and Tanya's peaceful vacation turned into a violent nightmare. Their trip began in Victoria where they took the 4pm car ferry to Port Angeles, Washington. Jay had borrowed Gordon's van, a bronze 1977 Ford Club wagon. After they exited the ferry at 5:30pm, they were seen twice heading south on Highway 101: once in the Washington town of Hoodsport at approximately 8pm, and an hour later in the town of Allyn. It is believed they were headed toward a second car ferry that went from Bremerton to Seattle. After arriving in Seattle, they planned to park the van near the Kingdome and sleep in it.
Jay and Tanya were expected home the following day. When they had not returned or called by the next evening, their families began to worry. William said that Tanya would always call home if she was ever late. When she did not do so that evening, her mother became apprehensive. William tried to downplay the situation for her sake, and to reassure himself that everything would be okay. However, on the following day, November 20, when Tanya did not call, her family knew that something was wrong. she and Jay was then reported missing.
On November 24, Tanya's partially clothed body was found in a ditch next to the isolated Parsons Creek Road near the towns of Alger and Burlington, Washington. She had been raped and then shot in the back of the head with a .38-caliber gun. Police found some plastic zip ties laying alongside the road. It is believed that they were used to secure her in the van. Jay's family had no idea what to make of the situation since he was still missing. Police told them to be prepared for the possibility that he could become a suspect in Tanya's murder. However, neither family believed that he was involved.
The next day, Jay's van was found parked near a bus station in the city of Bellingham fourteen miles away. Inside, they found a Bremerton-Seattle ferry ticket, more zip ties, Tanya's pants, and a bloodstained comforter. At that point, no one was certain what had happened; however, police became more fearful that Jay had also been the victim of foul play. Two blocks away from the van, under the porch of a tavern, police found more zip ties. They also found the keys to Jay's van, Tanya's driver's license, her wallet, and a half empty box of ammunition. Significantly, they also found a pair of plastic surgical gloves. Detective Robert Gebo believes that the killer left them behind as a "sign" to police that they do not need to look for fingerprints because he wore them. He was apparently confident that there was nothing left behind that would connect him to the crime.
Even after Tanya's body was found, Jay's family hoped that they were going to find him alive. They knew it was not likely, but they still kept up hope. Sadly, on Thanksgiving Day, November 26, his body was found underneath High Bridge off Crescent Lake Road near Monroe, Washington, about fifty miles south of Bellingham. It was covered with a blue blanket. He had been beaten with rocks and strangled to death with twine and two red dog collars. His hands had been bound with zip ties. Tissues and a pack of cigarettes were stuffed in his mouth. Sergeant Robert Bart believes that the way Jay died was indicative of things that he has seen before inside the prison walls. The things found on him raised suspicion that the killer has been in the prison system before.
Police believe it most likely that Jay and Tanya made their fatal rendezvous with their killer on the 10:20pm ferry from Bremerton to Seattle. His intentions when he first met them is unknown. Police feel that he was out to do harm and planned to assault them. Police believe that he set his sights on Tanya, and Jay was in the way. It is believed that he was killed first. Sergeant Bart notes that they were young, friendly, and on their first trip. He believes that they were an "easy mark" and that they were easily fooled by the killer.
Detective Gebo suspects that the killer made contact with Jay and Tanya in the ferry's lounge. He may have asked them for a ride across the Puget Sound. Detective Gebo believes that by the time they exited the ferry in downtown Seattle, they were in the company of the killer. He also believes that the killer has successfully committed similar crimes in the past. Since he has been successful so far, Detective Gebo believes that he will continue to commit these crimes until he is caught. Of course, he does not want to be caught; for example, he used gloves to not leave fingerprints behind. Detective Gebo believes that he is very dangerous.
But the killer might have made one mistake. He may have taken Jay's black waist-length ski jacket with red piping on the sleeves, and Tanya's olive drab day pack. There is a chance that someone may have noticed him with these incriminating items.
One final note on this sad story is that over the Christmas holidays, just four weeks after the murders, Jay's and Tanya's families each received a morbid greeting card. They were filled with taunting descriptions of the murders, and their author claimed responsibility for them. He also wrote of his hatred for Canadians and said the opportunity to kill was "too good to pass up". He also threatened to kill again and bragged that he would never get caught. To date, nineteen of these cards have been mailed over three different holidays. The author remains a complete mystery. Postmarked from New York, Los Angeles, and Seattle, all of the cards were written by him. They were sometimes signed "Tanya" or "Jay".
The handwriting in the cards is very distinctive. There are also some phrases in them that are distinctive. "Hallelujah, bloody Jesus" and "Greetings and Salutations" seem to be favorite phrases of the author. As of yet, police have not found anything in the cards that would definitively prove that that author is the killer. Regardless, he continues to make life miserable for Jay's and Tanya's families.
There is a frustrating lack of evidence in this case. Police are fairly certain that the killer is an ex-convict familiar with the Washington area. They hope that he may have talked about his crime and that someone will be able to identify him. They also hope to find out who is writing the tormenting greeting cards.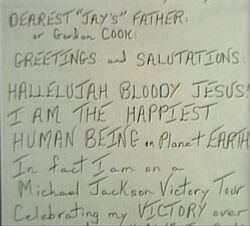 Suspects: The police believe Jay and Tanya could have met their killer in the lounge on the 10:20pm Bremerton ferry to Seattle, although it is more likely that they met him on the latter one. Police believe that he asked them for a ride, then tried to sexually assault Tanya. It is believed that Jay was killed for being "in the way" and Tanya was killed to cover up the sexual assault. They also believe that he became prepared with a "kill kit" to commit the murders. It likely contained zip ties, a gun, gloves, and other tools.
Based on the way Jay was killed along with evidence found with his body, police believe that the killer may have done time in prison; his efforts to conceal his identity are indicative of someone familiar with police procedures. It is also believed that he is familiar with the areas in Washington where the bodies and van were found.
It is suspected that the killer took Jay's waist-length black ski jacket with red piping on the sleeves. He may have also taken Tanya's olive-drab day pack and her Minolta 35mm camera with serial number 2067048.
Police also believed that the person who had written the greeting cards may have had something to do with the murders. However, they did note that there was nothing mentioned in them that had not been released to the public.
Police looked into the possibility that the murders were connected to those of several other couples in the area, including Stephen Harkins and Ruth Cooper.
Extra Notes:
This case first aired on the October 25, 1989 episode.
Some sources incorrectly state that Tanya was seventeen at the time of her death.
This case was also documented on Forensic Files II after it was resolved, and the DNA process used to capture the killer was featured on Genetic Detective.

Results: Solved. In 1990, police located the camera lens that belonged to Tanya's missing camera at a pawn shop in Portland, Oregon. However, it had originally come from another shop that did not have records from the time it was originally brought in. As a result, police were unable to determine who originally brought it there
Several possible suspects were questioned in the case over the years, including serial killers Robert Yates and Charles Sinclair. Both were active in the Seattle area in 1987. However, DNA evidence from the crime scene cleared them of any involvement. The DNA profile also did not match anyone in police databases. DNA testing later determined that the evidence found at the crime scene did not match DNA recovered from the greeting cards. In August 2010, Victoria cold-case detectives finally identified the cards' author thanks to tips from viewers of a local TV show, Washington's Most Wanted. He was a Canadian citizen who was in his seventies at the time of his identification; he also had severe mental issues. He readily admitted that he was the author. Police interviewed him for several hours and determined he had nothing to do with the murders; he had heard about the story in the news. Because of the statute of limitations, he was not charged in regard to the cards.
In April 2018, Snohomish County investigators released a Paraben DNA Snapshot composite of the killer that was created based on the DNA evidence. Composites were made of jim at ages twenty-five, forty-five, and sixty-five. As a result of the Paraben analysis, it was believed that he was a Caucasian male of European descent, with hazel or green eyes, fair skin, possible freckles, and possible male-pattern baldness.
Finally, on May 18, 2018, fifty-five-year-old William Earl Talbott II was arrested in Seattle after his DNA was matched to semen found on Tanya's body and pants found in the van. It was also found on a zip tie in the van. Furthermore, a palm print found on the back door of the van was also matched to him. When the murders were committed, he was twenty-four and living with his parents in Woodinville, just seven miles from where Jay's body was found. Two years before the murders, he was convicted of misdemeanor assault.
The arrest was made thanks to genetic genealogy done by Parabon NanoLabs. They uploaded the crime scene DNA profile to GEDMatch and identified second cousins of the killer. Through this, they were able to create a family tree, which led them to Talbott's parents. They then tracked him down and were able to retrieve a sample of his DNA from a discarded cup. This same technique was used to identify the Original Night Stalker.
Talbott was initially charged only with first-degree murder in Tanya's case. However, in June 2018, he was also charged with first-degree murder in Jay's case. He pleaded not guilty at a preliminary hearing. Investigators asked for anyone who knew him around the time of the murders to come forward. Several of his former friends contacted police; they noted that he had worked as a delivery driver in 1987. They confirmed that the route he took for his deliveries at the time matched Jay's and Tanya's travel plans.
Talbott's former roommate told police that he had seen a blue blanket in his home and car. It was similar to the one found on Jay's body. The roommate also noted that he had a tumultuous relationship with relatives (breaking his sister's arm on one occasion), was involved in drugs, and had personality changes when he drank alcohol. He also recalled seeing a bronze van outside of his home on a misty day in Fall 1987. Finally, he recalled that Talbott had taken him to the same general area where Jay's body was later found.
In June 2019, Talbott went on trial for Jay's and Tanya's murders. His defense claimed that he and Tanya had consensual sex and that she and Jay were killed by someone else. However, prosecutors noted that it would not make sense for her to have sex with Talbott since she was with Jay was in a foreign country, and was on her menstrual period. On June 28, he was convicted of their murders. On July 24, he was sentenced to life in prison without the possibility of parole.
On December 8, 2021, Talbott successfully had his murder conviction overturned because of juror bias; one of the jurors on this case stated during jury selection that she was not sure if she could be impartial because of domestic abuse in her family. The court stated that they were not sure that the juror was completely free of bias when she made her decision in the case. The court decision is currently being appealed by prosecutors.
Sadly, Tanya's father, William, passed away on May 14, 1997, at the age of sixty-one, without seeing her case solved. Her mother, Jean, passed away on March 3, 2020, at the age of eighty-seven.
Links:
---