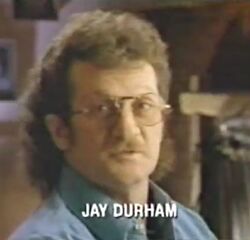 Real Name: Lawrence Manning "Jay" Durham
Case: Attempted Murder
Location: Russellville, Arkansas
Date: April 16, 1992

Case
[
]
Details: Forty-five-year-old Jay Durham was an auto mechanic and motorcycle enthusiast. He had been riding motorcycles for over thirty years; he had chopped, customized, and painted them, among other things. In the early morning hours of April 16, 1992, he left his home in Little Rock, Arkansas. He was riding his motorcycle to Canton, Kansas, to pick up his nineteen-year-old son. An 800-mile round trip on a motorcycle, the return half with a passenger, would seem like a tall order for most people. However, Jay felt more at home on his motorcycle than he did in a car.
For an hour, Jay's trip was uneventful. He was driving at about sixty miles per hour. Then, as he was just west of the Russellville exit on Interstate 40, a semi-truck came up from behind and struck him and his motorcycle. The driver made no attempt to stop or slow down. Jay's motorcycle was trapped beneath the truck's front bumper. He was hopelessly pinned between his motorcycle and the truck's grill. Sparks flew around him as his motorcycle dragged against the road.
To add to Jay's horror, the driver was closing in fast on another tractor trailer. He had no choice but to jump from the truck onto the side of the highway. He thought he had broken his right leg. He tried to move it so he could sit himself up. But when he reached down to feel how bad it was broken, he realized part of his leg was no longer there. It had been snapped off at the knee. Remarkably, he stayed calm enough to use his chain belt as a tourniquet. He told himself that he had to stay calm and keep from bleeding out, or else he would die.
Through a haze of pain and disorientation, Jay watched as the driver tried to detach his motorcycle from the truck's grill. He could not make out the driver's features. Fearing that the driver wanted to kill him, he struggled to hide in the shadows. Moments later, another truck pulled over. The two drivers succeeded in prying Jay's motorcycle loose. Then they began what appeared to be a search for Jay himself. He feared that they were going to "finish the job" so he tried to hide himself from them. After a few minutes of looking, they returned to their trucks and left the area.
Jay laid by the side of the road in agonizing pain and uncertainty. Minutes later, a group of teenagers stopped and called an ambulance. As he hung onto life, he was rushed to a nearby hospital. Doctors worked around the clock to save him. As a result of the incident, he received several injuries: four of his ribs were broken; his lungs were punctured; his thumb and finger were cut off; several of his knuckles and fingers were broken; his jaw was cracked; several of his teeth were knocked out; his nose was broken; his skull was fractured; and he received more than 400 stitches in his head.
Jay was forced to sell five of his six motorcycles to help pay for his medical expenses. In the years since the incident, he has made a miraculous recovery. Although he hopes to increase his mobility by purchasing a motorized wheelchair, he realizes that he will never work as a mechanic again. He is now learning a new trade: tattoo artistry, in order to support his family. He hopes to continue to recover and wants to live his life to the fullest. However, he feels that he cannot truly move on unless his attacker is brought to justice.
Jay spends every spare moment trying to track down the man who cost him his leg. Despite the best efforts of law enforcement, few clues have come to light. He has taken his crusade to more than 1,000 truck stops throughout the South and Midwest, distributing fliers and offering a reward for information. He wants to stop the driver before he does it to someone else. He does not want him to get away with it.
Law enforcement has only one possible clue that might solve this case. They believe that the grill and radiator of the truck sustained significant damage; the repairs would have been extensive. Investigators found a large amount of antifreeze on the shoulder of the road. This indicated to them that the truck sat there for a period of time while the driver dislodged Jay's motorcycle from beneath it. As he left, the trail of antifreeze led back up onto the westbound lane and continued down the highway. The date of any repairs to the truck would probably have been April 17 or 18, 1992.
Investigators also want to talk to the driver who stopped to help free Jay's motorcycle. They believe he is completely innocent and was told that the other truck had hit a parked, riderless motorcycle. Perhaps, he can help identify the hit-and-run trucker.
Suspects: Police believe that the truck involved would have suffered serious damage to its front from the incident, and that the repairs most likely occurred on April 17 or 18, 1992.
Investigators do not believe that the second driver knew what the first one did to Jay. It is believed that he told the second one that he had hit an abandoned motorcycle. The second one, however, has never been identified or located.
Extra Notes:
The case first aired on the December 16, 1994 episode.
It was excluded from the FilmRise release of the Robert Stack episodes.

Results: Unsolved. Sadly, on February 11, 2014, Jay passed away at the age of sixty-six. It is not known if the driver was ever identified.
Links:
---