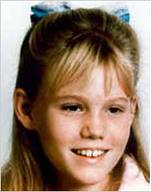 Real Name: Jaycee Lee Dugard
Nicknames: No known nicknames
Location: South Lake Tahoe, California
Date: June 10, 1991

Occupation: Student
Date of Birth: May 3, 1980
Height: 4'6"
Weight: 80 pounds
Marital Status: Single
Characteristics: Caucasian female. Blond hair, blue eyes.

Details: On June 10, 1991, 11-year-old Jaycee Dugard left her South Lake Tahoe home to go to her bus stop when she was abducted by an unidentified couple. The woman grabbed her, pushed her into the car, and drove away. Her stepfather tried to catch up to the car by riding on her bicycle, but was unable to make it and she was never seen again. Since her abduction, there have been several suspects in the case and it have been connected to the disappearances of Michaela Garecht, Amber Schwartz, and Ilene Misheloff.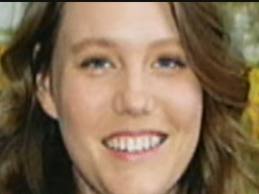 Suspects: The abductor vehicle was described as a late model 1980 gray Ford sedan. The female abductor was described as a 32-year-old woman, 5'5", with long black hair and a dark complexion. James Anthony Daveggio is considered a suspect in the abductions, along with Stephen Kiesle, Brian David, and Wanda Mitchell.
Extra Notes: This case was not featured on Unsolved Mysteries. The case was profiled on America's Most Wanted during the investigation and later documented on Wicked Attraction and Dateline after Jaycee was found.
Results: Solved. Amazingly, on August 26, 2009, Jaycee was located alive and well. She had been abducted by sex offender Phillip Garido and his wife, Nancy, and held for over 18 years. She had two daughters with Garido and had assumed a new identity, probably due to Stockholm Syndrome. She and her daughters had been living in tents in the Garidos' backyard. On August 25, 2009, her daughters went with Garido to a local college, where their actions were noted as suspicious. The next day, the three were brought to Garido's parole office, where she came forward and told them that she was Jaycee Dugard.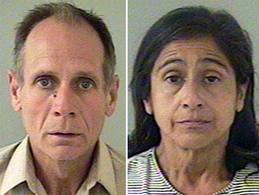 Jaycee and her daughters were reunited with their family, while Phillip and Nancy Garido were arrested. Phillip pled guilty to several charges related to the abduction and rape, and was given a 431 year sentence; Nancy got 31 years to life. The Dugard case has become extremely famous because after the amount of time that Jaycee was missing, she was found alive.
Links:
---