Spider-Man: No Way Home Trailer Dropped - The Loop
Play Sound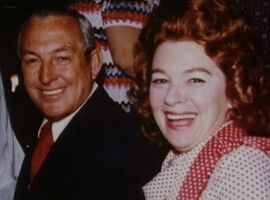 Real Name: Jeanne Alryn Gunter Tovrea
Nicknames: Jeannie, Jean
Location: Phoenix, Arizona
Date: April 1, 1988

Case
[
]
Details: Just before 1am on April 1, 1988, police responded to a burglar alarm in an exclusive gated community in Phoenix, Arizona. The house belonged to fifty-five-year-old Jeanne Tovrea, a wealthy Phoenix socialite. The officers immediately found evidence of forced entry. Fearing an intruder might still be on the premises, they called in a K-9 unit. The police dog headed straight for the master bedroom, where they found Jeanne dead in bed. She had been shot five times at point blank range; three of them had been fired through a pillow.
Police concluded that Jeanne was the victim of a contract hit, but their strongest lead is, in itself, a mystery: a tape recording of a man who may hold the key to the killer's identity. Her murder sent shockwaves through Phoenix. She was a well-known and well-loved widow, whose life was a "rags to riches" tale. A virtual "Cinderella story" which ended in tragedy.
At the time of her death, Jeanne was worth several million dollars, most of it inherited from her late husband. But her origins were humble: she was born in a small Arkansas farming community and married fresh out of high school. In 1953, her marriage failed, and she eventually wound in Phoenix, working as a cocktail waitress. She had no intention of spending her life waiting tables. On her rest breaks, she studied real estate law, determined to make a better life for herself.
Several years later, Jeanne was well on her way. In 1970, she obtained her real estate license and became an immediate success. In 1971, one of her clients introduced her to Edward "Ed" Tovrea, a charming, wealthy divorcee. He had all of the qualities that she was looking for in a man. Ed embarked on an intense courtship, and she was swept off her feet. His ancestors had made millions in the cattle business, and were among the founding fathers of Phoenix. They had built a landmark in Phoenix known as the "Wedding Cake Castle" due to its appearance. But he made his own name as a pilot in World War II. He was shot down and taken as a prisoner of war by the Germans. He helped engineer the famous "Great Escape", digging tunnels which allowed seventy-nine other POWs to go free; it was popularized by the 1963 film with the same name.
Less than a year after they met, Jeanne and Ed were married in a private ceremony in Hawaii. She became an instant hit with the Phoenix upper crust. According to her friend, Danny Medina, she seemed to "fall right into it," as if she had had the money forever. She was welcomed and became very well loved within the community. Danny could not think of one person that disliked her. He described her as a "special person with special qualities". According to her sister, Sandra, she treated people the way she wanted to be treated.
Ed and Jeanne often entertained guests and had friends visit their house. They had a good marriage; both liked to do the same things. But there was one cloud darkening their life together. Respiratory problems had plagued Ed ever since his POW days. By 1982, he was virtually bedridden, and Jeanne nursed him around the clock. He wanted to make sure she would be taken care of when he died. He wanted her to have their house and be comfortable financially. He also warned her that he had been arguing with his children, who did not like his remarriage, and encouraged her to be civil to them. According to Sandra, Jeanne was not a greedy person. She did not believe that everything Ed had was automatically hers.
On July 11, 1983, Ed died. He left Jeanne an estate worth millions, including the house and a valuable art collection. His children each received about $200,000. According to Sandra, it was hard for Jeanne to visualize life without him, because he was her "steadying factor". After a period of mourning, Jeanne threw herself back into the Phoenix social world. Danny believes that it was her way to get over her loss and meet new people. She became quite the socialite, chairing many of the balls attended by her and her friends. It became a way of doing things for herself.
Eventually, Jeanne began a relationship with an old friend. The two planned to marry; unfortunately, that would never take place. On the evening of March 31, 1988, Jeanne prepared the final few invitations for a high society party. At 7pm, she spoke with her sister. By 1am the next day, she would be dead. She had mailed some of the invitations before she had been murdered; several of her friends received the invitations after they learned of her death, making it even more shocking and eerie.
At the murder scene, police found several fingerprints, but little other physical evidence. Jeanne's purse, along with her identification and credit cards, were missing. Her cards were never found or used. The fingerprints were compared to every potential suspect mentioned to police. They were also run through the police computer system. However, they were unable to identify who the prints belonged to.
Detectives believed that Jeanne was the victim of a hit. They believed that she was killed intentionally for somebody. They theorize that the killer was familiar with her neighborhood, because he had so easily gained access to her house. Detective Ernie Hamrick believes that the killer had at least some knowledge of the house. Entry into it was made through the kitchen window (which was found sitting on a patio chair), but it was done in a manner not to set the alarm system off.
There was white carpeting throughout the house; there was no indications in any room, except for the bedroom, that anybody had been in there. It appears that the killer knew the direct path from the point of entry to her bedroom. She was shot while she lay in bed, asleep. There was no obvious signs of a struggle. Police believe that the killer scattered her costume jewelry simply to give the appearance of a burglary attempt. He left thousands of dollars worth of real jewelry untouched in the next room.
Also, it seemed that the killer wanted someone to be alerted: he set off the alarm when he opened the sliding door as he left. He could have gone out the same way he got in without ever setting the alarm off. Police theorize that the killer wanted to let the person who paid him know that the job was done.
Who could have wanted Jeanne dead? Police were at a loss, until they were given the old tapes from her answering machine. That was when they heard the voice of a mysterious man who called himself "Gordon Phillips". In 1987, Phillips, who claimed to be a magazine writer for Time, had tried to interview Jeanne about Ed's POW experiences. He claimed that he wanted to write a book about POWs. He asked her about Ed's POW days, but she said that he did not talk about it that much. She suggested talking to his first wife. When he continued to ask her questions, she asked to see his Time magazine identification. He then claimed to be a freelance writer that was not on staff there. At that point, she cut the interview short.
Jeanne had Phillips checked out; Time magazine had never heard of him. When he tried to contact her again, she told him that she was the wrong person to talk to. Despite this, he continued to hound her by phone. If she was not in, he left messages on her machine. She became certain that he was following her. She would often see him among crowds of people when she would be out shopping. According to Sandra, she became extremely nervous about him.
Police still have no idea who Phillips is, where he has gone, or whether he was involved in Jeanne's murder. Sandra fears that she will never know who killed her sister or why. At this moment, Phillips is the only lead authorities have. Even though police acknowledge that he may have nothing to do with the murder, they hope that talking with him will shed new light on this puzzling case.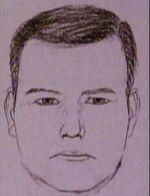 Suspects: The police would like to speak to "Gordon Phillips". He had contacted Jeanne several times posing as a writer for Time-Life. In 1987, he visited her, wanting to talk to her about Ed's POW experiences. He claimed that he was doing a profile on POWs during World War II. Jeanne had said he was recalcitrant to share horror stories of his military experience with her, and his first wife would have been a better source, but when Phillips kept hounding her, she began to suspect an interview was not the real reason.
When she contacted Time-Life, they stated that they had never heard of him. Over the next few months, he called her multiple times. However, she refused to meet with him. She became convinced that he was following her. After the murder, police were unable to positively identify or locate him.
Police believed that the murder was a contract killing. They noted that the killer seemed to have knowledge of the house. He scattered costume jewelry throughout the room, apparently in order to make it look like it was a burglary. He left large amounts of real jewelry untouched. Although he entered through a window that was not part of the security system, he exited through a sliding glass door which set off the alarm. It is believed that he did this in order to alert the person that hired him.
Extra Notes: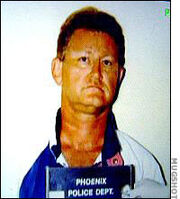 Results: Unresolved. In January 1994, an anonymous caller contacted police and identified the voice of "Gordon Phillips" as forty-year-old James Cornell "Butch" Harrod. He had been questioned shortly after Jeanne's murder after it was discovered that there had been over 1,000 calls made between him and Ed's son, Ed "Hap" Tovrea Jr., in the months prior to the murder. Fifty-two calls were made between them on the day prior to it. Harrod's brother-in-law, Curt, viewed the broadcast and also recognized his voice as being that of "Gordon Phillips". He sent copies of the broadcast to his siblings and a friend; they agreed that Harrod's voice matched Phillips'. For reasons unknown, no one contacted police until the friend made the anonymous call.
Later in 1994, Harrod's ex-wife, Anne, came forward and told police that he had confessed to her that he "facilitated" the murder for Hap. He told her that he had posed as "Phillips" in order to get a better look of the house and more information on Jeanne. He also told her that he had hired two men named Tommy and Michael to commit the murder. Also, he told her that he was paid $100,000 to commit the crime. Records showed that Hap had paid him $25,000. The couple suddenly had large sums of money after the murder and made several purchases.
Anne also told police that when Harrod left the night before the murder, she asked "Are you going to do this now?" and he said, "Yes, I'm leaving." When he returned the next morning, he said "it is done." He then called Hap, apparently to tell him that it had occurred. He apparently kept Jeanne's jewelry and credit cards in their house for some time before burying them in the desert.
Police matched the fingerprints found at the scene to Harrod. Some of his prints were found on the outside and inside of the kitchen window, which was the killer's entry point. Others belonging to him were found on the kitchen counter and on an outside gate. His palmprint was found on the weather stripping removed from the window.
In September 1995, after a seven-year investigation, Phoenix police arrested Harrod and charged him with burglary and Jeanne's murder. In 1996, Jeanne's daughter, who had previously met Phillips, identified Harrod as him in a live lineup. In 1997, he was tried and convicted of first-degree murder. In May 1998, he was sentenced to death; in 2005, he was re-sentenced to death.
Although prosecutors claimed at trial that Hap had hired Harrod to commit the murder, he never named Hap at the trial. In fact, he continued to maintain his innocence. He claimed that the money he received from Hap was regarding an aborted mining contract in China. He also claimed that the phone calls were related to the contract and other business dealings. He claimed he was buying cocaine on the night of the murder. He also claimed that the "real" killer planted his fingerprints at the scene using a "prosthetic fingerprint glove". On January 28, 2019, he died in prison; he was sixty-five.
Police still suspect that Hap (and possibly his siblings) were involved in the murder. They did not get along with Jeanne, and police believe that they may have hired Harrod because she received most of his money, about $4 million, after his death. When she died, the money went to them. They also believed that she "squandered" their inheritance. However, neither Hap nor his siblings were ever charged. He has since passed away.
On November 23, 2020, Sandra passed away at the age of eighty-two.
Links:
---