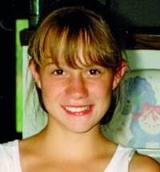 Real Name: Jessyca Mullenberg
Nicknames: No known nicknames
Location: Eau Claire, Wisconsin
Date: September 16, 1995

Occupation: Student
Date of Birth: 1982
Height: Unrevealed
Weight: Unrevealed
Marital Status: Unrevealed
Characteristics: Caucasian female.

Details: Jessyca Mullenberg was a thirteen-year-old high school student in Wisconsin who became the obsession of Steven Oliver, who worked as an aide at her school. He was so infatuated with Jessyca that he followed her when she and her family moved to different cities in Wisconsin. He eventually bought a place across the street from her family when they settled down in Eau Claire, Wisconsin. On September 16, 1995, Oliver told Jessyca that a publisher was interested in a story that she'd written, but this was a deception he used in order to abduct her. The two have not been seen since.
Suspects: Steven Oliver
Extra Notes: The case was featured as a part of a Special Bulletin in the December 1, 1995 episode. Jessyca's abduction was profiled on America's Most Wanted and was later featured on I Survived.


Results: Solved. A motel manager recognized Steven Oliver after seeing him profiled on America's Most Wanted. Oliver was arrested and Jessyca was located alive and reunited with her family. The two were living as father and daughter. During their time together, Oliver held her captive in motel rooms and repeatedly abused her both physically and sexually. He was later sentenced to forty years in prison for his crimes.
Jessyca continues to tell her story of her abduction as a counselor and tries to help people with similar experiences. She is now married, has started her own family, and goes by the name Jessica Christianson.
Links:
---